Check out this month's new releases from the Entangled Select Suspense imprint!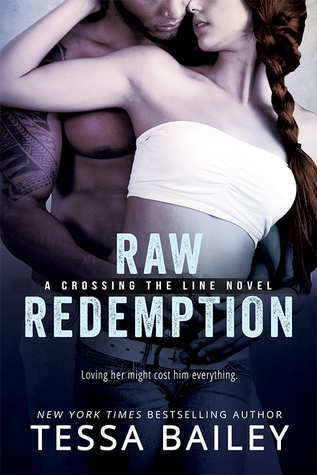 Raw Redemption by Tessa Bailey
Series: Crossing the Line #4
Publication Date: June 13th 2016

Disgraced cop Henrik Vance is having a shit year. Banished to a derelict undercover squad, he's been tasked with hunting down the daughter of Chicago's most dangerous criminal. His obsession with saving the beautiful girl destroyed his career. And this time, it might cost his life.
Ailish O'Kelly doesn't need a hero. She'll save herself from her father's violent criminal dynasty, thank you very much. Unfortunately, the sexy as sin cop who crashes her hideout isn't hearing reason—especially not after the kiss that becomes much more.
His boss wants her as an informant. Ailish wants Henrik to keep whispering filthy things against her skin. But she knows too well the evil they're up against, and when it comes down to protecting the man who owns her body and soul, she only has one choice…
Buy Links:
Amazon • Entangled • Barnes & Noble • iTunes • Kobo
Burnout by Tee O'Fallon
Series: NYPD Blue & Gold #1
Publication Date: June 13th 2016

He's been a cop too long not to recognize the signs of a woman running from her past.
She's not who she says she is—and isn't about to share her secrets.
Sexy-as-sin Police Chief Mike Flannery knows the new arrival to Hopewell Springs is trouble. She has a smoking-hot body and a quick wit…and he'll be damned if that's not a turn-on. But this former NYPD cop and small-town heartthrob has been burned before, and there's no way he'll let that happen again.
New York City Detective Cassie Yates is on the run. A six-month undercover sting in a sleazy bar seemed like a textbook arrest—but now there's a hit out on her. Armed with fake ID, her K-9 companion, and a police-issued SUV, she flees to a quiet upstate town where she trades her badge and gun for a spatula, finally finding peace in the dream she tossed aside to follow her family into law enforcement.
There's no denying the fire and ice between them. But as the hired assassin closes in, Mike's past comes roaring back and secrets are revealed in an explosion destined to tear them apart—if not destroy them.
Buy Links:
Amazon • Entangled • Barnes & Noble • iTunes • Kobo
Stranger in My House by Mari Manning
Series: A Murder in Texas #2
Publication Date: June 13th 2016

When Kirby Swallow assumes her half sister's identity to help figure out who's threatening her, she finds herself in way over her head. On the remote Texas ranch her sister calls home, she confronts a growing list of suspects and a rising body count—all while wearing her sister's 4-inch heels. The only problem is the sexy ranch manager, Seth Maguire, is starting to catch on to the charade. The attraction between them is undeniable—and soon, what starts out as just a one-night stand, turns into something much deeper. But someone on the ranch is out for blood…and Kirby's next.
Buy Links:
Amazon • Entangled • Barnes & Noble • iTunes • Kobo
---
FOLLOW BOOKLOVERS FOR LIFE ON:
✦ FACEBOOK • TWITTER • INSTAGRAM • GOODREADS • PINTEREST • BLOGLOVIN' ✦