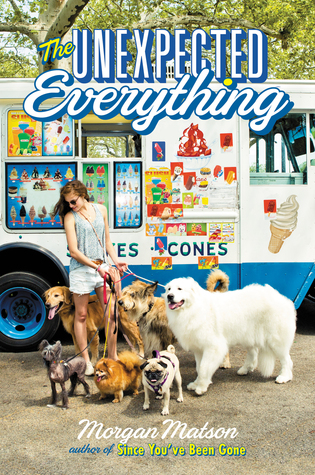 The Unexpected Everything by Morgan Matson
Series: Standalone
Audiobook Publication Date: May 3rd 2016
Length: 16 hours and 43 minutes
Narrated by:
Bailey Carr
Links: 
Audible
 • 
Ebook
•
Hardcover
 • 
Goodreads
Source: I received an audiobook in exchange for an honest review
From Morgan Matson, the bestselling author of Since You've Been Gone comes a feel-good story of friendship, finding yourself, and all the joys in life that happen while you're busy making other plans.
Andie has a plan. And she always sticks to her plan.
Future? A top-tier medical school.
Dad? Avoid him as much as possible (which isn't that hard considering he's a Congressman and he's never around).
Friends? Palmer, Bri, and Toby—pretty much the most awesome people on the planet, who needs anyone else?
Relationships? No one's worth more than three weeks.
So it's no surprise that Andie's got her summer all planned out too.
Until a political scandal costs Andie her summer pre-med internship, and lands both she and Dad back in the same house together for the first time in years. Suddenly she's doing things that aren't Andie at all—working as a dog walker, doing an epic scavenger hunt with her dad, and maybe, just maybe, letting the super cute Clark get closer than she expected. Palmer, Bri, and Toby tell her to embrace all the chaos, but can she really let go of her control?
It's been too long since the last time I read something by Morgan Matson, which is a shame because I love her books! She writes the best YA contemporaries that feel so relatable and fun. The Unexpected Everything is seriously the PERFECT summer read/listen – I listened to the audiobook and absolutely adored it. It's got cute, quirky characters, great writing, and DOGS. Dogs! I'm a dog person through and through, so listening to this audiobook was a blast. If you love the author or this genre, I highly recommend you pick up this audiobook to listen!
As the daughter of a politician, Andie's used to her life being dictated by her father's campaigns, but this summer, she's ready to follow through with her plans and just have the best possible summer ever. But when a scandal causes her to lose her internship and ruin her plans, she's desperate for something to do that will take her out of the house and away from her distant father. And she's desperate enough to accept a dog walking ad that she sees as beneath her – but in between a humbling job, new and old friends, and a growing romance, Andie just might end up having a better summer that she could've possibly planned or expected.
Morgan Matson did a wonderful job portraying the various relationships Andie has with her father, her friends, and her love interest Clark. She has a difficult relationship with her father, who hasn't been around since her mother died and he started campaigning. We delve deep into Andie's hurt over his abandonment and neglect, which made it was so sweet to see this father-daughter relationship slowly grow into something stronger and healthier. Andie and her best friends are typical teenage girls trying to live the summer to its fullest, but secrets and jealousy get in the way and causes strains in their friendships. Not all friendships are smooth and easy, and neither can all friendships overcome their struggles. I thought the author was able to write this realistically, and even though it sometimes felt a little dramatic, I got that it was supposed to be dramatic for these characters.
Clark is probably my favorite character. He's one of the most unique YA heroes I've come across, because he's actually a well-known fantasy author who's struggling with writer's block! He's adorable, awkward, and introverted – the perfect beta-male hero. I loved the dynamics of his and Andie's relationship – mostly because of how terrible it starts, but gradually becomes something lovely and steady. In the midst of Andie's life becoming a mess, Clark provides her comfort and stability (and some sweet kisses). Overall, I loved what an adorable couple they made!
Bailey Carr is a narrator with a great voice – but her narration is SO. SLOW. I've been listening to audiobooks for a while now, but this is honestly the first time I've had to speed the playing up at all. At 1.25x, it sounded as if it was a normal narration at 1x, so if you choose to get this audiobook, I highly recommend you speed up the narration. Otherwise, she did a fantastic job with portraying Andie's voice and all the different dialogues.
The Unexpected Everything is the perfect book to experience during the summer. It's light-hearted but meaningful, realistic, and easy to relate to. The changing dynamics of different friendships and relationships, coming across new experiences, going out of your comfort zone – all of it you can easily connect with. I'd say this is another winner from Morgan Matson!
Here's an audio excerpt from The Unexpected Everything!
---
Also by Morgan Matson
Amy & Roger's Epic Detour: Ebook • Hardcover • Paperback • Audible • Goodreads
Second Chance Summer: Ebook • Hardcover • Paperback • Audible • Goodreads
Since You've Been Gone: Ebook • Hardcover • Paperback • Audible • Goodreads
---
FOLLOW BOOKLOVERS FOR LIFE ON:
✦ FACEBOOK • TWITTER • INSTAGRAM • GOODREADS • PINTEREST • BLOGLOVIN' ✦