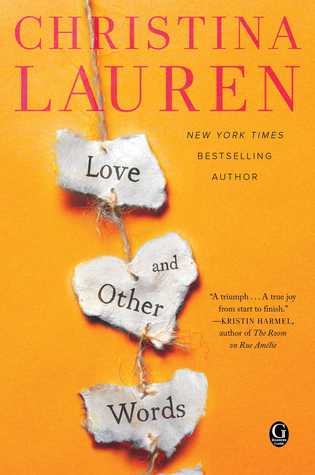 Love and Other Words by Christina Lauren
Series: Standalone
Publication Date: April 10th 2018
Links: 
Ebook
•
Hardcover
• 
Paperback
 •
Audible
•
Goodreads
Source: I received a copy from the publisher in exchange for an honest review
Love, loss, friendship, and the betrayals of the past all collide in this first women's fiction novel from New York Times and #1 international bestselling author Christina Lauren (Autoboyography, Dating You / Hating You).
The story of the heart can never be unwritten.
Macy Sorensen is settling into an ambitious if emotionally tepid routine: work hard as a new pediatrics resident, plan her wedding to an older, financially secure man, keep her head down and heart tucked away.
But when she runs into Elliot Petropoulos—the first and only love of her life—the careful bubble she's constructed begins to dissolve. Once upon a time, Elliot was Macy's entire world—growing from her gangly bookish friend into the man who coaxed her heart open again after the loss of her mother…only to break it on the very night he declared his love for her.
Told in alternating timelines between Then and Now, teenage Elliot and Macy grow from friends to much more—spending weekends and lazy summers together in a house outside of San Francisco devouring books, sharing favorite words, and talking through their growing pains and triumphs. As adults, they have become strangers to one another until their chance reunion. Although their memories are obscured by the agony of what happened that night so many years ago, Elliot will come to understand the truth behind Macy's decade-long silence, and will have to overcome the past and himself to revive her faith in the possibility of an all-consuming love.
My very first 6 star review of 2018 (and the first in a while) has to go to Love and Other Words, a gorgeously written love story by one of my favorite authors, Christina Lauren. I can't remember the last time I was this wholeheartedly obsessed with a book. I finished L&OW last week and I've yet to stop thinking about it. The storytelling was incredible, the blend of past and present seamless. I couldn't get enough of Macy and Elliot. If there's one book you need to read this year, let it be this one.
I adore second chance romances – it is one of my go-to tropes, but I admit there have been few and far between that have been done perfectly. With second chance romances, I need angst, heartache, but most of all, I need to believe in the love that still exists. L&OW was everything I wanted in a second chance romance – and also so much more. Told in alternating chapters of Then and Now, we have teenaged Macy and Elliot who meet, connect, become best friends, and fall in love for the first time, alongside their adult counterparts, who reunite for the first time in eleven years and fall in love for the second time.
The way Christina Lauren handled the alternating chapters was stunning – each chapter connected, despite the eleven year difference in timeline. My heart was full from the beginnings of first love between Macy and Elliot, yet I loved even more that the foundations of their all-consuming love was built on friendship. I hurt and hoped for these two characters in the present timeline, as Elliot fights for the only woman who has ever held his heart. I can't even tell you how in love I am with this man. He's bookish, nerdy, a writer, and knows Macy is his one and only soulmate. There is no other woman for him, and he is not letting this chance to make her believe in love again go.
I read L&OW in one sitting. I literally could not put this book down, nor did I want to let the characters go by the time I got to the end. Elliot and Macy's love story of friendship, heartbreak, and second chances absolutely stole my heart. Theirs is a love that is tender, raw, and beautiful beyond words. This book is now my favorite read of 2018 so far – it is pure perfection.
---
Also by Christina Lauren:
Dating You / Hating You: Ebook • Paperback • Audible • Goodreads
Autoboyography: Ebook • Hardcover • Audible • Goodreads
Roomies: My Review • Ebook • Paperback • Audible • Goodreads
Reading Order: Beautiful Bastard series
#1 ~ Beautiful Bastard: Ebook • Paperback • Audible • Goodreads
#1.5 ~ Beautiful Bitch: Ebook • Paperback • Audible • Goodreads
#2 ~ Beautiful Stranger: Ebook • Paperback • Audible • Goodreads
#2.5 ~ Beautiful Bombshell: Ebook • Paperback • Audible • Goodreads
#3 ~ Beautiful Player: My Review • Ebook • Paperback • Audible • Goodreads
#3.5 ~ Beautiful Beginning: Ebook • Paperback • Audible • Goodreads
#3.6 ~ Beautiful Beloved: My Review • Ebook • Audible • Goodreads
#4 ~ Beautiful Secret: My Review • Ebook • Paperback • Audible • Goodreads
#4.5 ~ Beautiful Boss: My Review • Ebook • Paperback • Audible • Goodreads
#5 ~ Beautiful: Ebook • Paperback • Audible • Goodreads
Reading Order: Wild Seasons series
#1 ~ Sweet Filthy Boy: My Review • Ebook • Paperback • Audible • Goodreads
#2 ~ Dirty Rowdy Thing: My Review • Ebook • Paperback • Audible • Goodreads
#3 ~ Dark Wild Night: My Review • Ebook • Paperback • Audible • Goodreads
#4 ~ Wicked Sexy Liar: My Review • Ebook • Paperback • Audible • Goodreads
---
FOLLOW BOOKLOVERS FOR LIFE ON:
✦ FACEBOOK • TWITTER • INSTAGRAM • GOODREADS • PINTEREST • BLOGLOVIN' ✦