Welcome to today's stop on the blog tour for Smolder by Karen Erickson!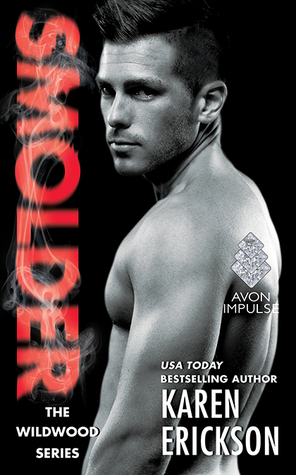 Smolder by Karen Erickson
Series: Wildwood #2 (full reading order below)
Publication Date: June 21st 2016

Lane Gallagher wants Delilah Moore—bad.
He's imagined the sexy brunette in his bed more times than he can count.
She's everything he's ever wanted, but the only problem is . . .
She's his brother's ex.
For years, the stoic sheriff's deputy has fantasized about the sweet, bubbly dance teacher who stirs his deepest desires. But Lane's too loyal to ever move in on forbidden territory and he knows that while he can look, he definitely can't touch. Fighting his attraction to Delilah is nearly impossible, but the infuriating—and incredibly sexy—woman seems determined to drive him crazy.
And she's bringing him to his knees. One smoldering kiss at a time.
Buy Links:
Amazon • Avon • Barnes & Noble • iTunes • Google Play
After reading Ignite, I'd been so excited for Lane and Delilah's story. It was set up perfectly in the first book – Lane is Delilah's best friend's older brother, and the two of them have a huge crush on each other, but they can't act on it. I had high hopes for Smolder… but it didn't quite meet my expectations. Don't get me wrong, it's a quick, enjoyable read, but I didn't love it like I wanted. It just had so much more potential to be better. But if you're a fan of the first book, you'll definitely want to know how Lane and Delilah end up together!
What was wrong with a little kiss? He just wanted a taste. One taste of sweet, sexy Delilah, something he'd never experienced before. The girl who haunted his dreams. The girl who was too good for him. The girl who'd bee with one Gallagher man and didn't need another one to come into her life and fuck it up, as Gallagher men were known to do.
I love my men in uniform, but add in a sexy broodiness and I'm hooked. Lane is the perfect example of this, and again, he had so much potential… but when he's so determined NOT to be with Delilah, my love for him fizzled out. I want my alpha heroes to be possessive, to be head over heels for his woman and not let anything get in the way of that, but Lane was sadly the total opposite. I grew frustrated with him – despite how much he wanted Delilah, he kept pushing her away because he didn't think he was good enough for her.
Delilah, thankfully, is a much more likable character. I loved her spunk and fire, especially her determination to win over the man she's in love with. I admired how she never gave up on Lane, even when it seemed like she totally should've. The chemistry was also a plus in this book – Delilah and Lane are absolutely smokin' together! All that build-up of the long-term tension and longing exploded in the hottest way. Karen Erickson knows how to write steam, which is fitting given the title of the book 😉
Overall, I liked this book, but I did have my frustrations with it. Smolder was engaging and entertaining, and I do love the small town the author has created in Wildwood. Other than Lane, I really enjoyed reading about everything else, and I'm even more excited to read the next book! The author certainly knows how to hook a reader in by setting up the next couple's book. I can't wait to read about Wren and Tate!
"I'm a grumpy asshole no one wants to be around if I don't have you. I've denied my feelings for far too long and I'm done. I need you, Dee. I need you in my life. I don't want to lose you."
Quotes are taken from the arc and are subject to change in the final version.
Reading Order: Wildwood series
#1 ~ Ignite: My Review • Ebook • Paperback • Goodreads
#2 ~ Smolder: Ebook • Paperback • Goodreads (June 21, 2016)
#3 ~ Torch: Ebook • Goodreads (Aug. 16, 2016)
USA Today bestselling author Karen Erickson writes what she loves to read – sexy contemporary romance. Published since 2006, she's a native Californian who lives in the foothills below Yosemite with her husband and three children.
She also writes new adult romance as NYT & USA Today bestselling author Monica Murphy.
Website • Facebook • Twitter • Goodreads • Newsletter
$25 ebook retailer of winner's choice
---
FOLLOW BOOKLOVERS FOR LIFE ON:
✦ FACEBOOK • TWITTER • INSTAGRAM • GOODREADS • PINTEREST • BLOGLOVIN' ✦