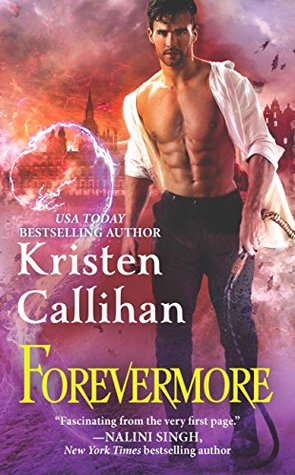 Forevermore by Kristen Callihan
Series: Darkest London #7 (full reading order below)
Publication Date: June 28th 2016
Links: 
Ebook
•
Paperback
•
Audible
• 
Goodreads
Source: I received an ARC from the publisher in exchange for an honest review
Isolated and alone, Sin Evernight is one of the most powerful supernatural creatures in heaven and on earth. As an angel of vengeance, he hunts down the darkest evil, but when his long-lost friend, Layla Starling, needs him, he vows to become her protector. Even though she will be horrified by the man he has become.
Now a famous singer and the toast of London, Layla believes that Sin is only here to guard her from rabid fans and ardent suitors. However, the truth is far more sinister. Desperate to avoid losing Layla a second time, Sin will face a test of all his powers to defeat an unstoppable foe – and win an eternity with the woman he loves.
Forevermore is the seventh and final book of the Darkest London series! I'm sad to see the series end, because I've really enjoyed reading it. This mystical, fascinating, paranormal world Kristen Callihan has created is well-written and highly addicted to read. While I didn't love Forevermore as much as I would've like to, I still loved being back in this world and seeing all the previous characters again. If you're a fan of the series, you probably won't want to miss this finale!
Sin Evernight is a character whose book I've been dying for ever since he was first introduced. He's a complex hero, and I was ready to know everything about his story. And I absolutely loved that is romance is a friends-to-lovers one. His childhood friend Layla Starling was everything to him until she moved away, though he never forgot her. Now, as a powerful Judgment angel in charge of people's souls, he's tasked with protecting Layla as she comes into her newfound powers and paranormal abilities.
Layla thought she was just a normal girl raised by Augustus, her immortal guardian, until sinister things started to happen to her. Turns out she's so much more than she thought, and as she navigates through this new paranormal world, she's also reunited by her first friend and love Sin. We get to know her and Sin as childhood friends (which was adorable) and now we also get to know them as they fall in love all over again.
I didn't particularly connect with Sin or Layla, but I adored their romance. It's sweet and heartwarming, despite all the craziness that's happening around them. The main thing that really prevented me from loving Forevermore (which I'm so bummed about, because I loved all the previous books) is that I felt a little lost as I was reading. I think it might've been a little too long since the last time I read a Darkest London book, because the plot kind of went over my head, and I couldn't really catch up to the hows and whys of things going on.
There's one thing I really did love about Forevermore, however, which was the love story between Augustus, Layla's guardian and Sin's mentor, and Lena, Layla's mother. I found myself utterly hooked onto their star-crossed love – they're soulmates who are on opposite sides of a war and haven't been together for centuries. I thought it was a nice touch including their romance, and it definitely made this book more enjoyable.
It's a bittersweet end for Forevermore, but for fans of the series, it's an end you don't want to miss. There are a ton of cameos from previous characters and a pretty epic battle near the end. All in all, it was a good ending to the series, despite my disappointment with not loving it more. And looking at other reviews, this is totally my fault, so if you're wondering whether to read Forevermore, I say go for it!
---
Reading Order: Darkest London series
#0.5 ~ Ember: Ebook • Goodreads
#1 ~ Firelight: Ebook • Paperback • Audible • Goodreads
#2 ~ Moonglow: Ebook • Paperback • Audible • Goodreads
#3 ~ Winterblaze: Ebook • Paperback • Audible • Goodreads
#3.5 ~ Entwined: Ebook • Goodreads
#4 ~ Shadowdance: Ebook • Paperback • Audible • Goodreads
#5 ~ Evernight: Ebook • Paperback • Audible • Goodreads
#6 ~ Soulbound: My Review • Ebook • Paperback • Audible • Goodreads
#7 ~ Forevermore: Ebook • Paperback • Audible • Goodreads
---
FOLLOW BOOKLOVERS FOR LIFE ON:
✦ FACEBOOK • TWITTER • INSTAGRAM • GOODREADS • PINTEREST • BLOGLOVIN' ✦