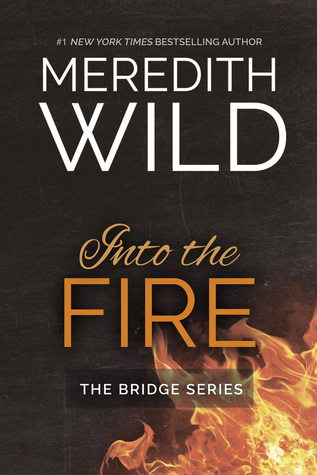 Into the Fire by Meredith Wild
Series: Bridge #2 (full reading order below)
Audiobook Publication Date: June 21st 2016
Length: 8 hours and 26 minutes
Narrated by: 
Angelo Di Loreto
&
Stephanie Wyles
Links: 
Audible
 • 
Ebook
•
Paperback
 •
Goodreads
Source: I received an audiobook in exchange for an honest review
Darren Bridge is living a bachelor's dream. When he's not running into burning buildings with his crew, he's training the flavor of the week at his brother's gym. Few women have ever been off limits…until Vanessa. Smart, beautiful, and legs for days, she's unlike anyone he's ever met. Too bad he's sworn to leave her alone.
Overworked with no end in sight, Vanessa Hawkins hasn't had a vacation in nearly two years. When Cameron and Maya's destination wedding takes her out of the office for a much-needed break, she finds herself struggling to resist her attraction to the best man. Darren is dangerously good-looking with enough charm to make any hot-blooded woman want to drop her panties and enjoy the ride, no matter how long it lasts.
When they return to the city, Darren realizes the single life has lost its glimmer. But with everything else on her plate, Vanessa doesn't have room in her life for a man, let alone a player. Can Darren find his way into her heart and convince her that he's worth the risk?
I've only read one other Meredith Wild book (the first Hacker novel) and I enjoyed her writing, so I was excited at the chance to listen to her latest release, Into the Fire, in audio. Both narrators are new to me, but they were fantastic, and I'd definitely listen to them again. The romance, while a little cliché, was still enjoyable and I adored the main characters. Here, we have a story about a bachelor who forsakes his playboy ways for the one woman he loves – how can you not love that!?
Darren Bridge is a firefighter, and along with women, it's his biggest passion in life. He's happy with his job, and he never wants to settle down or get saddled with a relationship. He goes through women like water, since every woman he meets seems to want him, all except one – his brother's bride's best friend. Still, he's determined to have her, wanting to experience their insanely hot chemistry in bed – but the more he's around her, the more he wants her. So what happens when feelings start to get involved for him for the first time? Will he be able to give up his playboy ways for Vanessa?
Vanessa is tough and smart, and I loved how she's cautious with her feelings and heart around Darren. He's always been a player, so how can she trust that his feelings are real? She makes him prove his love and loyalty, and she doesn't make it easy for him. It's a slow-going romance, but one that feels genuine and real. Meredith Wilder did a wonderful job balancing out the heartwarming and sweet side of Vanessa and Darren's blooming romance with the steam that comes with their instant attraction.
The narrators Angelo Di Loreto and Stephanie Wyles made the story even more enjoyable, voicing Darren and Vanessa perfectly. I'm not sure if they'll be narrating the next Bridge book, but if they are, I will definitely listen to it! If you love well-narrated audiobooks with steamy romances and a player who makes a 180 for his woman, I highly recommend Into the Fire!
INTO THE FIRE is now available on Audible: http://amzn.to/1XI4is5
---
Reading Order: Bridge series
#1 ~ On My Knees: Ebook • Paperback • Audible • Goodreads
#2 ~ Into the Fire: Ebook • Paperback • Audible • Goodreads
#3 ~ Over the Edge: Ebook • Paperback • Goodreads (Nov. 22, 2016)
---
FOLLOW BOOKLOVERS FOR LIFE ON:
✦ FACEBOOK • TWITTER • INSTAGRAM • GOODREADS • PINTEREST • BLOGLOVIN' ✦