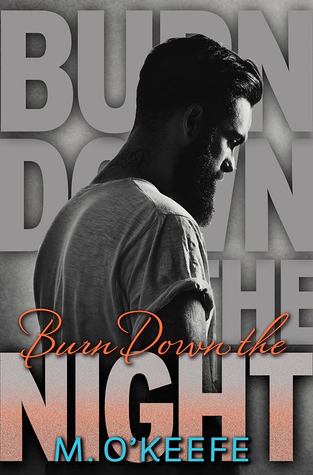 Burn Down the Night by M. O'Keefe
Series: Everything I Left Unsaid #3 (full reading order below)
Publication Date: August 9th 2016
Links: 
Ebook
•
Goodreads
Source: I received an ARC from the publisher in exchange for an honest review
A battle for control turns explosive as a beautiful con woman takes a bad-boy biker hostage in this edgy, seductive novel set in the world of Everything I Left Unsaid ("Toe-curlingly sensual."—Katy Evans) and The Truth About Him ("Absolutely one-click worthy"—J. Kenner).
The only thing that matters to me is rescuing my sister from the drug-cooking cult that once enslaved us both. I've run cons my whole life, and I'll use my body to get whatever I need. Max Daniels is the last connection I have to that world, the one person reckless enough to get involved. Besides, now that his brothers have turned on him, he needs me too.
The deal was supposed to be simple: a place to hide in exchange for rescuing my sister. Now he's my prisoner. Totally at my mercy. But I'm the one captivated. Enthralled. Doing everything he asks of me until I'm not sure who's in control.
We both crave the heat. The more it hurts, the better. But what if Max wants a different life now, to leave the game . . . to love me? I thought I knew better than to get burned. Now I'm in too deep to pull away. And the crazy thing is . . . I don't want to.
I really, really enjoyed the first two books in the Everything I Left Unsaid series, so I don't know why I'm so shocked that I loved Burn Down the Night. I guess I just wasn't expecting how gritty, intense, addicting, and freaking HOT this book would end up being. I loved the main characters – they're a bit of anti-heroes, not good guys, but not as bad as they think they are either. The chemistry was seriously on fire between them, too. Can you tell how hooked I got onto Joan and Max's story?
I needed Max Daniels. Not for Lagan. Not for my sister.
For me.
I saved his life so he could save mine.
If you've read the previous two books, then you know how Burn Down the Night starts – with Max unconscious and being kidnapped by Joan. Technically, Joan saves Max from being killed before she kidnaps him, but still, what a great start to a relationship, right? To say their romance is unconventional would be an understatement, to say the least. These two don't particularly like each other, but they need each other – and they certainly want each other according to their bodies. Joan has Max handcuffed to a bed for the majority of the book, but that doesn't stop them from getting up to some wicked things – and when I say wicked, I mean WICKED. My cheeks were nearly burning, that's how hot this book was. If you like steam, you definitely need to experience Max and Joan's.
"Save your act for other people. The lies and the show—I don't want it. I want you. Fucked up and crazy. I want you."
Joan and Max couldn't be more ill-suited for one another – a con woman on the run, and a bad boy biker ex-leader? But somehow, they start to fall for one another in the time they spend together, and they grow to want more than just each others' bodies. Their romance is a bit slow, but I felt it moved at the perfect pace for the two of them.
This is one of those books with characters who show themselves in all their raw honesty, which I loved about Joan and Max. They are unapologetic about who they are, the take-them-or-leave-them sort of people. I don't usually come across these kinds of characters, so they were refreshing and unique to read about.
We'd burned down the night and our old lives with it.
But we'd built something so much better in its place.
Burn Down the Night was the perfect dark and gritty read to get me out of my slight book funk. I adored the main characters – they're both so broken but still tough and tenacious. Survivors no matter what gets thrown their way. You definitely need to add this book to your TBRs if you like gritty and intense reads – once you're hooked, you won't want to put it down!
Quotes are taken from the arc and are subject to change in the final version.
---
Reading Order: Everything I Left Unsaid series
#1 ~ Everything I Left Unsaid: My Review • Ebook • Paperback • Audible • Goodreads
#2 ~ The Truth About Him: My Review • Ebook • Paperback • Audible • Goodreads
#3 ~ Burn Down the Night: Ebook • Goodreads
---
FOLLOW BOOKLOVERS FOR LIFE ON:
✦ FACEBOOK • TWITTER • INSTAGRAM • GOODREADS • PINTEREST • BLOGLOVIN' ✦