Welcome to today's stop on the blog tour for Beard Science by Penny Reid!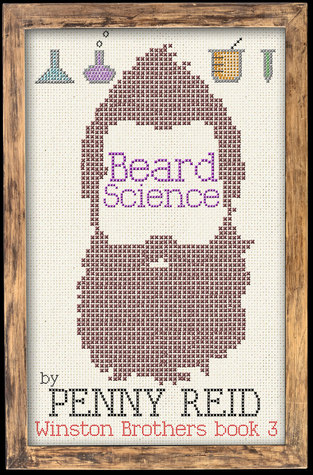 Beard Science by Penny Reid
Series: Winston Brothers #3 (full reading order below)
Release Date: October 11th 2016

Make a deal with the devil and you might get what you want, but will it be what you need?
Jennifer Sylvester wants one thing, and that one thing is NOT to be Tennessee's reigning Banana Cake Queen. Ever the perpetual good girl and obedient daughter, Jennifer is buckling under the weight of her social media celebrity, her mother's ambitions, and her father's puritanical mandates. Jennifer is officially desperate.
And desperate times call for Cletus Winston.
Cletus Winston is a puzzle wrapped in a mystery covered in conundrum sauce, and now he's in a pickle. Despite being convinced of his own omniscience, extortion by the exalted Banana Cake Queen of Green Valley has taken him completely by surprise. So… what's a maniacal mastermind to do?
Likely, the last thing you expect.
Buy Links:
Amazon • iTunes • Barnes & Noble • Kobo
I had such high expectations for Beard Science ever since first meeting Cletus and being utterly intrigued by him. He was unlike any other character I'd ever come across, and now that I've read his story, I can still say he's one of the most unique characters I've ever had the pleasure of reading. Seeing him fall in love was something I never knew I wanted, but Penny Reid gave me this wonderful experience that I totally adored. If you're a fan of Penny Reid or wonderfully quirky characters you can't help but love, I highly recommend this book!
I felt hushed. I felt smothered. I felt suppressed and . . . ignored. Not just by my parents and their expectations, but also by me. I'd been ignoring myself. I'd been ignoring my own wishes and hopes.
So indeed, I decided to feel motivated, determined, ready, and . . . excited.
I was excited, ready to find my spirit.
Jennifer Sylvester is known as the Banana Cake Queen… and she hates her title. She's always followed her parents' rules and has never truly done anything for herself, but she's ready for a change. And the perfect opportunity comes in the form of Cletus Winston – she blackmails the king of blackmail to get him to find a suitable man for her to settle down and start a family with.
"You'll know one day, Cletus. You'll discover what it's like to find the other part of yourself. You'll know it's her, only her, always her. Maybe not right away, but eventually you'll know. She'll be your beginning, middle, and end. And your intentions won't matter. Love brings its own intentions, and all other plans, hopes, and dreams fade to insignificance in the face of love."
Cletus, my love! Cletus is totally up there with Jethro as one of my favorite Winston brothers. He's just so unexpected and unique – there's no one quite like Cletus. He made me laugh, smile, swoon… Penny Reid definitely didn't disappoint with his character. And his heroine, Jennifer, was perfect for him! The two of them don't have the best first impressions of each other, but after spending time thanks to Jenn's blackmail causes them to develop feelings they've never felt before. It's a bit of a slow burn romance with neither of them recognizing what they're feeling for each other, but once they do… it's the most romantic thing ever.
"You want to know what you are to me? Fine. You're my beginning, middle, and end."
I loved Jenn and Cletus individually. Jenn's transformation from pushover to a woman who goes for what she wants was so impressive and admirable. Cletus is, well, Cletus. His falling in love humanized him a bit more, so to speak, and I love him even more for doing so. Theirs is a relationship that is supportive, respectful, sweet, and sexy as hell. Just saying, Cletus is a man who knows what he wants, and he GOES FOR IT.
She was so beautiful, my Jennifer. And not because of her eyes, or face, or any other outward attributes. The person she was held me transfixed. How could I have disregarded her? How could I have looked at her with anything but wonder and respect and desire?
Beard Science is another wonderful installment to the Winston Brothers series. I loved getting to know Jenn, Cletus, and the rest of the brothers even more. I felt so many emotions as I read this book – I was so hooked, I couldn't put it down. Now I'm seriously dying for the remaining brothers' stories, especially Billy and Claire's. I have a feeling that one will be an agonizing one.
Quotes are taken from the arc and are subject to change in the final version.
Reading Order: Winston Brothers series
#1 ~ Truth or Beard: My Review • Ebook • Paperback • Audible • Goodreads
#2 ~ Grin and Beard It: My Review • Ebook • Paperback • Audible • Goodreads
#3 ~ Beard Science: Ebook • Paperback • Goodreads
#4 ~ Beard in Mind: Goodreads (2017)
#5 ~ Dr. Strange Beard: Goodreads (2017)
#6 ~ Beard Necessities: Goodreads (2017)
SEX! It all started with sex, between my parents. Personally I don't like thinking about it, but whatever works for you is a-ok with me. No judgment. The sex happened in California and much of my life also occurred in that state until I moved from the land of nuts (almonds), wine, silicon… boobs, and heavy traffic to the southeast US. Like most writers I like to write, but let's get back to sex. Eventually I married and gave birth to 2 small people-children (boy-6, girl-4 as of this writing).
By day I'm a biomedical researcher with focus on rare diseases. By night I'm a knitter, sewer, lino block carver, fabric printer, soap maker, and general crafter. By the wee hours of the morning or when I'm intoxicated I love to listen to the voices in my head and let them tell me stories. I hope you enjoy their stories.
Prize Pack from Penny Reid
---
FOLLOW BOOKLOVERS FOR LIFE ON:
✦ FACEBOOK • TWITTER • INSTAGRAM • GOODREADS • PINTEREST • BLOGLOVIN' ✦