One of my new favorite series of the year is the Wild Aces series by Chanel Cleeton – I seriously ADOOORE this series!! It's got gorgeous, alpha, fighter pilot heroes and kickass, independent, amazing heroines. If you love men-in-uniform romances, these books are MUST READS. The heroes are dedicated to their jobs as pilots, but even more dedicated to their women. I love this series so much – each book just gets better and better. Chanel Cleeton is an amazing writer, so capable of balancing the perfect amount of sexy and sweet in this series.
Today on the blog, I get to feature my favorite so far of the series, Into the Blue! Second chance romance lovers, y'all need to get your hands on this one – ERIC IS EVERYTHING!!! ❤ Check out my review below as well as a fabulous giveaway for the third and final book of the series!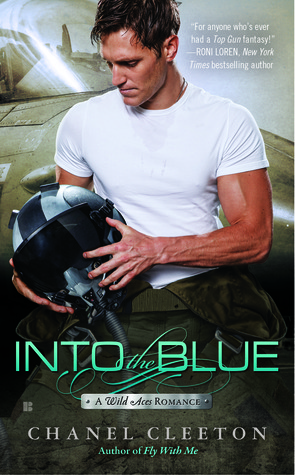 Into the Blue by Chanel Cleeton
Series: Wild Aces #2 (full reading order below)
Publication Date: July 5th 2016

Eric Jansen—call sign Thor—loves nothing more than pushing his F-16 to the limit. Returning home to South Carolina after a tragic loss, he hopes to fix the mistake he made long ago, when he chose the Air Force over his fiancée.
Becca Madison isn't quick to welcome Thor back. She can't forget how he shattered her heart. But Thor won't give up once he's set his sights on what he wants—and he wants Becca.
Thor shows Becca that he's no longer the impulsive boy he used to be, and Becca finds herself irresistibly drawn to him. But will Thor be able to walk away from his dream of flying the F-16 for their love or does his heart belong to the sky?
I loved loved LOVED THIS BOOK!!! Into the Blue was the PERFECT second chance romance/military romance for me. I'm usually a bit picky about these two tropes, and put them together? I was terrified about how it would play out, but holy hell, did I adore Eric and Becca's second chance at love. I couldn't have imagined a better story for these two characters. And omg Eric – can you say SWOON!? He was utter perfection as a hero. Seriously, I loved this book so much! Into the Blue is the second book in the Wild Aces series, though it can be read as a standalone (you can check out my review for book one here). If you loved Fly with Me, get ready to get your hands on Into the Blue – it's an absolute must read.
I'd been an idiot before and thrown away the best thing that had ever happened to me, but there was no way I was making the same mistake again.
Ten years ago, Becca and Eric had been in love, engaged, and ready to begin a new chapter in their lives. Becca thought they were happy, but apparently not, because Eric just up and left her behind to join the US Air Force. The past ten years have been filled with bitterness, anger, and hurt, so understandably, when Eric comes back home for the first time in a decade, Becca wants nothing to do with him. I felt for this girl so hard. I was angry on her behalf, even though I knew her heart has only ever been his. My heart broke for the way hers broke, and I wanted nothing more than for her to kick Eric's ass and show him what he's been missing, and thankfully, she delivers. I loved Becca wholeheartedly, because I could connect with her so well. She's got a huge heart capable of so much love, but the hurt Eric caused only made her grow stronger. And this time, she's not about to let him in that easily. I was so happy with the way she kept making Eric prove his love to her – Becca ROCKED as a heroine.
You couldn't fake what we had. Couldn't duplicate it. We were so fucking lucky to have found each other once, and even as I'd always suspected it, I knew without a shadow of a doubt that letting her go was the biggest mistake of my life.
Now I needed to fix it.
The one thing that describes Eric? Regretful. He has so many regrets in life, but none does he regret more than leaving Becca, the love of his life. THIS is the kind of hero I adore reading about in second chance romances. The hero who never forgot about his lost love, the one who knows he effed up and can admit his mistakes. The kind of hero who's not afraid to put his heart on the line again, and once he's back in his woman's life, he's going to do everything he can to stay there permanently. Ten years ago, Eric gave up Becca for F-16's – but this time around, he knows he's not going to make the same mistake again. Will he be able to prove his love and devotion to her and win her heart again?
I'd never felt this way about anyone before. Wasn't sure I'd even felt this way about her before. Maybe it took losing her to realize just how much I needed her, the contrast between my life with Becca and my life without never clearer than in this moment.
Eric and Becca were beautiful together. They might have loved each other back then, but they are so meant for each other even more now. Into the Blue made my heart ache in all the right places – the angst is so well done, but the love is what totally swept me away. Chanel Cleeton did such an amazing job with this story – it's already become one of my favorite books of the year. Fly with Me was a fantastic read, but Into the Blue went above and beyond my expectations.
If you haven't read the Wild Aces series yet, you are missing out. It's an amazing military romance series – and if you love second chance romances too, Into the Blue will be perfect for you. This series only seems to be getting better and better, so I can't even imagine how the third book will turn out, but I know I'm dying to read Easy's story. I can already feel the heartache from On Broken Wings – January 2017 can't get here fast enough!
Quotes are taken from the arc and are subject to change in the final version.
Reading Order: Wild Aces series
#1 ~ Fly With Me: My Review • Ebook • Paperback • Goodreads
#2 ~ Into the Blue: My Review • Ebook • Paperback • Goodreads
#3 ~ On Broken Wings: Ebook • Paperback • Goodreads (Jan. 3, 2017)
Chanel Cleeton is the author of the e-books Flirting with Scandal, Playing with Trouble, and Falling for Danger. She received a bachelor's degree in International Relations from Richmond, the American International University in London and a master's degree in Global Politics from the London School of Economics and Political Science. She's also a graduate (survivor) of law school—she earned her J.D. from the University Of South Carolina School Of Law. A summer cruise in the Caribbean changed Chanel's life when she met and fell in love with a fighter pilot. A happily ever after later, she's currently living an adventure with her husband and three pups.
Paperback of On Broken Wings by Chanel Cleeton
(US Only)
---
FOLLOW BOOKLOVERS FOR LIFE ON:
✦ FACEBOOK • TWITTER • INSTAGRAM • GOODREADS • PINTEREST • BLOGLOVIN' ✦