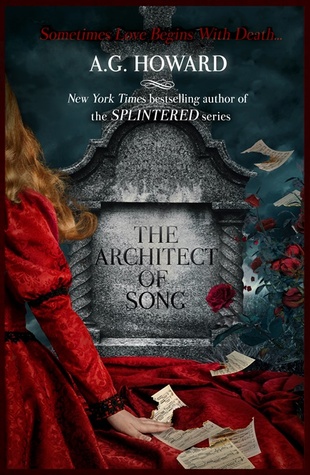 The Architect of Song by A.G. Howard
Series: Haunted Hearts Legacy #1 (full reading order below)
Audiobook Publication Date: October 11th 2016
Length: 12 hours and 45 minutes
Narrated by: 
Gemma Dawson
Links: 
Audible
 • 
Ebook
• 
Paperback
 •
Goodreads
Source: I received an audiobook in exchange for an honest review
A lady imprisoned by deafness, an architect imprisoned by his past, and a ghost imprisoned within the petals of a flower – intertwine in this love story that transcends life and death.
For most of her life, Juliet Emerline has subsisted – isolated by deafness – making hats in the solitude of her home. Now, she's at risk to lose her sanctuary to Lord Nicolas Thornton, a mysterious and eccentric architect with designs on her humble estate. When she secretly witnesses him raging beside a grave, Juliet investigates, finding the name "Hawk" on the headstone and an unusual flower at the base. The moment Juliet touches the petals, a young English nobleman appears in ghostly form, singing a song only her deaf ears can hear. The ghost remembers nothing of his identity or death, other than the one name that haunts his afterlife: Thornton.
To avenge her ghostly companion and save her estate, Juliet pushes aside her fear of society and travels to Lord Thornton's secluded holiday resort, posing as a hat maker in one of his boutiques. There, she finds herself questioning who to trust: the architect of flesh and bones who can relate to her through romantic gestures, heartfelt notes, and sensual touches … or the specter who serenades her with beautiful songs and ardent words, touching her mind and soul like no other man ever can. As sinister truths behind Lord Thornton's interest in her estate and his tie to Hawk come to light, Juliet is lured into a web of secrets. But it's too late for escape, and the tragic love taking seed in her heart will alter her silent world forever.
International and NYT bestselling author, A.G. Howard, brings her darkly magical and visual/visceral storytelling to Victorian England. The Architect of Song is the first installment in her lush and romantic Haunted Hearts Legacy series, a four book New Adult gothic saga following the generations of one family as – haunted by both literal and figurative ghosts – they search for self-acceptance, love, and happiness.
I've only read one other book of A.G. Howard's and that was her YA novel, but the premise of The Architect of Song sounded promising, and I've been super in NA fantasy lately so I decided to give it a try. This is more paranormal than fantasy though, but anything in the NA genre that wasn't contemporary was still right in my boat. Here we have a story about nineteen-year-old Juliet whose deafness has caused her to live a life of isolation. But when her home is at risk of being seized, she is unknowingly thrust into a web of secrets and lies… and even ghosts.
Listening to this audiobook was a strange experience, to say the least. Usually I don't have a hard time following a story when I listen, but this wasn't the case with The Architect of Song. I felt like too many things were happening at the same time, and the story was too tame to really hook me in. I wanted more romance, especially between Juliet and her ghost, because I wanted to see how that would work out. The mystery surrounding the ghost Hawk and Lord Thornton, who was the one trying to take away her estate, was a bit too convoluted for me. I'm sure if I read this instead of listened, I would've understood more, but the audiobook just wasn't working too well for me.
This is the first time that I've listened to a narrator with an English accent though, which was wonderful and lovely. I really enjoyed Gemma Dawson's accent and voice and would definitely listen to her again. Her narration was what made listening to The Architect of Song a little more enjoyable, so it wasn't a complete bust. I'd say if you're a fan of mysteries and love stories, you should give this a try! Hopefully it'll keep you hooked more than it did for me.
THE ARCHITECT OF SONG is now available on Audible: http://amzn.to/2jxKfCC
---
Reading Order: Haunted Hearts Legacy series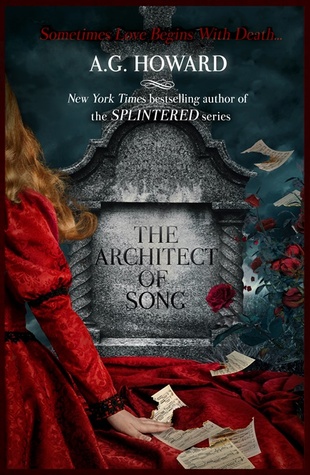 #1 ~ The Architect of Song: Ebook • Paperback • Audible • Goodreads
#2 ~ The Hummingbird Heart: Goodreads (out Aug. 2017)
#3 ~ The Glass Butterfly: Goodreads (out Aug. 2018)
#4 ~ The Artisan of Light: Goodreads (out Aug. 2019)
Here's an audio excerpt from The Architect of Song!
---
FOLLOW BOOKLOVERS FOR LIFE ON:
✦ FACEBOOK • TWITTER • INSTAGRAM • GOODREADS • PINTEREST • BLOGLOVIN' ✦