Click the banner to follow the tour.
Welcome to today's stop on the blog tour for Making Faces by Amy Harmon! We're celebrating the release of the new paperback from Spencer Hill Press with bonus content with an interview with the author and a fantastic giveaway!
Author Interview: Amy Harmon
Can you tell us about your book, Making Faces, in 40 words or less?
Girl loves boy. Boy doesn't feel the same. Boy goes to war. Boy comes back very different. Boy is rescued by the unconditional love of the girl and the courage of an amazing friend with Duchenne Muscular Dystrophy. (38 words)
What was your favorite scene to write?
I always love the scenes where pieces come together or love is realized. I love the scene in the bakery where Bailey Sheen is telling Ambrose that he can have his pride or he can have a life, but he can't have both.
What was the hardest scene to edit out?
I don't ever edit entire scenes because I write very slowly and edit as I go. But the hardest scene to write was Bailey becoming the super hero he'd always wanted to be. (Don't want to spoil anything).
Is this part of a series or a standalone?
This is a standalone novel.
What theme song would you give to Making Faces?
Carry On by Fun.
Do you have a favorite quote from Making Faces?
There are a few, but the one that is the simplest is Victory is in the Battle.
What else are you currently working on?
I am working on another fantasy book in the vein of The Bird and the Sword as well as a historical novel.
What is the best book that you've read recently?
I really enjoyed The Wall of Winnepeg by Mariana Zapata. Slow burn romance with very appealing characters.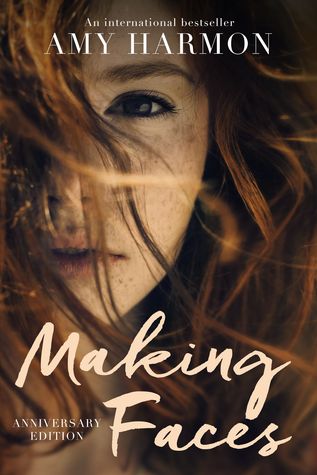 Making Faces by Amy Harmon
Series: Standalone
Publication Date: February 21st 2017
Publisher: Spencer Hill Press

The Spencer Hill Press release will have Bonus Content never before available.
Ambrose Young was beautiful. The kind of beautiful that graced the covers of romance novels, and Fern Taylor would know. She'd been reading them since she was thirteen. But maybe because he was so beautiful he was never someone Fern thought she could have . . . until he wasn't beautiful anymore.
Making Faces is the story of a small town where five young men go off to war, and only one comes back. It is the story of loss. Collective loss, individual loss, loss of beauty, loss of life, loss of identity. It is the tale of one girl's love for a broken boy, and a wounded warrior's love for an unremarkable girl. This is a story of friendship that overcomes heartache, heroism that defies the common definitions, and a modern tale of Beauty and the Beast, where we discover that there is a little beauty and a little beast in all of us.
Buy Links:
Amazon
Amy Harmon is a New York Times, Wall Street Journal and USA Today bestselling author of ten novels. Her books are now being published in 13 languages around the globe.
She knew at an early age that writing was something she wanted to do, and divided her time between writing songs and stories as she grew. Having grown up in the middle of wheat fields without a television, with only her books and her siblings to entertain her, she developed a strong sense of what made a good story.
Website • Twitter • Facebook • Instagram • Pinterest • Youtube • Goodreads
One copy of Making Faces; open to US only
---
FOLLOW BOOKLOVERS FOR LIFE ON:
✦ FACEBOOK • TWITTER • INSTAGRAM • GOODREADS • PINTEREST • BLOGLOVIN' ✦