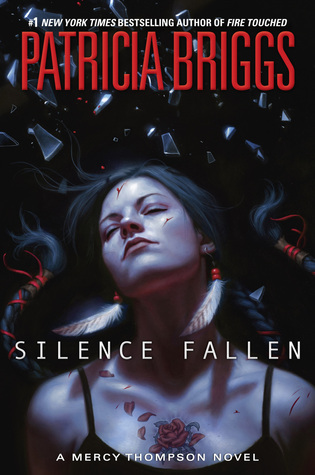 Silence Fallen by Patricia Briggs
Series: Mercy Thompson #10 (full reading order below)
Publication Date: March 7th 2017
Links: 
Ebook
•
Hardcover
 •
Audible
 •
Goodreads
Source: I received an ARC from the publisher in exchange for an honest review
In the #1 New York Times bestselling Mercy Thompson novels, the coyote shapeshifter has found her voice in the werewolf pack. But when Mercy's bond with the pack—and her mate—is broken, she'll learn what it truly means to be alone…
Attacked and abducted in her home territory, Mercy finds herself in the clutches of the most powerful vampire in the world, taken as a weapon to use against alpha werewolf Adam and the ruler of the Tri-Cities vampires. In coyote form, Mercy escapes—only to find herself without money, without clothing, and alone in the heart of Europe…
Unable to contact Adam and the rest of the pack, Mercy has allies to find and enemies to fight, and she needs to figure out which is which. Ancient powers stir, and Mercy must be her agile best to avoid causing a war between vampires and werewolves, and between werewolves and werewolves. And in the heart of the ancient city of Prague, old ghosts rise…
Y'all, the Mercy Thompson series is one of my favorite urban fantasy series of all time. Although I have to admit that the Alpha & Omega series is my top fav from Patricia Briggs, there's nothing like delving back into Mercy and Adam's story. They were the first I fell in love with from this author, so they'll always hold a special place in my heart. There's something different about Silence Fallen compared to the previous books in the series though, and it's a change I loved – we get more of Adam's POV! But everything else about this latest installment is classic Mercy Thompson – funny, action-packed, heartwarming, and just plain awesome. This was everything I expected and more from Patricia Briggs!
I tried to reach out to Adam through our mate bond and touched … emptiness. Silence had fallen between us, not the electric, expectant kind. This silence was the emptiness that falls in the dead of night in the middle of a Montana when the world is encased in snow and icy cold, a silence that engulfed my soul and left me alone.
On her way to the market, Mercy gets kidnapped right from underneath her and her pack's nose. Usually, when this happens (this has happened a couple times – it's Mercy), she's able to contact Adam through their mate bond. But this time, outside magic is preventing her from contacting her husband for help. Mercy is used to trouble though, and manages to escape her prison from Europe's most powerful vampire… only to find out she's been taken to Italy, and runs for her life.
Adam and his pack are racing against time to catch up to Mercy. With the help of vampires Stefan and Marsilia, his packmate Honey, the goblin king, a witch, and one Matt Smith (not The Doctor), they're on their way to Europe and Mercy. But they know she's tough and a survivor, so she'll be able to stay alive while Adam deals with paranormal politics with Bonarata. Nearly half the book is in Adam's POV, which made me so happy. I loved getting inside his head and seeing how he deals with the pack and outsiders. And it was lovely to see how much Adam loves and adores his wife and would do anything to protect her. I really hope Patricia Briggs gives us more of Adam's POV in future books!
"My love," he said, his voice intent. "You are welcome to all that I am, all that I have. I would destroy the planet for you. I was even diplomatic for you, which was a bigger sacrifice."
In this novel, we also get to learn more about Mercy's Coyote heritage, specifically about ghosts. If you thought we knew all there was to know about Mercy, you'd be wrong. She continuously surprises us with the new strengths and powers she possesses. She's one of my all-time favorite heroines ever – I could read the series for her forever!
If you love urban fantasy and haven't experienced this series yet, what are you waiting for!? It's such an incredible, unique world Patricia Briggs has created. The characters are beloved and so entertaining to read about. I seriously enjoyed reading Silence Fallen and can't wait for the next installment!
Quotes are taken from the arc and are subject to change in the final version.
---
Reading Order: Mercy Thompson series
#1 ~ Moon Called: Ebook • Paperback • Audible • Goodreads
#2 ~ Blood Bound: Ebook • Paperback • Audible • Goodreads
#3 ~ Iron Kissed: Ebook • Paperback • Audible • Goodreads
#4 ~ Bone Crossed: Ebook • Paperback • Audible • Goodreads
#5 ~ Silver Borne: Ebook • Hardcover • Paperback • Audible • Goodreads
#6 ~ River Marked: Ebook • Hardcover • Paperback • Audible • Goodreads
#7 ~ Frost Burned: Ebook • Paperback • Audible • Goodreads
#8 ~ Night Broken: Ebook • Hardcover • Paperback • Audible • Goodreads
#9 ~ Fire Touched: My Review • Ebook • Hardcover • Audible • Goodreads
#10 ~ Silence Fallen: Ebook • Hardcover • Audible • Goodreads
---
FOLLOW BOOKLOVERS FOR LIFE ON:
✦ FACEBOOK • TWITTER • INSTAGRAM • GOODREADS • PINTEREST • BLOGLOVIN' ✦