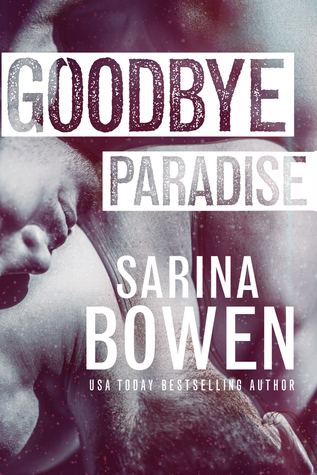 Goodbye Paradise by Sarina Bowen
Series: Hello Goodbye #1 (full reading order below)
Publication Date: March 21st 2017
Links:
Ebook
 • 
Goodreads
Source: I received an ARC from the author in exchange for an honest review
Most people called it a cult. But for twenty years, Josh and Caleb called it home.
In Paradise, there is no television. No fast food. Just long hours of farm work and prayer on a dusty Wyoming ranch, and nights in a crowded bunkhouse. The boys of the Compound are kept far from the sinners' world.
But Joshua doesn't need temptation to sin. His whole life, he's wanted his best friend, Caleb. By day they work side by side. Only when Josh closes his eyes at night can they be together the way he craves.
It can never be. And his survival depends on keeping his terrible desires secret.
Caleb has always protected Josh against the worst of the bullying at the Compound. But he has secrets of his own, and a plan to get away — until it all backfires.
Josh finds himself homeless in a world that doesn't want him. Can Caleb find him in time? And will they find a place of safety, where he can admit to Josh how he really feels?
Warning: Contains a hot male/male romance, copious instances of taking the Lord's name in vain, and love against the kitchen counter. This book was previously released under the title: In Front of God & Everyone.
I love anything Sarina Bowen writes, but I have to say I think this is the most adorable M/M romance I've ever read. I had all the heart eye emojis while reading Josh and Caleb's lovely, emotional, heartwarming story. I seriously ADORED this book! If you're looking for a sweet, unique M/M romance, you'll definitely need to read Goodbye Paradise!
Josh and Caleb grew up in Paradise, and for the past two decades, they've been living in this cult, working as laborers and getting few benefits from it. One perk of the job though, is the fact that Josh can be around his best friend Caleb… and he can long for him from afar. No one can know that Josh has got a crush on his best friend, who's a guy, because they'll be sure to kick him out of Paradise and leave him homeless. But that day comes sooner than later when the cult finds little use in Josh anymore. But when Caleb escapes so he can stand by Josh's side, can they possibly start a new life together from practically nothing?
As they make their way to Massachusetts to find a woman named Maggie who left Paradise years ago and made a home for herself, Josh and Caleb are once again side by side, but now out in the open. It's here that Caleb finally makes his move and shows Josh that it's okay to love a man, because he loves Josh back. Despite how much Josh tried to keep his feelings hidden, loving Caleb was as easy as breathing and there was nothing that could stop him from being with the man he's loved for so long.
I reached up, circling him in my arms, pulling him down beside me. "I love you." I could say that without guilt. Because loving someone wasn't a sin. Other things… sure. But love could never be a crime.
I absolutely adored everything about Josh and Caleb's story. The raw and beautiful love they have for each other was so simple and easy… it was everything surrounding them that made their lives difficult. But these two are nothing if not hardworking and persistent, and even before the end of the novel, I knew Caleb and Josh would survive and thrive in their new lives.
Goodbye Paradise brought out ALL the feels and emotions out of me. My heart honestly couldn't stop overflowing with happiness over Caleb and Josh's love for each other. They are absolutely perfect for each other – I can't imagine a sweeter couple than them! I almost wish this book was longer, because I didn't want to let go of their story. I loved this book – and I can't wait for more M/M from Sarina Bowen!
"I'm so hard for you right now. That's never going to change. Whether I'm stupid or smart, and whether you still love me anymore, or not. I never could help loving you. It's just the way that I'm wired."
Quotes are taken from the arc and are subject to change in the final version.
---
Reading Order: Hello Goodbye series
#1 ~ Goodbye Paradise: Ebook • Goodreads
#2 ~ Hello Forever: Goodreads (release date TBA)
---
FOLLOW BOOKLOVERS FOR LIFE ON:
✦ FACEBOOK • TWITTER • INSTAGRAM • GOODREADS • PINTEREST • BLOGLOVIN' ✦