Welcome to today's stop on the blog tour for The Hunt by Chloe Neill!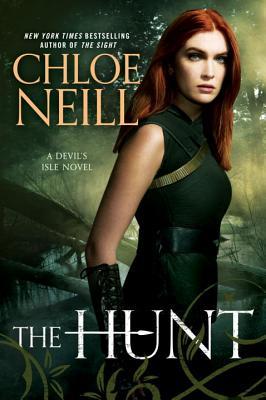 The Hunt by Chloe Neill
Series: Devil's Isle #3 (full reading order below)
Publication Date: September 26th 2017

From the New York Times bestselling author of the Chicagoland Vampires Novels—the hunter becomes the hunted in a New Orleans devastated by a Paranormal war….
When bounty hunter Liam Quinn discovered that Claire Connolly was a Sensitive and infected with magic, he should have turned her in to be locked up in the prison district known as Devil's Isle. Instead, he helped her learn to control her power and introduced her to an underground group of Paranormals and humans who know the truth about the war and those who fought it.
Now the weight of Liam's own secrets has forced him into hiding. When a government agent is killed and Claire discovers that Liam is the prime suspect, she races to find him before the government can. But she'll discover proving his innocence is no simple matter. Their enemies are drawing closer, and time is running out….
Buy Links:
Amazon • B&N • iBooks • Powell's • BAM • Kobo • Indiebound
Reading Order: Devil's Isle series
#1 ~ The Veil: My Review • Ebook • Paperback • Audible • Goodreads
#2 ~ The Sight: Ebook • Paperback • Audible • Goodreads
#3 ~ The Hunt: Ebook • Paperback • Audible • Goodreads (Sept. 26, 2017)
Chloe Neill was born and raised in the South, but now makes her home in the Midwest—just close enough to Cadogan House and St. Sophia's to keep an eye on things. When not transcribing Merit's and Lily's adventures, she bakes, works, and scours the Internet for good recipes and great graphic design. Chloe also maintains her sanity by spending time with her boys—her husband (also her favorite landscape photographer) and their dogs, Baxter and Scout. (Both she and the photographer understand the dogs are in charge.) Visit her on the Web at www.chloeneill.com.
Website • Facebook • Twitter • Amazon Page • Goodreads
Devil's Isle tote bag
Devil's Isle sticker sheet, coaster, and bookplate
Chloe Neill pen and "Brainstorms" notebook
Signed Chloe Neill book
Bookmarks
The fun doesn't stop here. Want more chances to win? You can also enter THE HUNT Grand Prize Giveaway, which runs September 18 through September 29 on Chloe's web site.
What is the Grand Prize Giveaway prize?
Blog Tour Schedule
Week One
Monday, September 18 – Novel Knight Book Reviews
Tuesday, September 19 – Angel's Guilty Pleasures
Wednesday, September 20 – Wicked Cool Flight
Thursday, September 21 – Booklovers For Life | The Book Nympho
Friday, September 22 – Consummate Reader
Week Two
Monday, September 25 – Paranormally Yours
Tuesday, September 26 – Saucy Wenches | Fang-Tastic Books
Wednesday, September 27 – Goldilox and the Three Weres
Thursday, September 28 – Parajunkee | Desert Divas Book Addiction
Friday, September 29 – Desert Divas Book Addiction
---
FOLLOW BOOKLOVERS FOR LIFE ON:
✦ FACEBOOK • TWITTER • GOODREADS • PINTEREST • BLOGLOVIN' ✦