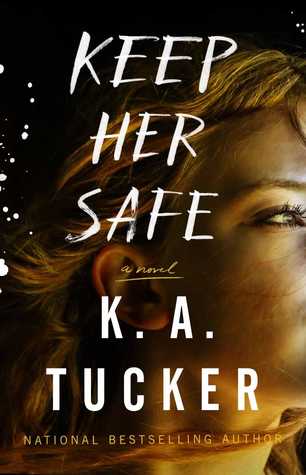 Keep Her Safe by K.A. Tucker
Series: Standalone
Publication Date: January 23rd 2018
Links: 
Ebook
•
Hardcover
•
Paperback
 • 
Audible
•
Goodreads
Source: I received an ARC from the publisher in exchange for an honest review
Making a Murderer meets Scandal in this story of police corruption, family secrets, and illicit affairs from bestselling author K.A. Tucker, celebrated for her "propulsive plot twists and searing seduction" (USA TODAY).
Noah Marshall has known a privileged and comfortable life thanks to his mother, the highly decorated chief of the Austin Police Department. But all that changes the night she reveals a skeleton that's been rattling in her closet for years, and succumbs to the guilt of destroying an innocent family's life. Reeling with grief, Noah is forced to carry the burden of this shocking secret.
Gracie Richards wasn't born in a trailer park, but after fourteen years of learning how to survive in The Hollow, it's all she knows anymore. At least here people don't care that her dad was a corrupt Austin cop, murdered in a drug deal gone wrong. Here, she and her mother are just another family struggling to survive…until a man who clearly doesn't belong shows up on her doorstep.
Despite their differences, Noah and Gracie are searching for answers to the same questions, and together, they set out to uncover the truth about the Austin Police Department's dark and messy past. But the scandal that emerges is bigger than they bargained for, and goes far higher up than they ever imagined.
Complex, gritty, sexy, and thrilling, Keep Her Safe solidifies K.A. Tucker's reputation as one of today's most talented new voices in romantic suspense.
I'm a big fan of K.A. Tucker's NA romantic suspense series, the Burying Water series, so when I heard she'd be writing more romantic suspense, I had to get my hands on it! I don't normally read this genre, but I do for K.A. Tucker – and this latest novel of hers had me captivated and on the edge of my seat the whole read through.
As the son of the highly decorated chief of the Austin PD, Noah Marshall has lived a privileged life… until his world is turned upside down when his mother reveals pieces of a dark, guilty secret she's kept for years, right before she kills herself. Noah is now burdened with this secret, and goes on to right his mother's wrongs and get to the bottom of this mystery. He's led to Gracie Richards' doorstep, the daughter of a disgraced, supposedly corrupt cop. Up until that point, Gracie has lived a life opposite of Noah's privileged one, but it turns out they share a history neither of them expected. The two embark on a journey to uncover the truth and unravel the mystery beneath the tragedy and lies of what happened fifteen years ago.
Keep Her Safe was unputdownable. The mystery and suspense had me glued to the pages, because I HAD to know what would happen next. I'm usually the type of reader who can guess what happens in a book, but all I can say about this one is that K.A. Tucker took me by surprise constantly. Noah and Gracie themselves were fantastic characters – I loved them and empathized with them. Though the suspense was the star of this show, their romance is definitely something to take note of. It's slow but sweet, and it meshed perfectly well with the mystery and suspense. If you're a fan of this genre or K.A. Tucker, I highly recommend you pick Keep Her Safe up!
---
Also by K.A. Tucker
If you love romantic suspense
Standalone
He Will Be My Ruin: Ebook • Hardcover • Paperback • Audible • Goodreads
Reading Order: Burying Water series
#1 ~ Burying Water: My Review • Ebook • Paperback • Audible • Goodreads
#2 ~ Becoming Rain: Ebook • Paperback • Audible • Goodreads
#3 ~ Chasing River: My Review • Ebook • Paperback • Audible • Goodreads
#4 ~ Surviving Ice: My Review • Ebook • Paperback • Audible • Goodreads
---
FOLLOW BOOKLOVERS FOR LIFE ON:
✦ FACEBOOK • TWITTER • INSTAGRAM • GOODREADS • PINTEREST • BLOGLOVIN' ✦