I am so excited to be a part of the blog tour for Love & War by Melissa de la Cruz! We're a week away from its release, and to celebrate, I've got a review for the first book, Alex & Eliza!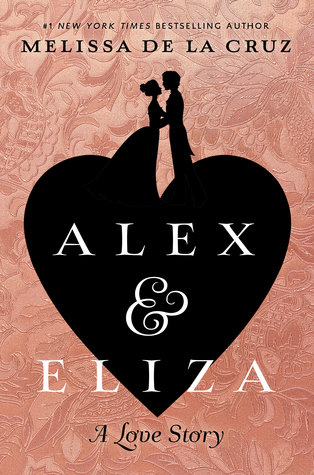 Alex & Eliza by Melissa de la Cruz
Series: Alex & Eliza #1 (full reading order below)
Publication Date: April 11th 2017

From the #1 New York Times bestselling author of The Witches of East End and the Descendants series comes the love story of young Alexander Hamilton and Elizabeth Schuyler.
1777. Albany, New York.
As battle cries of the American Revolution echo in the distance, servants flutter about preparing for one of New York society's biggest events: the Schuylers' grand ball. Descended from two of the oldest and most distinguished bloodlines in New York, the Schuylers are proud to be one of their fledgling country's founding families, and even prouder still of their three daughters—Angelica, with her razor-sharp wit; Peggy, with her dazzling looks; and Eliza, whose beauty and charm rival those of both her sisters, though she'd rather be aiding the colonists' cause than dressing up for some silly ball.
Still, Eliza can barely contain her excitement when she hears of the arrival of one Alexander Hamilton, a mysterious, rakish young colonel and General George Washington's right-hand man. Though Alex has arrived as the bearer of bad news for the Schuylers, he can't believe his luck—as an orphan, and a bastard one at that—to be in such esteemed company. And when Alex and Eliza meet that fateful night, so begins an epic love story that would forever change the course of American history.
In the pages of Alex and Eliza, #1 New York Times bestselling author Melissa de la Cruz brings to life the romance of young Alexander Hamilton and Elizabeth Schuyler.
Buy Links:
Amazon Ebook • Amazon Hardcover • Barnes & Noble • BAM • IndieBound
I'll admit that I don't know the first thing about Hamilton, and I've never seen the musical. So I was able to go into this book with no preconceived notions, which I was thankful for. I don't remember the last time I read a YA historical fiction, so I don't have much to compare Alex & Eliza to, but this one hit all the marks for me – Melissa de la Cruz's writing was easy to read, the historical aspect was well done (at least I thought so), but what I really enjoyed was the main focus of the novel: the romance between Alex and Eliza.
The book takes place during the winter months of 1780 during the American Revolutionary War, so we don't get much of the actual fighting/action between the soldiers. Colonel Alexander Hamilton is George Washington's aide, so he himself doesn't experience the harsh realities of the war. While he longs to prove himself, things turn up when he hears that Eliza Schuyler is on her way to where Washington's troops are staying. It's been two years since Alex has last seen her, but he's only missed her in their time apart.
I know the author has taken creative liberties with Alex and Eliza's love story, since not much is known about it, but I adored the direction that Melissa de la Cruz took with it. They have a bit of a whirlwind romance, with lots of swoons, sweet moments, and chemistry. Eliza is witty, sassy, and a strong female character that I admired. I really enjoyed the portrayal of female characters in this novel, with Eliza and her sisters. These ladies are headstrong and command a room not just with their beauty, but with their sharp, intelligent minds too. I liked learning more about both Alex and Eliza, and would definitely do some research about them as they are fascinating characters. We get some old-fashioned courtship mixed within all the American Revolution historical details, and there was the perfect balance of both. I never once felt like the story lagged or was bored!
I'd definitely recommend this YA historical romance fiction if you love anything historical or romance, and especially if you're a fan of Alexander Hamilton. Melissa de la Cruz was able to bring the history and romance to life, and I enjoyed reading every bit of it. Right now I am diving into the sequel which I have high hopes for if the first book is anything to go by!
Reading Order: Alex & Eliza series
#1 ~ Alex & Eliza: Ebook • Hardcover • Paperback • Audible • Goodreads
#2 ~ Love & War: Ebook • Hardcover • Audible • Goodreads (April 17, 2018)
Melissa de la Cruz is the New York Times and USA Today best-selling author of many critically acclaimed and award-winning novels for teens including The Au Pairs series, the Blue Bloods series, the Ashleys series, the Angels on Sunset Boulevard series and the semi-autobiographical novel Fresh off the Boat.
Her books for adults include the novel Cat's Meow, the anthology Girls Who Like Boys Who Like Boys and the tongue-in-chic handbooks How to Become Famous in Two Weeks or Less and The Fashionista Files: Adventures in Four-inch heels and Faux-Pas.
She has worked as a fashion and beauty editor and has written for many publications including The New York Times, Marie Claire, Harper's Bazaar, Glamour, Cosmopolitan, Allure, The San Francisco Chronicle, McSweeney's, Teen Vogue, CosmoGirl! and Seventeen. She has also appeared as an expert on fashion, trends and fame for CNN, E! and FoxNews.
Melissa grew up in Manila and moved to San Francisco with her family, where she graduated high school salutatorian from The Convent of the Sacred Heart. She majored in art history and English at Columbia University (and minored in nightclubs and shopping!).
She now divides her time between New York and Los Angeles, where she lives in the Hollywood Hills with her husband and daughter.
Tour Schedule
WEEK ONE
4/2 – Quite the Novel Idea – Creative: Hand-lettering Piece
4/3 – Lo's Lo-Down on Books – Spotlight
4/4 – Bette's Pages – Creative DIY – Alexa & Eliza Inspired Soaps
4/5 – The Gypsy Road – Review
WEEK TWO
4/9 – Booklovers for Life – Spotlight + Review
4/10 – Just Reading It – Spotlight
4/11 – The Heart of a Book Blogger – Book Aesthetics
LOVE & WAR: AN ALEX & ELIZA LOVE STORY
WEEK THREE
4/16 – The Blonde Bookworm Reads – Review + Spotlight
4/17 – The Clockwork Bibliophile – Review + Insta Post
4/18 – Reading with Wrin – Review
4/19 – A Page with a View – Favorite Historical Fiction Reads
4/20 – BookishNel – Creative Photos + Mini Review
WEEK FOUR
4/23 – Librariel Book Reviews – Review
4/24 – Teachers Who Read – Review
4/25 – The Plot Bunny – Creative
4/26 – Fiktshun – My Top 10 Favorite Things about Love and War
---
FOLLOW BOOKLOVERS FOR LIFE ON:
✦ FACEBOOK • TWITTER • INSTAGRAM • GOODREADS • PINTEREST • BLOGLOVIN' ✦