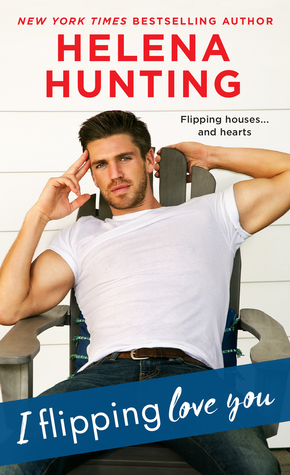 I Flipping Love You by Helena Hunting
Series: Shacking Up #3 (full reading order below)
Publication Date: May 29th 2018

From New York Times bestselling author Helena Hunting comes I Flipping Love You, a love story about flipping houses, taking risks, and landing that special someone who's move-in ready.
Rian Sutter doesn't usually get hit on in the grocery store, but when she notices a sexy man in a suit checking her out, she thinks maybe it's her lucky day. Either that or the suit has a thing for sweaty, yoga-pant wearing women with excellent price matching skills.
Turns out it's neither.
Pierce Whitfield can't believe his luck when he's able to track down the woman who scratched up the paint job on his car at the scene of the crime. But when he confronts the hit and run hottie, he discovers there's not just one, but two of them, and he's been throwing accusations at the wrong twin.
As repair costs are negotiated, and the chemistry between them flares, Rian and Pierce find out they have more than mutual attraction in common. They're both vying for the same pieces of prime real estate in The Hamptons and neither one plans to give up without a fight.
Can these passionate rivals turn up the heat on their budding romance—without burning down the house?
Buy Links:
Amazon • Barnes & Noble • iTunes • Kobo • Google Play
I haven't quite loved the Shacking Up series – until now. I Flipping Love You is definitely my favorite of the series, and the perfect rom-com read for the summer. It's set in the Hamptons, with a sweet yet hilarious romance I thoroughly enjoyed reading. This book is HGTV meets romance, and Helena Hunting does an incredible job at incorporating the flipping houses aspect with the love story.
I Flipping Love You has one of the best meet-cutes I've ever read – mainly because it's not cute, but hilarious. A gorgeous man in a suit has been checking out Rian at the grocery store, but it turns out he's been keeping an eye out on her because he thinks she did a scratch-and-run with his car. Fortunately, it wasn't Rian who scratched his car. Unfortunately, it was her twin sister. What starts off as an already heated relationship sizzles even more as Rian and Pierce handle car troubles and coincidentally reunite in the Hamptons.
Rian and Pierce have a fairly drama-free relationship, and I loved the slow burn aspect of it. Pierce knows what he and Rian have is a once-in-a-lifetime thing, but Rian is hesitant and reluctant. In between Pierce fighting for the woman he's falling for, we get lots of home renovation talk, hilarious one-liners, and the gorgeous setting of the Hamptons. This book honestly made me want to be relaxing by a pool, it has such a summer vibe. I highly recommend this one if you're in the mood for something light-hearted and fun this summer.
"I promise I'll take good care of your heart, Rian. And I promise it'll get easier if you keep saying it." He kisses me again, whispering against my lips. "I love you."
Quotes are taken from the arc and are subject to change in the final version.
Reading Order: Shacking Up series
#1 ~ Shacking Up: My Review • Ebook • Paperback • Audible • Goodreads
#2 ~ Hooking Up: Ebook • Paperback • Audible • Goodreads
#3 ~ I Flipping Love You: Ebook • Paperback • Audible • Goodreads
New York Times and USA Today bestselling author of PUCKED, Helena Hunting lives on the outskirts of Toronto with her incredibly tolerant family and two moderately intolerant cats. She's writes contemporary romance ranging from new adult angst to romantic sports comedy.
(1) paperback copy of I Flipping Love You
(US only)
Click the photo to enter on Instagram (or click here)
---
FOLLOW BOOKLOVERS FOR LIFE ON:
✦ FACEBOOK • TWITTER • INSTAGRAM • GOODREADS • PINTEREST • BLOGLOVIN' ✦