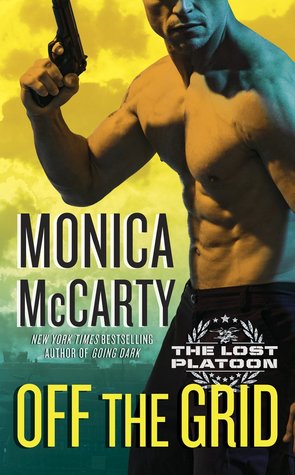 Off the Grid by Monica McCarty
Series: The Lost Platoon #2 (full reading order below)
Publication Date: July 3rd 2018
Links:
Ebook
 • 
Paperback
•
Audible
• 
Goodreads
Source: I received an ARC from the publisher in exchange for an honest review
A team of Navy SEALs go on a mission and disappear without a trace–they are The Lost Platoon.
Investigative reporter Brittany Blake may have stumbled upon the story of a lifetime in her search for her missing brother. When he seemingly disappears overnight, she refuses to accept the Navy's less-than-satisfying explanation. She begins her own investigation, which leads her to top-secret SEAL teams, covert ops, and a possible cover up…
John Donovan is having trouble biding his time, waiting for his Commanding Officer to figure out who set up their platoon. John's best friend and BUD/S partner, Brandon Blake, was one of the many lives tragically lost in the attack against his team. When Brandon's sister, Brittany, tracks John down, looking for answers, he realizes that she may be their best bet–or bait–for finding out who is targeting SEAL Team Nine.
The Lost Platoon series is the kind of romantic suspense that I LIVE for. I am utterly addicted to the action, the steam, and the chemistry between the main characters. I put off reading Off the Grid until the third book released so I could binge them back to back, and boy am I glad I made this decision. I was in romantic suspense heaven continuing this fantastic series. Off the Grid is the middle child of the series, though it doesn't have the middle book syndrome. There is so much that happens, both in terms of the romance(s) and overall plot arc, so if you enjoyed Going Dark, you're definitely going to want to read this follow-up!
Brittany Blake is an investigative reporter who knows something has happened to her missing brother. The U.S. military gave excuses for the missing men in SEAL Team Nine, but Brittany is determined to uncover the truth. The first step to doing so? Connecting with her brother's best friend and fellow SEAL, John Donovan… the man who broke her heart years ago.
John Donovan and the rest of the surviving SEAL Team Nine men are off the grid. They can't let either the U.S. or Russia know that they are the sole survivors of a Russian attack, as they were never supposed to be on Russian soil. But their secrecy is in jeopardy when John's dead best friend's sister starts nosing her way to the truth. John is tasked with distracting and eventually stopping Brittany from her investigation. But he can't help the connection that he's always felt for her, that flares up just as strongly now as it did five years ago.
She laughed, totally impervious to any suggestiveness. He wasn't sure how he felt about that. Five years ago she used to blush when he said things like that to her.
I enjoyed Brittany and John's characters, though at times they did seem immature. John is known as the funny guy in his team, and I loved the light-heartedness he brought to the book. He's also a bit of a player, and I wanted Brittany to make him work just a bit harder to win her over, but I can't blame the girl for falling so easily into his arms. A six foot plus, 200+ pound alpha-male that is allll muscle? I wouldn't say no either.
He almost didn't recognize himself. Brittany had turned him into some kind of less evolved, possessive, jealous version of John Donovan.
In addition to John and Brittany, we also get more of Kate and Colt's story that we initially learned about in Going Dark. I'll admit, a big part of why I wanted to continue the series was to get Kate and Colt's (hopefully) happy ending, and in Off the Grid, we definitely see them heading in the HEA direction, though it's not quite there yet. As far as second chance romance goes, this one is spectacular. All the angst and all the heartache!
Off the Grid is a fantastic installment in the Lost Platoon series, but trust me, it only gets better from here. The suspense is well done – it kept me guessing who did what. Brittany and John's relationship starts off fast in bed, but the slower development of feelings is worth the read. As far as military romances/romantic suspenses go, this one is SO good.
Quotes are taken from the arc and are subject to change in the final version.
---
Reading Order: The Lost Platoon series
#1 ~ Going Dark: Ebook • Paperback • Audible • Goodreads
#2 ~ Off the Grid: Ebook • Paperback • Audible • Goodreads
#3 ~ Out of Time: Ebook • Paperback • Audible • Goodreads
---
FOLLOW BOOKLOVERS FOR LIFE ON:
✦ FACEBOOK • TWITTER • INSTAGRAM • GOODREADS • PINTEREST • BLOGLOVIN' ✦