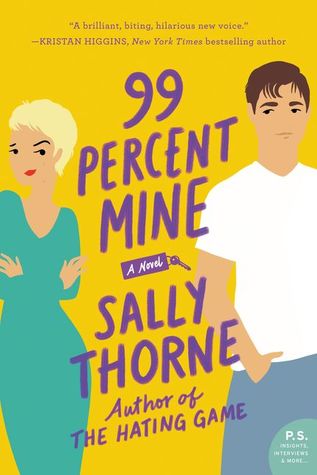 99 Percent Mine by Sally Thorne
Series: Standalone
Publication Date: January 29th 2019

Crush (n.): a strong and often short-lived infatuation, particularly for someone beyond your reach…
Darcy Barrett has undertaken a global survey of men. She's travelled the world, and can categorically say that no one measures up to Tom Valeska, whose only flaw is that Darcy's twin brother Jamie saw him first and claimed him forever as his best friend. Despite Darcy's best efforts, Tom's off limits and loyal to her brother, 99%. That's the problem with finding her dream man at age eight and peaking in her photography career at age twenty—ever since, she's had to learn to settle for good enough.
When Darcy and Jamie inherit a tumble-down cottage from their grandmother, they're left with strict instructions to bring it back to its former glory and sell the property. Darcy plans to be in an aisle seat halfway across the ocean as soon as the renovations start, but before she can cut and run, she finds a familiar face on her porch: house-flipper extraordinaire Tom's arrived, he's bearing power tools, and he's single for the first time in almost a decade.
Suddenly Darcy's considering sticking around to make sure her twin doesn't ruin the cottage's inherent magic with his penchant for grey and chrome. She's definitely not staying because of her new business partner's tight t-shirts, or that perfect face that's inspiring her to pick up her camera again. Soon sparks are flying—and it's not the faulty wiring. It turns out one percent of Tom's heart might not be enough for Darcy anymore. This time around, she's switching things up. She's going to make Tom Valeska 99 percent hers.
Buy Links:
Ebook • Paperback • Hardcover • Audible
HarperCollins • Barnes & Noble
The Hating Game is one of my all time favorite books, so to say I was excited for Sally Thorne's next release would be an understatement. Even though I didn't quite obsess over 99 Percent Mine like I did THG, I still adored Darcy and Tom. The beginning was a little rough for me to get into, but once I hit my stride, I absolutely didn't want to stop reading.
I adore a good brother's best friend romance, and this one has everything I like about the trope: chemistry, forbidden elements, childhood crushes, angst. It's also funny, witty, and quirky. Darcy is just so different from any other heroine I've read, and I appreciated her for that. Tom is an absolute SWEETHEART – the shy to Darcy's aggressive. Big, shy heroes are my favorite. If you like opposites attract, I think you'll fall for Tom and Darcy.
We're all shareholders in Tom Valeska: Jamie, Megan, and me. His mom and my parents. Loretta and Patty. Everyone who's ever met him wants a piece of him, because he's the best person there is. I quickly count up all of those people. I include his dentist and doctor. Maybe he's 1 percent mine. That has to be enough. I have to share.
Darcy Barrett has had a life-long crush on childhood friend Tom Valeska, but him being taken as her brother's best friend put a stop on anything romantic developing between them growing up. But when there's a once-in-a-lifetime chance to be near and around him for long periods of time – a chance to flip a house with him – Darcy seizes it. And what ensues is a romance story that is awkward, charming, funny, and endearing.
Darcy is beautifully flawed and complicated. Her insecurities sometimes get the best of her, which she hides behind her snark and sass. She's a very hot and cold character, which was off-putting in the beginning, but she grew on me by the end. She believes that she's not good enough for Tom, but Tom is just so loving and supportive of her. He's a big, gentled, kind-hearted man who blushes around Darcy but isn't afraid to be protective and possessive of her. I couldn't help but swoon for him.
"If you were mine, I'd be careful with you. I bet that's something you haven't had much of."…
"What else would you do?" I've got that husky voice he likes.
The animal in him is honest with me. "Everything. If you were mine, I'd do everything."
I really appreciated that Sally Thorne didn't write a The Hating Game 2.0. 99 Percent Mine is very different from THG, but Sally's wit and charm comes across well in her writing. If you enjoyed THG, I highly recommend you try this second novel of hers. ALSO! For all you Josh and Lucy fans, there's the sweetest little epilogue to THG at the end of 99 Percent Mine and it. is. glorious!
Quotes are taken from the arc and are subject to change in the final version.
Be sure to check out Sally's previous novel, The Hating Game!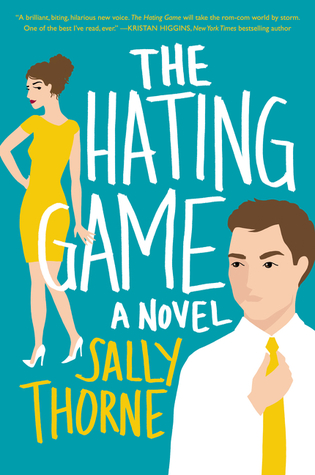 Ebook • Paperback • Audible • Goodreads
Sally Thorne is the USA Today-bestselling author of The Hating Game. She spends her days climbing into fictional worlds of her own creation. She lives in Canberra, Australia with her husband in a house filled with vintage toys, too many cushions, a haunted dollhouse and the world's sweetest pug.
---
FOLLOW BOOKLOVERS FOR LIFE ON:
✦ FACEBOOK • TWITTER • INSTAGRAM • GOODREADS • PINTEREST • BLOGLOVIN' ✦