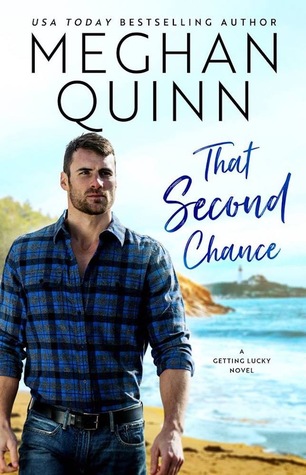 That Second Chance by Meghan Quinn
Series: Getting Lucky #1 (full reading order below)
Publication Date: May 7th 2019
Links:
Ebook
•
Paperback
•
Audible
•
Goodreads
Source: I received a copy from the publisher in exchange for an honest review
USA Today bestselling author Meghan Quinn delivers a smart and cheeky romance about love's power to lift hearts . . . and curses.
It was supposed to be an innocent night, celebrating my brother's birthday. Nothing was supposed to go wrong. We'd vowed to be on our best behavior after all . . .
But it only took one rowdy night with my brothers to flip my world upside down. One unlucky encounter saddled us with a family curse and the promise of doomed relationships. I laughed it off immediately. "Yeah, right," I thought. "A love curse. Ha!"
Boy, was I wrong.
Word spreads quickly in a town like mine; rumors about that night soon made us the most eligible yet untouchable bachelors in Port Snow, Maine. As a subject of endless gossip and speculation, I could kiss my dating life goodbye.
It would have stayed that way if Ren Winters, the new girl in town, hadn't crashed into my life. Brave, beautiful, and smart—her vivacious thirst for a fresh start has given me hope that maybe, just maybe, I can have one too.
Everyone wishes for that second chance . . . but could this really be mine?
I haven't been THIS delighted in a book in a while! That Second Chance is one of the most charming romances I've ever read. It's set in the small town of Port Snow, Maine, and legit, Meghan Quinn wrote this small town with so much heart that I wanted to move there. This was my first novel from Meghan Quinn as well, but you can be sure that it won't be my last. I've become a huge fan of her writing and storytelling after reading this book. I'm absolutely dying for more of this series already!
I love discovering a series that centers around a group of family members. With the Getting Lucky series, we follow four brothers who've had a love curse placed upon them after a rowdy night in New Orleans. Griffin is the eldest, and a widower. He believes in the love curse because only a few days after he and his brothers were 'cursed,' his wife passes away. He's been going through the motions for the past few years now, working at the family fudge shop and volunteering as a firefighter. Everything changes when a new resident moves into their quaint small town, and he's the first to greet her – by rescuing her after a moose-related car accident.
Ren needs a new change of pace from her former life in Los Angeles. She chooses to move to the opposite side of the country to be a math teacher. It's scary and overwhelming, but with the help of her first Port Snow friend Griffin Knightly, she easily finds a new home in this small town. I LOVE the fact that Ren and Griffin become friends first. Friends-to-lovers is my kryptonite, and the romantic development (which was paced perfectly slow and steady) felt so much more genuine between these two after they became friends. They are seriously adorable, taking trips around town, camping, setting up her new house together, all the while bantering playfully with each other. I loved every scene they had together and I couldn't get enough of them. The main source of conflict for their romance is predictable, but I enjoyed the way it played out. The love curse is a little cheesy, but I really had no problem with it!
What makes That Second Chance such a solid small town romance is how real the town and its inhabitants feel. The Knightlys are such a charming family and all their friends are hilarious and sweet. Meghan Quinn has me so invested in this town and characters now – I can't wait for each of the Knightly boys to get their own books. I only hope I'll love them as much as I did Ren and Griffin!
---
Reading Order: Getting Lucky series
#1 ~ That Second Chance: Ebook • Paperback • Audible • Goodreads
#2 ~ That Forever Girl: Ebook • Paperback• Goodreads (Aug. 27, 2019)
---
FOLLOW BOOKLOVERS FOR LIFE ON:
✦ FACEBOOK • TWITTER • INSTAGRAM • GOODREADS • PINTEREST • BLOGLOVIN' ✦