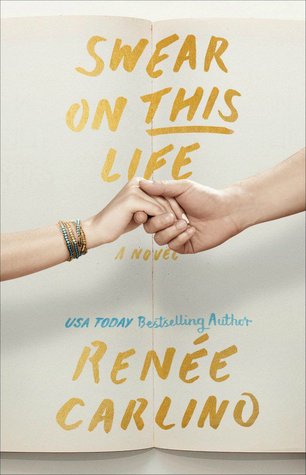 Swear on this Life by Renée Carlino
Series: Standalone
Publication Date: August 9th 2016
Links: 
Ebook
•
Paperback
•
Goodreads
Source: I received an ARC from the publisher in exchange for an honest review
From USA TODAY bestselling author Renée Carlino (Before We Were Strangers), a warm and witty novel about a struggling writer who must come to grips with her past, present, and future after she discovers that she's the inspiration for a pseudonymously published bestselling novel.
When a bestselling debut novel from mysterious author J. Colby becomes the literary event of the year, Emiline reads it reluctantly. As an adjunct writing instructor at UC San Diego with her own stalled literary career and a bumpy long-term relationship, Emiline isn't thrilled to celebrate the accomplishments of a young and gifted writer.
Yet from the very first page, Emiline is entranced by the story of Emerson and Jackson, two childhood best friends who fall in love and dream of a better life beyond the long dirt road that winds through their impoverished town in rural Ohio.
That's because the novel is patterned on Emiline's own dark and desperate childhood, which means that "J. Colby" must be Jase: the best friend and first love she hasn't seen in over a decade. Far from being flattered that he wrote the novel from her perspective, Emiline is furious that he co-opted her painful past and took some dramatic creative liberties with the ending.
The only way she can put her mind at ease is to find and confront "J. Colby," but is she prepared to learn the truth behind the fiction?
Once again, I'm probably in the minority for Renée Carlino's latest release. As much as I wish I could've loved this book, I didn't enjoy it at all. Back when I read Before We Were Strangers, my first book by this author, I didn't see the appeal and I wasn't a fan of the writing, so I was hesitant to read Swear on this Life. But the blurb hooked me in (as always), and I ended up disappointed nonetheless. The writing was mediocre, I didn't care for the characters, and the second chance romance (which is one of my favorite tropes ever) failed to make me feel anything but annoyance. Looking at the ratings, I'm sure most readers will enjoy this book, but honestly, I'd only recommend SotL to those who loved BWWS.
"I love you, Emiline. I loved you before I even knew what it meant."
The premise of this story is amazing – the heroine, Emiline, reads a bestselling book only to realize it's a book about HER life… and the childhood she shared with her one and only love. She figures the author of the book must be Jase Colbertson, the lost love she hasn't seen in over a decade, and she gets pissed. She can't believe he would share to the world such private details about her not-so-savory childhood. Luckily, he's about to show up in San Diego for a book signing, and she has to decide whether she wants to confront him or let the past stay in the past.
My main problem with this second chance romance is how much focus is on the past. We're given passages from Jase's book (which honestly didn't read anything like a top bestselling novel) and we learn about Emiline's past through them. Her past is sad, tragic, and pretty predictable, but what really killed it for me was how LONG and drawn out it was. Every time I read the passages from the book, I already wanted to get back to the present and the upcoming reunion (which fyi, doesn't happen until over halfway through the book). I didn't even end up liking the scenes where Em falls in love with Jase as a young girl, because the Jase from the past is NOTHING like the Jase from the present, so I had no real point to invest my time in his past self.
Unfortunately, the present couldn't save the novel for me. Emiline, who is in her late twenties, acts like she's a teenager, one even more immature than she was as a child. She also has a long-time boyfriend, Trevor, whose character I really saw no point in existing other than to take even more time for Emiline and Jase to get back together. And the reunion with Jase? Such a let-down, because guess who's grown up to become a smug, smirking manwhore, like every other boring hero ever? Can you tell I don't really like those kinds of heroes? I honestly didn't see why Jase was acting so smug, when Emiline had every right to be angry with him and not fall directly into his arms and crotch when they saw each other again.
And this is slightly spoilery, but what kind of man tells the woman he's supposedly loved his whole life that he's currently fucking another woman, his agent who he sees practically every day no less? Obviously, he stops when he reunites with Emiline, so what exactly is the point of saying it anyway?
So this book was disappointing, but I can't say it's a surprise. I felt the same disappointment and annoyance with the author's previous book – I really don't think Renée Carlino is for me. I'm not a fan of her writing – it's all telling, no showing, except for those rare paragraphs that are pretty deep and meaningful, which throws me off. I'm probably going to give up on her books now and let others enjoy it, no matter how enticing her future stories sound.
Quotes are taken from the arc and are subject to change in the final version.
---
Also by Renée Carlino
Sweet Thing: Ebook • Paperback • Audible • Goodreads
Nowhere But Here: Ebook • Paperback • Audible • Goodreads
After the Rain: Ebook • Paperback • Audible • Goodreads
Beofre We Were Strangers: My Review • Ebook • Paperback • Goodreads
---
FOLLOW BOOKLOVERS FOR LIFE ON:
✦ FACEBOOK • TWITTER • INSTAGRAM • GOODREADS • PINTEREST • BLOGLOVIN' ✦