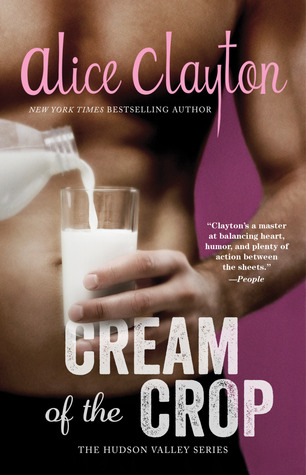 Cream of the Crop by Alice Clayton
Series: Hudson Valley #2 (full reading order below)
Publication Date: July 12th 2016
Links: 
Ebook
•
Paperback
•
Audible
• 
Goodreads
Source: I received an ARC from the publisher in exchange for an honest review
New York Times and USA TODAY bestselling author Alice Clayton brings her trademark blend of funny and sexy to this second contemporary romance in the brand-new Hudson Valley series!
Manhattan's It Girl, Natalie Grayson, has it all: she's a hot exec at a leading advertising firm, known industry-wide for her challenging and edgy campaigns. She's got a large circle of friends, a family that loves her dearly, and her dance card is always full with handsome eligible bachelors. What else could a modern gal-about-town wish for? The answer, of course, is…cheese.
Natalie's favorite part of each week is spending Saturday morning at the Union Square Farmer's Market, where she indulges her love of all things triple cream. Her favorite booth also indulges her love of all things handsome. Oscar Mendoza, owner of the Bailey Falls Creamery and purveyor of the finest artisanal cheeses the Hudson Valley has to offer, is tall, dark, mysterious, and a bit oblivious. Or so she thinks. But that doesn't stop Natalie from fantasizing about the size of his, ahem, milk can.
Romance is churning, passion is burning, and something incredible is rising to the top. Could it be…love?
I've loved Alice Clayton since Wallbanger first came out, and her newest books in the Hudson Valley series are just as fun and entertaining as her first book. This author does rom-com like no other, so if you're a fan of funny, sexy books, you'll want to get your hands on this series! These books will have you laughing with delight and also have you blushing like crazy the next. Cream of the Crop is another winner from Alice Clayton — Nuts is still my favorite Hudson Valley book, but this one was pretty unique and I absolutely adored the heroine!
We first met Natalie in Nuts as one of Roxie's best friends, and we know that Natalie has got a bit of a crush on a certain dairy farmer. Normally, Natalie's the most confident, self-assured woman there is, but every time she's within the vicinity of Oscar Mendoza, her brain fries and she's literally only capable of saying two words to him. It's hilarious and endearing – Natalie is seriously one of my favorite heroines ever! I just love her confidence (when she's not shy around Oscar) and I love how empowered she is. She owns every one of her curves and I really couldn't admire her more.
When she gets the chance to visit Hudson Valley for a job, Natalie jumps at the chance not only to see her best friend, but also to see Oscar in all his dairy glory. There's a hot chemistry between these two characters despite how frazzled she is around Oscar, but once she gets over it, holy crap do sparks fly. These two are crazy hot together – there might have been a litttle too much sex, but otherwise I really enjoyed the way they were together.
Cream of the Crop is pure, light-hearted fun, and the perfect drama-free summer read. The romance was simple and uncomplicated, and the setting of Hudson Valley is gorgeous and homey. It's seriously such a fun read – and I already can't wait to read more of the series!
---
Reading Order: Hudson Valley series
#1 ~ Nuts: My Review • Ebook • Paperback • Audible • Goodreads
#2 ~ Cream of the Crop: Ebook • Paperback • Audible • Goodreads
---
FOLLOW BOOKLOVERS FOR LIFE ON:
✦ FACEBOOK • TWITTER • INSTAGRAM • GOODREADS • PINTEREST • BLOGLOVIN' ✦