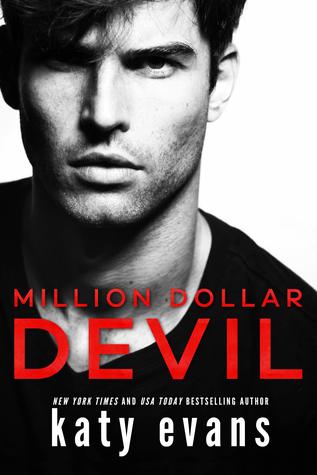 Million Dollar Devil by Katy Evans
Series: Million Dollar #1 (full reading order below)
Publication Date: May 28th 2019
Links:
Ebook
•
Paperback
•
Audible
•
Goodreads
Source: I received a copy from the publisher in exchange for an honest review
Big-city sophistication meets carnal hunger in this devilish contemporary romance from New York Times and USA Today bestselling author Katy Evans.
Heir apparent to her father's company, Lizzy Banks needs a man. The perfect man. But when the rich "fundbabies" she usually rubs shoulders with prove impossible to hire, she takes a chance on a raw beast of a man salvaged from the wreckage of a bar brawl.
James Rowan earns a modest income as a YouTube daredevil, but he can't refuse Lizzy's million dollar deal. As she polishes his rough edges, creating a sophisticated gentleman fit for the highest circles of society, not only does she bring out the perfect man—it's like she's making the man of her dreams. How can she resist?
Though Lizzy loves seeing James in his clothes—and out of them—he isn't the kind of man you bring home to Daddy. Her father's disapproval and the pressure of the campaign have her eyeing the straight and narrow, but Lizzy's finding it awfully hard to resist the devil on her shoulder…
The premise of Million Dollar Devil had me hooked and intrigued. There the clash of the classes trope – rich girl, struggling boy – opposites-attract, and a sort of reversed-gender Pretty Woman thing going on. Katy Evans has always been a solid author for me, doling out book after book of steam, chemistry, and hot AF alpha-male heroes. While this book has everything that KE is usually so good at, it lacked something that was in all her other books I loved. It was a bit of the writing, the characters didn't work for me… While it's not a bad read, it's not as good as I'm used to from this author.
All Lizzy Banks wants in life is to impress her father and inherit his billion-dollar company. She's tasked with one last chance to show him that she has what it takes to take over when he retires: find the perfect man to become the face of the company's new line of men's clothing. Then she meets James "Jimmy" Rowan – YouTube daredevil, protective older brother, and a gorgeous man who is in need of some cash. They strike a million dollar deal to clean up and sophisticate the man so he can become the model Lizzy needs.
I wish I could've loved Million Dollar Devil more. It's probably my least favorite Katy Evans book. The writing just was NOT working for me. I couldn't connect with the characters or their narratives (we get both their POVs) and at times I felt like one was too good for the other. I usually like the opposites-attract trope – Lizzy is as proper and good as a girl can get, while Jimmy is rough around the edges and a little dangerous – and while the chemistry is through the roof, I couldn't bring myself to really root for them. I wish the story and characters could've been fleshed out a bit more.
Million Dollar Devil didn't work for me, but if you love Katy's more recent works, if might work for you. I'm still looking forward to and will read the next Million Dollar book, so I haven't given up yet!
---
Reading Order: Million Dollar series
#1 ~ Million Dollar Devil: Ebook • Paperback • Audible • Goodreads
#2 ~ Million Dollar Marriage: Ebook • Paperback• Goodreads (July 23, 2019)
---
FOLLOW BOOKLOVERS FOR LIFE ON:
✦ INSTAGRAM • YOUTUBE • FACEBOOK • TWITTER • GOODREADS • PINTEREST • BLOGLOVIN' ✦