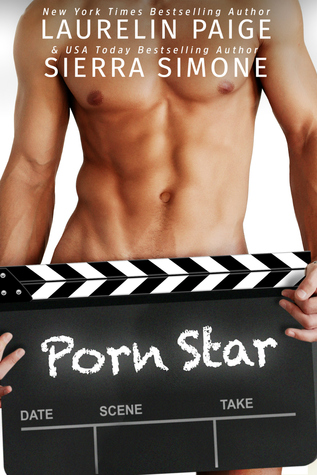 Porn Star by Laurelin Paige & Sierra Simone
Series: Standalone
Publication Date: March 8th 2016
Links:
Ebook
 •
Paperback
• 
Goodreads
Source: I received an ARC from the authors in exchange for an honest review
You know me.
Come on, you know you do.
Maybe you pretend you don't. Maybe you clear your browser history religiously. Maybe you pretend to be aghast whenever someone even mentions the word porn in your presence.
But the truth is that you do know me.
Everybody knows Logan O'Toole, world famous porn star.
Except then Devi Dare pops into my world, and pretty soon I'm doing things that aren't like me–like texting her with flirty banter and creating an entire web porn series just so I can get to star in her bed. Again. And again.
With Devi, my entire universe shifts, and the more time I spend with her, the more I realize that Logan O'Toole isn't the guy I thought he was.
So maybe I'm not the guy you thought I was either.
When I heard Laurelin Paige and Sierra Simone were collaborating on a work together, I knew it was going to be a HOT read. And then when I heard it was going to be about a porn star? Well, I had to see for myself what this book would be like. Porn Star actually surprised me – the authors' take on the porn industry was interesting, but it wasn't what I was expecting. I thought this book would be sexy and fun and light-hearted, but it turned out to be more than that. This won't be a read for everyone, especially if you don't like your characters being with other people, but otherwise, Porn Star was a well-written, unique, fascinating take on the life of a person in the porn industry.
The fantasy of being in love.
Jesus.
I scrub my face with my hands, feeling liberated and also feeling pathetic. Who in this selfish, indulgent, spray-tanned city would ever guess that Logan O'Toole has a chewy caramel center? That under his I'll-fuck-anything-that-moves veneer, there is a guy who just wants to love someone?
Logan O'Toole isn't your typical hero. He isn't even your typical guy. He's a famous porn star who's been burned by love (a woman who also works in the porn industry) and he's quite the sensitive soul. He may be be all sexual and alpha in bed and while filming, but outside of that, he's a normal guy who genuinely wants to find love. And he actually takes his job, not only as a porn star but also as a director, writer, and editor, very seriously. We get a lot of depth and information about this industry, and while I feel like the book focused too much on that, I did appreciate how it made the book feel more real and authentic.
Devi Dare went into the porn industry because she needed the money, but she only does girl-on-girl porn. The one time she was with a man was with Logan an his ex in a threesome a few years ago, and since then she's never really been able to forget him. Lucky for her, Logan feels the same way about Devi, and the two agree to film a porn series about a couple falling in love. So what happens when real feelings get involved along the way? Can a relationship in the porn industry actually work… and last?
My theater teacher in high school liked to talk about the unities, where time and place and action all converged into one point. Well, Devi is my unity right now. Drawing my body and my mind and my heart into a single, crystalline point, fusing all the disparate Logans into one bewitched, infatuated man.
I've fallen for her.
My heart actually hurt a bit for Devi and Logan as they were navigating this new relationship balancing sex, porn, and love. When both people in a relationship aren't on the same page, one of them is bound to get hurt. The problem here is that Logan doesn't see anything wrong with doing porn with other women while having a relationship with Devi, but Devi eventually realizes she does. Even though I personally don't agree with the way Logan views sex and love, I did understand him, but I really wanted him to open his eyes about love and Devi a lot sooner than he did. Again, if you don't like your main characters being with other people, this book won't be easy to read.
The highlight of this book is definitely the writing, with the steamy scenes coming in second. I adored Devi and felt for her and her struggles, and while I liked Logan, I wanted to shake him sometimes. This story really felt like an honest take on the porn industry, which was fascinating, buuut I didn't really like all the time Logan spent with other women. If you're looking for something well-written and different from your typical read, I would definitely recommend Porn Star.
Quotes are taken from the arc and are subject to change in the final version.
---
FOLLOW BOOKLOVERS FOR LIFE ON:
✦ FACEBOOK • TWITTER • INSTAGRAM • GOODREADS • PINTEREST • BLOGLOVIN' ✦