Welcome to today's stop on the blog tour for A Thousand Boy Kisses by Tillie Cole!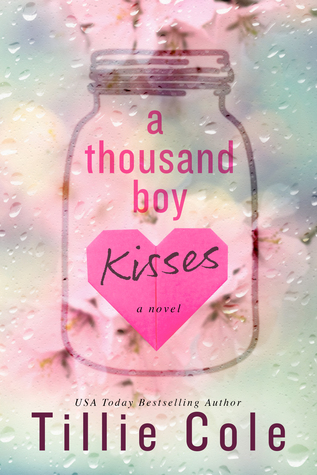 A Thousand Boy Kisses by Tillie Cole
Series: Standalone
Release Date: March 15th 2015

One kiss lasts a moment.
But a thousand kisses can last a lifetime.
One boy.
One girl.
A bond that is forged in an instant and cherished for a decade.
A bond that neither time nor distance can break.
A bond that will last forever.
Or so they believe.
When seventeen-year-old Rune Kristiansen returns from his native Norway to the sleepy town of Blossom Grove, Georgia, where he befriended Poppy Litchfield as a child, he has just one thing on his mind. Why did the girl who was one half of his soul, who promised to wait faithfully for his return, cut him off without a word of explanation?
Rune's heart was broken two years ago when Poppy fell silent. When he discovers the truth, he finds that the greatest heartache is yet to come.
Standalone Young Adult Tearjerker Romance.
For ages 14 and up.
Buy Links:
Amazon US • Amazon UK • Amazon CA • iTunes • Kobo
I don't know how Tillie Cole does it, but she's always able to write books that are so sad yet happy at the same time. They're gut-wrenching and heart-melting, they hurt my heart and uplift it, and her latest release, A Thousand Boy Kisses, takes all of that to the max. This book is a lovely, lovely coming of age story, and I truly enjoyed reading about Poppy and Rune.
"Poppy and Rune. Two halves of the same whole."
A Thousand Boy Kisses is definitely the kind of book that you want to go in blind. I do want to warn you that it's not exactly the most light-hearted of books, despite what you might think of the adorable cover. There are times in this novel that my heart felt so heavy, my emotions were shot, and I was hurting for Poppy and Rune – but I promise, the journey and the end are totally worth all the emotional upheaval.
This is a young adult, coming of age story, and it's also a mix of friends to lovers and a second chance romance. Poppy and Rune are high school students, so they're not the usual sort of characters Tillie Cole has written in the past, but they're very mature for their age. I adored these two together – their love is that once-in-a-lifetime love that anyone can only pray to find, and they find it at such a young age. Poppy and Rune love each other so deeply and tenderly, they made my heart swoon. Tillie Cole always writes the BEST love stories, and Poppy and Rune's is one of her best yet.
Closing his eyes, Rune took my mouth in a kiss. And in this kiss I felt his outpouring of love. I felt a love, that at seventeen, I was blessed to have received.
A love that knew no boundaries.
The kind of love that inspired music that lasts through the ages.
A love that should be felt and meant and treasured.
It gets a little too sappy and cheesy at times, but for the most part, A Thousand Boy Kisses is poignant and heartfelt. I felt all of the emotions in this book deeply, both the good ones and the bad. It's unique and gorgeously written, and I highly recommend it for those who love powerful love stories. I definitely won't be forgetting Poppy and Rune's romance anytime soon!
Quotes are taken from the arc and are subject to change in the final version.
Amazon & USA Today Best Selling Author, Tillie Cole is a Northern girl through and through. She originates from a place called Teesside on that little but awesomely sunny (okay I exaggerate) Isle called Great Britain. She was brought up surrounded by her English rose mother — a farmer's daughter, her crazy Scottish father, a savagely sarcastic sister and a multitude of rescue animals and horses.
---
FOLLOW BOOKLOVERS FOR LIFE ON:
✦ FACEBOOK • TWITTER • INSTAGRAM • GOODREADS • PINTEREST • BLOGLOVIN' ✦