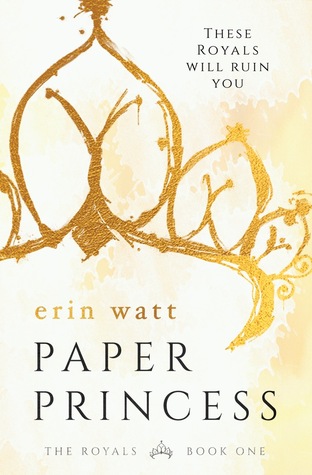 Paper Princess by Erin Watt
Series: The Royals #1 (full reading order below)
Publication Date: April 4th 2016
Links:
Ebook
 • 
Paperback
• 
Goodreads
Source: I received an ARC from the author in exchange for an honest review
From strip clubs and truck stops to southern coast mansions and prep schools, one girl tries to stay true to herself.
These Royals will ruin you…
Ella Harper is a survivor—a pragmatic optimist. She's spent her whole life moving from town to town with her flighty mother, struggling to make ends meet and believing that someday she'll climb out of the gutter. After her mother's death, Ella is truly alone.
Until Callum Royal appears, plucking Ella out of poverty and tossing her into his posh mansion among his five sons who all hate her. Each Royal boy is more magnetic than the last, but none as captivating as Reed Royal, the boy who is determined to send her back to the slums she came from.
Reed doesn't want her. He says she doesn't belong with the Royals.
He might be right.
Wealth. Excess. Deception. It's like nothing Ella has ever experienced, and if she's going to survive her time in the Royal palace, she'll need to learn to issue her own Royal decrees.
"You may have lost your family, but you're not alone anymore, Ella. You're a Royal now."
OH. MY. GOD!!! I've found my newest obsession and it is the Royal family!
WOW. This book kind of stunned me, in the best way possible. I'd been dying to read Paper Princess when I found out who the two authors were behind the Erin Watt pseudonym (Elle Kennedy and Jen Frederick) and since I LOVE EK and JF's books are also great, I had pretty high expectations. I admit was a little wary about this being labeled YA, but after reading it, I definitely consider it more NA than YA, even though the characters are still in high school. It's not crazy sexy, though there is a ton of sexual tension, which is just as good – so if you're worried about this being a tame read, rest assured, it isn't!
After the death of her mother, Ella Harper finds herself in not the most ideal circumstances, but she's a survivor, and she'll do whatever it takes to keep on going to the next day. But when the best friend of her father, who she's never met, comes and plucks her off the streets and into his home, her life is forever changed. Because Callum Royal and his Royal sons are practically from another planet – they're rich, entitled, spoiled, and nothing like her. The Royal boys are hell-bent on making life miserable for Ella, but she's no meek, shy girl. She stands on her own two feet, never backing down, and always surviving, knowing that every day that passes gets her closer to turning eighteen and getting away from this new life.
This will never be my home. I don't belong in splendor, I belong in squalor. That's what I know. It's what I'm comfortable with, because squalor doesn't lie to you. It's not wrapped in a pretty package. It is what it is.
This house is an illusion. It's polished and pretty, but the dream Callum is trying to sell is as flimsy as paper. Nothing stays shiny forever in this world.
Reed, the second oldest Royal son, is leader of their group now that Gideon, the eldest, has left the nest for college. Reed doesn't make it easy for Ella to get accepted in their house, their school, their lives… despite the insane amount of chemistry going on between them. Theirs is the perfect enemies-to-lovers romance, and I was glued to the pages thanks to the fantastically written tension and banter. I LOVED Ella – she's a tough heroine with a big heart and a spine of steel, and I admired her so hard. Reed is sexy as hell… though at this point I'm not quite sure I love him just yet. He has so much potential to become even better, and I can't wait to fall head over heels in love with him in the next Royals books.
I loved the Royals boys as a whole, though. Reed, Gideon, Easton, Sebastian, and Sawyer. I'm intrigued by every single one of these boys – each of them is so different and unique from the other. Their characters came to life in this book, and I'm dying to find out more about them.
Paper Princess was the addictive kind of book that I couldn't. put. down. I finished this at 2AM – I loved it!! It messed with my head in the best of ways, and it's a perfect enemies-to-lovers read. Fair warning though, the ending will make you want to SCREAM. Thankfully the sequels are only a few months apart, so it won't be too awful of a wait for Broken Prince and Twisted Palace!
"You belong with us. You're the best thing that ever happened to this family."
Quotes are taken from the arc and are subject to change in the final version.
---
Reading Order: The Royals series
#1 ~ Paper Princess: Ebook • Paperback • Goodreads
#2 ~ Broken Prince: My Review • Ebook • Paperback • Goodreads
#3 ~ Twisted Palace: Paperback • Goodreads (Oct. 17, 2016)
---
FOLLOW BOOKLOVERS FOR LIFE ON:
✦ FACEBOOK • TWITTER • INSTAGRAM • GOODREADS • PINTEREST • BLOGLOVIN' ✦