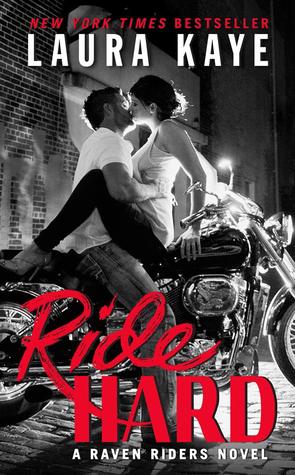 Ride Hard by Laura Kaye
Series: Raven Riders #1 (full reading order below)
Publication Date: April 26th 2016
Links: 
Ebook
 •
Paperback
 •
Audible
 • 
Goodreads
Source: I received a copy from the publisher in exchange for an honest review
Brotherhood. Club. Family.
They live and ride by their own rules.
These are the Raven Riders…
Raven Riders Motorcycle Club President Dare Kenyon rides hard and values loyalty above all else. He'll do anything to protect the brotherhood of bikers–the only family he's got–as well as those who can't defend themselves. So when mistrustful Haven Randall lands on the club's doorstep scared that she's being hunted, Dare takes her in, swears to keep her safe, and pushes to learn the secrets overshadowing her pretty smile.
Haven fled from years of abuse at the hands of her criminal father and is suspicious of any man's promises, including those of the darkly sexy and overwhelmingly intense Ravens' leader. But as the powerful attraction between them flares to life, Dare pushes her boundaries and tempts her to want things she never thought she could.
The past never dies without a fight, but Dare Kenyon's never backed down before…
I don't read MC romances that often, which is a shame because I enjoy them so much! There's always something so gritty and addicting about MC reads, and that description can definitely apply to Laura Kaye's Hard Ride. It's the first book in a brand new series, featuring the Raven Riders MC, a club dedicated to helping those who can't protect themselves. It's a suspenseful, sexy read that gripped me – it's a little slow at times, but otherwise, this is a solid first installment to the Raven Riders series.
After escaping from her father's abusive control, Haven and her best friend Cora have taken shelter with the Raven Riders. Unfortunately, her father is still out to get her, posting a large bounty for finding Haven and bringing her back to him. Haven has lived a very sheltered life, so all these tough bikers, regardless of how they would never harm her, are a little intimidating. But one man makes her feel different and fires her up like no other. Dare makes her feel safe, protected, and wanted. She's had very little experiences in life, but with Dare, she finds that she wants to experience all of life… with him.
Dare is the president of the Raven Riders, a responsibility he doesn't take lightly. He's vowed to make his club legitimate, but that doesn't mean that he and his men aren't deadly. He's alpha, honorable, loyal, and intense, and he'll do anything for those under his protection. Sweet and innocent Haven brings out his protective instincts even more, and even though he shouldn't get involved with her, he can't help but want her. And soon enough, as his feelings for her deepen, he'll have to do whatever it takes to make sure her father never harms her again.
"Oh, Haven," he said, "you have no idea what I'd be willing to do for you if you wanted me to."
Ride Hard was surprisingly sweet, with all the tender moments between Dare and Haven. But even with all the sweet moments, this book is hot too, so if you love steamy romances, you should definitely check it out. I really enjoyed this one – I didn't completely love it, since I didn't connect that well with the main characters, and the story moved too slowly at times, but I still had so much fun reading this story. If you love slow burn, suspenseful MC romances, I recommend Ride Hard!
---
Reading Order: Raven Riders series
#1 ~ Ride Hard: Ebook • Paperback • Audible • Goodreads
#2 ~ Ride Rough: Ebook • Paperback • Goodreads (April 25, 2017)
---
FOLLOW BOOKLOVERS FOR LIFE ON:
✦ FACEBOOK • TWITTER • INSTAGRAM • GOODREADS • PINTEREST • BLOGLOVIN' ✦