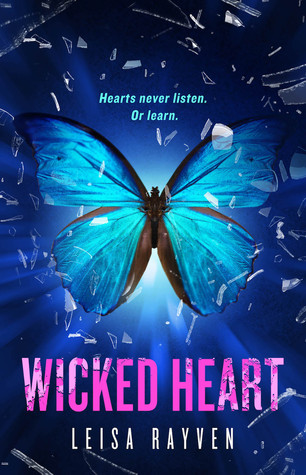 Wicked Heart by Leisa Rayven
Series: Starcrossed #3 (full reading order below)
Publication Date: May 17th 2016
Links: 
Ebook
•
Paperback
 •
Audible
 • 
Goodreads
Source: I received an ARC from the publisher in exchange for an honest review
The one guy she can't have is the one she can't forget.
Liam Quinn is one of the biggest movie stars in the world…and the only man Elissa Holt has ever truly loved.
After being out of her life for six years, he and his gorgeous fiancé are set to star in the new Broadway show Elissa is stage managing. The only trouble is, when late night rehearsals bring Elissa and Liam together, the line between what is and what could have been gets blurred. Now one moment of weakness is about to create a scandal that will echo around the world.
Elissa knows that falling for Liam again would be a tragedy in the making, but as any good romantic knows, love doesn't always follow the script.
I am so surprised at how much I adored Wicked Heart!! I wasn't the biggest fan of the Cassie and Ethan's story in the first two Starcrossed books, but I was praying that Elissa and Liam's story would be better, and thankfully I wasn't disappointed. It. Was. Fantastic!! THIS was the kind of story I was looking for when I first started the Starcrossed series – I loved the characters, the theatre aspect, the angst, the writing… This second chance romance swept my heart away! Its powerful love story made me FEEL so much, both good and bad emotions. Wicked Heart is a must read for new adult contemporary romance lovers!
Heartache doesn't teach you to be resilient. It teaches you to protect your fragility. It teaches you to fear love. And it draws a bright red circle around all the ways you've failed as a person and laughs while you cry.
Liam Quinn was Elissa Holt's first and only love… but he broke her heart six years ago when he moved on to someone else. Now, Elissa's about to stage manage one of the biggest Broadway shows of her career – but the leading roles star none other than Liam, now a famous Hollywood star… and his gorgeous fiancée, Angel. Elissa will have to set aside her feelings in order to work with the two of them closely, but how can she ignore the hot, sensual looks Liam gives her, or the chemistry they have that never faded away after all those years?
"I've never stopped loving you. From the day we met, you've been the only one for me. There's never been anyone else."
It took me a while to get into Wicked Heart, but after the flashbacks to the beginnings of Elissa and Liam's romance, I finally got into my groove and couldn't put the book down. I was dying to see how the show would go on, how Elissa and Liam would even get back together. The connection between them is incredibly well-written, so freaking hot and palpable – in every scene where they're together, you can tell they're meant to be, that they want to be together… but they can't. So the subsequent drama and angst had me on the edge of my seat, turning the pages so fast to see what would happen next. I seriously loved the way the author had me hooked onto this story!
The one thing that has been consistently well done throughout the series is Leisa Rayven's fantastic writing. Even though I had problems with the first two books, I couldn't deny that her writing blew me away, and it's just as incredible in Wicked Heart. I honestly can't wait to see what Leisa has in store for us next, just so I can experience her writing again. It's that good!
The secondary characters were just as developed and intriguing as the main ones. I have to say, I actually really liked Angel. She could've been the typical, one-dimensional, bitchy other woman, but she wasn't, and I'm so thankful for that. She and Elissa become good friends, much to Elissa's surprise – Angel is genuinely a good person, which makes it even harder to see the engagement. And Elissa's best friend Josh gives a much needed comedic relief to the story. He's so sweet and adorable – I loved him! Though I did have a problem with the little revelation at the end of the novel about his feelings for a certain someone – I thought that was a bit too clichéd.
Overall, Wicked Heart is a fantastic improvement to the Starcrossed series, and if Leisa Rayven's upcoming novels are anything like this one, I'm going to have to read them. Wicked Heart is addicting, angsty, and emotional – a little predictable towards the end, but that's forgivable. I swooned over the romance, and I kind of wish the book was a little longer so I could experience it a little more. If you love second chance romances, I highly recommend you read this book!
Quotes are taken from the arc and are subject to change in the final version.
---
Reading Order: Starcrossed series
#1 ~ Bad Romeo: My Review • Ebook • Paperback • Audible • Goodreads
#2 ~ Broken Juliet: My Review • Ebook • Paperback • Audible • Goodreads
#3 ~ Wicked Heart: Ebook • Paperback • Audible • Goodreads
---
FOLLOW BOOKLOVERS FOR LIFE ON:
✦ FACEBOOK • TWITTER • INSTAGRAM • GOODREADS • PINTEREST • BLOGLOVIN' ✦