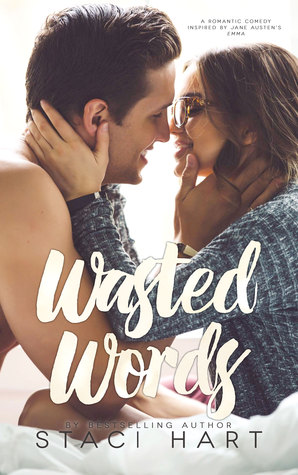 Wasted Words by Staci Hart
Series: Standalone
Publication Date: May 19th 2016
Links: 
Ebook
 • 
Paperback
• 
Goodreads
Source: I received an ARC from the author in exchange for an honest review
Some universal truths refuse to be ignored.
Peanut butter and jelly are a match made in heaven. Spaghetti and meatballs are best friends forever. And guys like Tyler Knight don't go for girls like Cam Emerson.
She knew from the second she met him that he didn't belong on her bookshelf, the six-foot-six ex-tight end with a face so all-American, it could have sold apple pie. So she shelved him next to the supermodels and rock stars and took her place on her own shelf — the one with the flannel-clad, pasty-faced comic book nerds. Most of her boyfriends have existed between the pages of books, but rather than worrying over her own lacking love life, she puts all her energy into playing Cupid, using her job at the book bar, Wasted Words, as her stomping ground.
Tyler Knight always looks on the bright side. His career-ending injury turned into a job as a sports agent. A horrible breakup led him to Cam, his quirky, smart roommate who is far more beautiful than she realizes. She's made it perfectly clear she's not interested in him — not like that at least — but if she ever changes her mind, he won't hesitate. Because he doesn't see the lines she's drawn between them, as much as she insists that they're there. Deep down he knows that despite their differences, they're a match well made.
*A romantic comedy inspired by Jane Austen's Emma*
Staci Hart writes the cutest new adult contemporary romances!! Wasted Words is another lovely friends-to-lovers romance of hers, with an added opposites-attract theme. It was really an adorable read – Tyler is the sweetest hero ever, Cam is flawed but relatable, and the story simple but well-written. If you're a fan of the author's Bad Habits series, or you like light-hearted contemporary romances, I highly recommend this one!
"So you have daydreamed about it," Bayleigh said as she crossed her arms.
"You've seen him. How could you not? But it's like fantasizing about a book boyfriend. One-hundred-percent of the time, it's fictional, which makes it harmless."
Cam Emerson and Tyler Knight are strictly roommates and friends. Sure, Tyler's the hottest guy Cam's ever met, and Cam is the sweetest girl Tyler's ever met, but they'd never make a move on each other. Cam thinks Tyler is way out her league – he's a six-foot-six ex-football player to her nerd-loving short self – and since she's been burned by someone out of her league before, she's never going to go for someone like that again. But when Tyler realizes that the girl who's always been right in front of him just might be the one, how is he going to convince Cam that they're perfect together?
She wasn't like the other girls I'd dated. She was real and good and true, and she wanted me. I felt more safe with her than any woman I'd ever been with.
First off, I have to say that I adore the place Cam works at. Wasted Words is a coffee shop/bar/bookstore, which literally sounds like heaven to me. I love the way Staci Hart incorporated the place into this story. Cam's coworkers made wonderful secondary characters, and I'm hoping some might end up getting their own books! I also liked that this book was inspired by Emma by Jane Austen, a story I adore. If you loved Emma, you definitely need to check Wasted Words out, because the whole matching-making thing is spot on here. I did get really annoyed with Cam sometimes with how adamant and stubborn she is when it comes to match-making and thinking she knows best, but thankfully she does learn from her mistakes.
Tyler!!!! Ahh, Tyler is definitely the star of this book for me. He is such a GOOD GUY. He's sweet, funny, kind, and so, so patient with Cam – I don't know how he was able to wait for her to get her head on straight! He's an adorable hero, and I loved getting his POV and seeing how much he feels for Cam. They make the cutest couple ever!
"I've never been with anyone like you, either." He smiled, thumb shifting against my skin. "And I feel more at home than I have in a long time."
Wasted Words is just lovely. It's not too serious, not too light-hearted. Staci Hart definitely balanced out the emotions really well in this novel. If you're a fan of the friends-to-lovers or opposites-attract tropes, this book needs to be on your TBR!
Quotes are taken from the arc and are subject to change in the final version.
---
Wasted Words is a standalone spinoff of the Bad Habits series, a series of standalones with characters featured in Wasted Words!
Reading Order: Bad Habits series
#1 ~ With a Twist: My Review • Ebook • Paperback • Audible • Goodreads
#2 ~ Chaser: My Review • Ebook • Paperback • Audible • Goodreads
#3 ~ Last Call: My Review • Ebook • Paperback • Audible • Goodreads
---
FOLLOW BOOKLOVERS FOR LIFE ON:
✦ FACEBOOK • TWITTER • INSTAGRAM • GOODREADS • PINTEREST • BLOGLOVIN' ✦