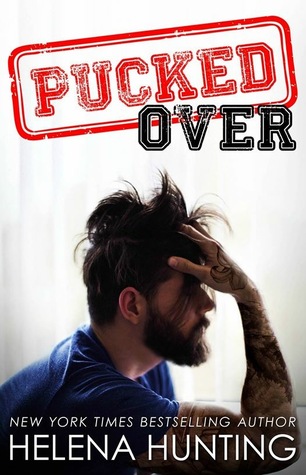 Pucked Over by Helena Hunting
Series: Pucked #3 (full reading order below)
Audiobook Publication Date: May 3rd 2016
Length: 10 hours and 37 minutes
Narrated by:
Rose Dioro
&
Jacob Morgan
Links: 
Audible
 • 
Ebook
• 
Paperback
 • 
Goodreads
Source: I received an audiobook in exchange for an honest review
Lily LeBlanc isn't versed in the art of casual sex, but after seven years in an on-again, off-again relationship, she's definitely willing to give it a shot. And who better to try it with than her best friend's boyfriend's best friend? What could possibly go wrong?
NHL player, Randy Ballistic, lives up to his last name on the ice and in the bedroom. His best friend and teammate has recently given up the puck bunnies and traded them in for a real girlfriend. And she just happens to have a seriously feisty, extra-hot best friend on the rebound. Randy's more than happy to be Lily's spring board back into the dating scene.
But casual sex is only casual until those pesky things called emotions get involved. Once that happens, someone's bound to get pucked over.
I LOVED the audiobook of the previous Pucked book, Pucked Up, so I couldn't wait to get my hands on the Pucked Over audiobook! Especially since it's Randy Ballistic's story with Lily, Sunny's best friend! I was so excited to see this player fall for his best friend's girlfriend's best friend – and Helena Hunting didn't disappoint. Randy and Lily were wonderful characters, and their romance was as sweet as it was sexy. I didn't completely love the narrators, but the story thankfully wasn't affected by that. Fans of the series definitely need to get their hands on Pucked Over!
Lily has finally gotten out of a seven-year on-and-off again relationship, and she's ready to find a rebound man to make her get over her ex. And what better man to fill the role than the ultimate player who's a pro at casual sex? NHL player Randy Ballistic isn't ready to give up his bachelor life, so when Lily wants to use him for some fun times, who is he to say no? The chemistry between them is hot and dirty, and it seems neither of them can quite keep their hands off each other. But with Randy terrified of love and commitment, and Lily not wanting to enter another relationship again, what happens when feelings start to get involved in their 'casual' relationship? Will they be able to overcome their fears and fight for something worthwhile?
I liked Rose Dioro and Jacob Morgan as Lily and Randy for the most part, though sometimes both narrators sounded monotonous and boring. Pucked Up has a much better narrator than Pucked Over does. As for the characters, I really enjoyed Randy and Lily. They're both flawed, real, and relatable, and again, sexy as hell together. This is definitely the steamiest of the series, though I wouldn't say it was quite as funny as the previous books. My one complaint is that I would've loved to see more of Randy and Lily actually together as a couple – there just wasn't enough of them in love! The secondary characters are a blast, as usual, and Violet is as insanely funny as ever.  Helena Hunting has created a wonderful cast of characters for this series, and I really can't wait for more from her!
---
Reading Order: Pucked series
#1 ~ Pucked: Ebook • Paperback • Audible • Goodreads
#2 ~ Pucked Up: My Review • Ebook • Paperback • Audible • Goodreads
#3 ~ Pucked Over: Ebook • Paperback • Audible • Goodreads
#4 ~ Forever Pucked: Ebook • Paperback • Audible • Goodreads
Here's an audio excerpt from Pucked Over!
---
FOLLOW BOOKLOVERS FOR LIFE ON:
✦ FACEBOOK • TWITTER • INSTAGRAM • GOODREADS • PINTEREST • BLOGLOVIN' ✦