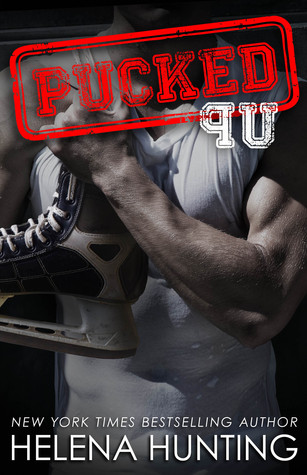 Pucked Up by Helena Hunting
Series: Pucked #2 (full reading order below)
Audiobook Publication Date: May 3rd 2016
Length: 11 hours and 18 minutes
Narrated by:
Joe Arden
Links: 
Audible
 • 
Ebook
 •
Paperback
 • 
Goodreads
Source: I received an audiobook in exchange for an honest review
Miller "Buck" Butterson has been banging his way through life ever since a puck to the face fixed his messed up front teeth. After five years in the NHL, deflecting goals on the ice and scoring them with puck bunnies, Miller has decided he's ready for a girlfriend. A real, non-bunny girlfriend to take on dates, and not jump into bed with after five seconds of conversation.
Miller thinks he's found that woman in his teammate's sister. Except, unlike team captain and all-around nice guy Alex Waters—who happens to date his stepsister, Miller's media reputation as a manwhore is well earned. Beyond that minor detail, Miller doesn't know the first thing about relationships or the time and effort they require.
Miller learns—eventually—that if he wants to make Sunshine "Sunny" Waters fall for him, he's going to have to do a whole lot more than show her his stick skills in the bedroom.
I absolutely LOOOVED this audiobook!!! I'm actually surprised by how much I adored Pucked Up – I tried reading the first in the series, Pucked, but could never really get into it. I thought that Helena Hunting's sense of humor just wasn't my thing, but boy was I wrong. I honestly couldn't stop grinning or giggling while I was listening to the Pucked Up audiobook. I loved it!! Miller was a wonderful hero, Joe Arden narrated him perfectly – I seriously had a blast listening to this book.
Miller "Buck" Butterson is used to puck bunnies chasing after him left and right, and while he used to partake in them, he's a one-woman man now… if only the woman in question believed it. Miller has been crushing on his teammate's sister Sunny Waters for a while, and he's ready to do whatever it takes to make her believe that he wants her and only her. But the funny thing about life is that it never really goes your way, and every time Miller does something innocent, it's blown way out of proportion on social media, which is what makes Sunny have doubts about him. The situations Miller gets himself into are actually pretty hilarious and over the top *cough* a spider bite on his balls *cough* but at the heart of it, he just hates that Sunny won't trust him and believe him when he says that nothing happened. So what will it take for her to realize that she's the only one for him?
Miller is seriously the sweetest, most adorable man ever. He's a lot more sensible than his crazy sister (the heroine of book 1), thank god, but he's still witty and humorous. I loved him so much! He's so much more than the airhead jock that social media likes to portray him as – he's serious about hockey and he's super into charity and helping others. He's humble about the philanthropic work he does, so much so that no one even knows this sensitive, caring side of him. My heart fell hard for this man, and even more so because of his love for Sunny. My heart ached every time she doubted his intentions and hurt him, but he really never gives up on winning her heart. He's seriously perfect!
I've listened to Joe Arden before, but Pucked Up is definitely the best work of his that I've listened to. He embodies Miller wonderfully, and all the humor and sarcastic remarks came across really well. Pucked Up is only told in Miller's POV, so there's only the one male narrator, which I'm usually not a big fan of, but it totally worked here. If you love audiobooks that will make you laugh and smile, I can't recommend Pucked Up enough! This is definitely an audiobook you need to use your credit on.
---
Reading Order: Pucked series
#1 ~ Pucked: Ebook • Paperback • Audible • Goodreads
#2 ~ Pucked Up: Ebook • Paperback • Audible • Goodreads
#3 ~ Pucked Over: My Review • Ebook • Paperback • Audible • Goodreads
#4 ~ Forever Pucked: Ebook • Paperback • Audible • Goodreads
Here's an audio excerpt from Pucked Up!
---
FOLLOW BOOKLOVERS FOR LIFE ON:
✦ FACEBOOK • TWITTER • INSTAGRAM • GOODREADS • PINTEREST • BLOGLOVIN' ✦