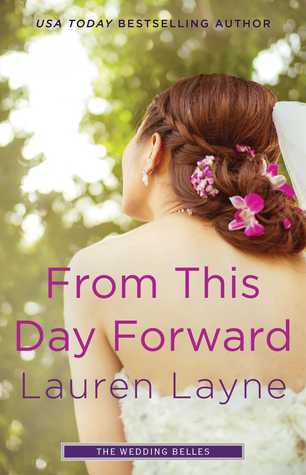 From This Day Forward by Lauren Layne
Series: The Wedding Belles #0.5 (full reading order below)
Publication Date: June 6th 2016
Links: 
Ebook
•
Goodreads
Source: I received an ARC from the publisher in exchange for an honest review
Sex and the City meets The Wedding Planner in this prequel to USA TODAY bestselling author Lauren Layne's The Wedding Belles series about three high-powered New York City women who can plan any wedding—but their own.
Up-and-coming wedding photographer Leah McHale's career is on the rise–thanks in no small part to the Wedding Belles, the elite New York wedding planning agency that always throws top-tier business Leah's way. So when one of the Belles asks Leah to fill in at the former First Daughter's wedding, Leah is overjoyed to say yes–until she finds out who she'll be working with.
Jason Rhodes is the one man who was able to capture Leah's heart and, once he had it, promptly stepped all over it and left her broken. Now he's working side-by-side with her at the biggest wedding of the season and Leah is determined to give him the cold shoulder. Despite his persistence, she is not going to fall for his charming, impish ways again. Not even if he still has that killer, irresistible smile…
Wheeee!!! A brand new Lauren Layne series! And it's about weddings, too, which honestly sounds like heaven to me. The Wedding Belles kicks off with a sweet novella, a second chance romance between wedding photographers Leah and Jason. These two are still bitter and hurt over the end of their relationship – can they overcome their differences in order to work together… and win that happily ever after they capture on camera all the time?
It was both everything she remembered, and more. Somehow it was more. More intense than it had ever been, and somehow more important, too.
Lauren Layne always writes the best contemporary romances, and even with this quick novella, I was charmed and hooked onto the story. I'm not a big fan of miscommunication being used in romances, but somehow LL made it work for Leah and Jason. I could feel their heartbreak… and the feelings that they still have for each other. The chemistry between them has never died, and when they reunite, it seems to have grown even hotter. Their romance is as sweet and it is sexy, which made for a thoroughly enjoyable, satisfying read.
"Fuck. I love you. I didn't know it back then. I didn't know what I was feeling, and I treated you—us—carelessly. But I know it now, Red, and I swear to God, I am not letting you go ever again. … I won't stop chasing you, and I sure as hell won't stop loving you."
From This Day Forward is a charming and irresistible novella. It's a great introduction to The Wedding Belles series, which will be about the wedding planners Leah and Jason work with. I honestly can't wait to read more – I'm sure the series be another hit from LL!
Quotes are taken from the arc and are subject to change in the final version.
---
Reading Order: The Wedding Belles series
#0.5 ~ From This Day Forward: Ebook • Goodreads
#1 ~ To Have and to Hold: My Review • Ebook • Paperback • Goodreads
#2 ~ For Better or Worse: My Review • Ebook • Paperback • Goodreads
#3 ~ To Love and to Cherish: Ebook • Paperback • Goodreads (Oct. 18, 2016)
---
FOLLOW BOOKLOVERS FOR LIFE ON:
✦ FACEBOOK • TWITTER • INSTAGRAM • GOODREADS • PINTEREST • BLOGLOVIN' ✦