Happy Release Day to Elizabeth Hoyt – Duke of Sin is live!
I seriously loved this book – check out my review plus an excerpt below!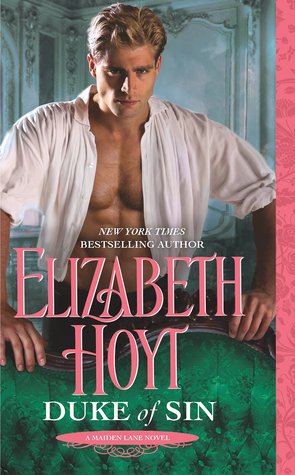 Duke of Sin by Elizabeth Hoyt
Series: Maiden Lane #10 (full reading order below)
Publication Date: May 31st 2016

A MAN OF SIN
Devastatingly handsome. Vain. Unscrupulous. Valentine Napier, the Duke of Montgomery, is the man London whispers about in boudoirs and back alleys. A notorious rake and blackmailer, Montgomery has returned from exile, intent on seeking revenge on those who have wronged him. But what he finds in his own bedroom may lay waste to all his plans.
A WOMAN OF HONOR
Born a bastard, housekeeper Bridget Crumb is clever, bold, and fiercely loyal. When her aristocratic mother becomes the target of extortion, Bridget joins the Duke of Montgomery's household to search for the incriminating evidence-and uncovers something far more dangerous.
A SECRET THAT THREATENS TO DESTROY THEM BOTH
Astonished by the deceptively prim-and surprisingly witty-domestic spy in his chambers, Montgomery is intrigued. And try as she might, Bridget can't resist the slyly charming duke. Now as the two begin their treacherous game of cat and mouse, they soon realize that they both have secrets-and neither may be as nefarious-or as innocent-as they appear . . .
Buy Links:
Amazon • B&N • iBooks • Google Play • Kobo • IndieBound
"This is who I am, Séraphine. Naked, with blade and blood. I am vengeance. I am hate. I am sin personified. Never mistake me for the hero of this tale, for I am not and shall never be. I am the villain."
Y'all, I freaking loved this book. LOVED!!! It's only the second book I've read by Elizabeth Hoyt, but o.m.g. – it's for sure my favorite so far. Duke of Sin is wicked, funny, sexy, complex… It made me grin, sigh, laugh, giggle – it's an incredible read with even better characters. If you're a fan of the series, then you most likely know who Valentine Napier, the Duke of Montgomery, is but I went into this book without really know the devious acts Val committed. Either way, you're going to love him. He's the PERFECT anti-hero! If you love historical romances and wicked villains for heroes, then you need to READ. THIS. BOOK.
Bridget Crumb is the housekeeper for the Duke of Montgomery, and she does a damn good job of it. But she's got an ulterior motive, which is to find the thing her employer is blackmailing her mother with. Val is the king of blackmail. The more blackmail he has, the more powerful he is, and he uses that power for scheming and wicked intentions. He's not a good man… but he's not entirely bad either. Which is why when Val catches Bridget in the act of stealing from him, he's more intrigued by her than anything. He's finally found his intellectual match, and he's going to make sure she stays by his side so he can pursue something more carnal with her.
Bridget is honestly the perfect counterpart to Val. Where Val doesn't differentiate right from wrong and seeks pleasure in all things, Bridget is prim and proper and doesn't give a hoot about who Val is or what he does. She's the only one who doesn't fall to his feet in lust or fear – though she certainly feels the chemistry between them. She's good at masking her feelings, but Val is determined to get under her skin like she's done to him, and when he succeeds, well – things heat up like crazy. The way the lust and romance develop and intertwine left me breathless – Elizabeth Hoyt nailed this aspect of the book perfectly!
He was sin itself and if she was a sinner for a little while, she'd pay the price gladly.
Admittedly, Duke of Sin took me a little while to get into because I just didn't KNOW how to feel about Val. He's just so strange, with so many layers and dynamics to him. But in the end, I loved him, and Bridget. The way they couldn't resist each other and slowly fell for one another… it's beautifully romantic and wicked sexy. I can't recommend this book enough! This is definitely a new favorite historical romance of mine.
He sighed. She was such a wonderful woman. He could've spent his entire life searching the world and never found her. Who would've thought such a marvel was right under his nose in his own house?
I did get a little annoyed at all the POV changes to the Duke of Kyle, but I guess I can't complain, because now I'm excited for his book next! I really should start the series from the beginning and catch myself up – I love Elizabeth Hoyt's writing, and I'm loving the series as I read more and more. Thankfully, each book can be read as a standalone, but I'm still planning on reading the Maiden Lane series in its entirety!
Quotes are taken from the arc and are subject to change in the final version.
Now here's an excerpt from Duke of Sin! ❤
"I was told you had need of me, Your Grace," she reminded him, folding her hands at her waist to hide the trembling that had begun again. She'd been in demand before this position. Duchesses and lionesses of society had wanted her.
"So practical," he mused, tilting his golden head back to gaze, presumably, at the gaudy sky-blue velvet canopy of his bed. She'd always thought it rather vulgar, actually. "I suppose that would be considered a good thing in a housekeeper."
"It's generally considered so, Your Grace."
"And yet, I find it somewhat…"—he raised his naked arm straight up above his head and twirled his hand as he thought—"irksome."
"I am sorry, Your Grace," Bridget said as pleasantly as she could, which, sadly, was not very.
"Oh, don't be," the duke murmured silkily. "One can't help one's nature, no matter how irritating it is to others."
His azure eyes suddenly dropped to pin her, hard and merciless, and she lost her breath as she fell into his predator's stare. It was like looking into the eyes of something inhuman, almost otherworldly. Her chest ached as she stared at him, the air still locked within her, but at the same time the place between her legs ached as well.
Then she inhaled, filling her lungs with sweet air, as he watched her still, his eyes half-lidded, and she felt an odd exhilaration, as if a gauntlet had been thrown down. As if they were adversaries, equal on the field.
Which was completely ridiculous.
Possibly she shouldn't have indulged in that third cup of tea this morning.
"I wonder whom you work for, Mrs. Crumb?" he whispered.
"Why, for you, Your Grace," she replied, holding his gaze.
He snorted.
She felt a bead of perspiration trail down her spine.
He strode, nude, to his desk, and, bending over it, afforded her a quite scandalous view of his muscular bottom. He seemed to have a dark mark of some kind on the left cheek. Good God, it looked like a tattoo. What—? "Why, Mrs. Crumb," he drawled, and she snapped her gaze belatedly up to find that he'd turned back to her—damn it! "Were you ogling my arse?"
She opened her mouth and then wasn't sure, exactly, what to say. Was he about to dismiss her or not? "I…I—"
"Ye-es?" He took one long stride toward her.
She was suddenly, overwhelmingly aware of what she'd until now successfully ignored: He. Was. Nude.
His shoulders were wide, his chest highlighted by pale-pink nipples drawn tight, with but a few curling golden hairs between. His torso narrowed in a perfect V to a slim waist and a shallow belly button. A thin line of slightly darker hair led to his genitals.
During his supposed absence Bridget had had plenty of time to study the life-size nude portrait of the duke hanging next to his bed. She'd long thought the dimensions of his manhood exaggerated.
They were not.
She hastily glanced up to find him standing far too close to her, a wicked smile playing about his mouth.
"Oh, Mrs. Crumb, such a look," he murmured, his voice a deep purr, his bare chest brushing against her snowy white apron. "Why, I don't know whether to guard my bollocks…"—his gaze dropped to her mouth—"or to kiss you."
Reading Order: Maiden Lane series
#1 ~ Wicked Intentions: Ebook • Paperback • Audible • Goodreads
#2 ~ Notorious Pleasures: Ebook • Paperback • Audible • Goodreads
#3 ~ Scandalous Desires: Ebook • Paperback • Audible • Goodreads
#4 ~ Thief of Shadows: Ebook • Paperback • Audible • Goodreads
#5 ~ Lord of Darkness: Ebook • Paperback • Audible • Goodreads
#6 ~ Duke of Midnight: Ebook • Paperback • Audible • Goodreads
#7 ~ Darling Beast: Ebook • Paperback • Audible • Goodreads
#8 ~ Dearest Rogue: Ebook • Paperback • Audible • Goodreads
#9 ~ Sweetest Scoundrel: My Review • Ebook • Paperback • Audible • Goodreads
#10 ~ Duke of Sin: Ebook • Paperback • Audible • Goodreads
#10.5 ~ Once Upon a Moonlit Night: My Review • Ebook • Goodreads
#11 ~ Duke of Pleasure: Ebook • Paperback • Goodreads (Nov. 29, 2016)
#11.5 ~ Once Upon a Christmas Eve: Ebook • Goodreads (Dec. 6, 2016)
#12 ~ Duke of Desire: Goodreads (out 2017)
Elizabeth Hoyt is the New York Times bestselling author of over seventeen lush historical romances including the Maiden Lane series. Publishers Weekly has called her writing "mesmerizing." She also pens deliciously fun contemporary romances under the name Julia Harper. Elizabeth lives in Minneapolis, Minnesota, with three untrained dogs, a garden in constant need of weeding, and the long-suffering Mr. Hoyt.
---
FOLLOW BOOKLOVERS FOR LIFE ON:
✦ FACEBOOK • TWITTER • INSTAGRAM • GOODREADS • PINTEREST • BLOGLOVIN' ✦