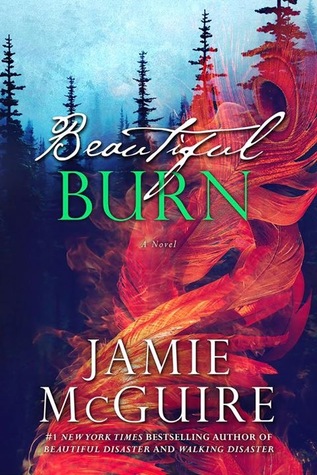 Beautiful Burn by Jamie McGuire
Series: The Maddox Brothers #4 (full reading order below)
Audiobook Publication Date: May 24th 2016
Length: 10 hours and 33 minutes
Narrated by:
Brittany Pressley
Links: 
Audible
 • 
Ebook
• 
Paperback
 • 
Goodreads
Source: I received an audiobook in exchange for an honest review
Fresh out of college, Ellison Edson has fallen through the cracks of rock bottom. While staying in her family's vacation home in Colorado, her behavior has finally gained the attention of her parents—but not in the way she hoped. Cut off from the millions she's always taken for granted, and left alone to fend for herself, Ellie spirals further out of control, making a mistake she can't take back.
Like his twin brother Taylor, Tyler Maddox is a member of the Alpine Hotshots, fighting wildland fires on the frontline. As arrogant as he is charming, Tyler's nomadic lifestyle makes it easy to contain his relationships to one night. When he meets Ellie at a local party during off-season, her extreme personality and dismissive attitude fascinates him at first, but as his feelings deepen, Tyler realizes that the crippling inner demons of the woman he loves might be the strongest enemy any Maddox has ever faced.
The audiobook for the 4th and final Maddox Brothers novel, Beautiful Burn, is here! This is actually the first that I've read (listened) in the series, and while I didn't love it as much as Beautiful Disaster (aka the original Maddox brothers book *wink*), it was a good read with a wonderful hero. I had a tough time liking Ellie, the heroine, but thankfully her narrator was top-notch, so I didn't completely dislike her. Jamie McGuire delivers a well-written new adult novel in Beautiful Burn – it's fast-paced, sexy, and intense – and Brittany Pressley's narration made it even better. If you enjoy the series, then you just might enjoy Tyler and Ellie's story too.
Ellie Edson is used to living the life of a pampered princess, with no responsibility or consequences for her actions. Until this time, one mistake leads her to be cut off from her family's wealth. For the first time in her life, she's scrambling to earn money to survive, and though it seems at first like she might fail, she eventually manages to find a job as a photographer. It's nothing fancy or well-paid… but for once in her life, she's somewhat content. She's still dealing with her alcoholism and self-destructive tendencies, but being in a new environment helps. Of course, it also helps that the gorgeous, wonderful Tyler Maddox has set his sights on her, and isn't giving up until she gives in to the idea of them.
Tyler, along with his twin brother Taylor, is a member of the Alpine Hotshots, traveling around fighting wildfires. He's not your typical Maddox – dare I say, he might be better in that softer, sweeter way. He's incredibly patient with Ellie as she fights against her alcoholism and their relationship. She thinks he's too good for her – and he is, but he wants to be with her anyway. I loved Tyler and his determination to win Ellie over, not matter how frustrating she got. He was really the highlight and my favorite part of the story.
Brittany Pressley did a phenomenal job with Ellie's voice – her narration was spot-on, and I even enjoyed the way she sounded voicing Tyler and the rest of the Maddox men. She's definitely an audiobook narrator I'd listen to again.
I wish I loved Beautiful Burn more, but I was too frustrated with the heroine to love it like I wanted to. Everything else about this audiobook was fantastic – the writing, the hero, the narration – but the heroine brought it down for me, unfortunately. I am intrigued enough, though, to start the Maddox series from the beginning and experience more of Jamie McGuire's writing. I would definitely recommend this audiobook if you have a lot of patience and love the new adult genre!
BEAUTIFUL BURN is now available on Audible: http://amzn.to/1PoluTV
---
Reading Order: The Maddox Brothers series
#1 ~ Beautiful Oblivion: Ebook • Paperback • Audible • Goodreads
#2 ~ Beautiful Redemption: Ebook • Paperback • Audible • Goodreads
#3 ~ Beautiful Sacrifice: Ebook • Paperback • Audible • Goodreads
#4 ~ Beautiful Burn: Ebook • Paperback • Audible • Goodreads
Here's an audio excerpt from Beautiful Burn!
---
FOLLOW BOOKLOVERS FOR LIFE ON:
✦ FACEBOOK • TWITTER • INSTAGRAM • GOODREADS • PINTEREST • BLOGLOVIN' ✦