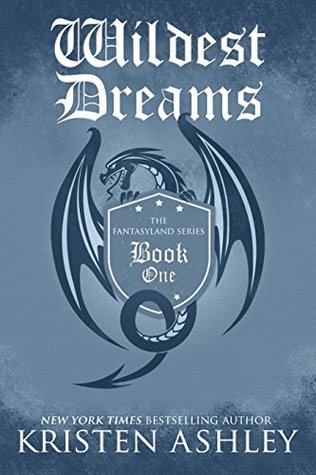 Wildest Dreams by Kristen Ashley
Series: Fantasyland #1 (full reading order below)
Audiobook Publication Date: June 21st 2016
Length: 18 hours and 49 minutes
Narrated by: 
Tillie Hooper
Links: 
Audible
 • 
Ebook
•
Paperback
 • 
Goodreads
Source: I received an audiobook in exchange for an honest review
Seoafin "Finnie" Wilde was taught by her parents that every breath was a treasure and to seek every adventure she could find. And she learns this lesson the hard way when they perish in a plane crash. But she never forgets and when she discovers there is a parallel universe where every person has a twin, she finds a witch who can send her there so she can have the adventure of a lifetime.
But upon arrival in the Winter Wonderland of Lunwyn, she realizes she's been played by her twin and finds herself walking down the aisle to be wed to The Drakkar.
Thrown into inauspicious circumstances, with years of practice, Finnie bests the challenges and digs into her adventure. But as Frey Drakkar discovers the woman who is his new wife is not Princess Sjofn, a woman he dislikes but instead, his Finnie, a free-spirit with a thirst for venture just like him, without her knowledge he orders his new bride bound to his frozen world, everlasting.
But at the same time Frey plunges Finnie into a web of political intrigue that includes assassination plots, poison, magic, mystery and… dragons.
I absolutely LOVED Wildest Dreams!!! This might be my favorite audiobook from Kristen Ashley that I've listened to. Tillie Hooper's narration is PERFECT, and the story is so epic and incredibly well-written. Wildest Dreams is my first non-contemporary book from KA, but I know it won't be my last. For some reason, I was hesitant to read this book, but I'm so glad I got to experience it as an audiobook instead. I finished this 18+ hour long audiobook SO fast, because I just couldn't stop listening! If you love a fantasy romance that will sweep you away on an epic adventure, get – this – audiobook!!
When Finnie discovers there's a parallel universe where everyone has a twin and the twins of her parents are still alive, she doesn't hesitate to find someone with the power to send her there. But when she arrives in Lunwyn, not everything has gone according to plan – her own twin has tricked her into switching places, so Finnie is now forced to marry Frey Drakkar, a fierce, savage warrior with the power to call upon dragons… and he hates Finnie on sight. So on top of navigating through this strange, fascinating world filled with magic, dragons, and elves, she has to make her new husband not hate her as much, and survive killers who want her dead.
Wildest Dreams really had it all. A well-developed world, characters that KA brought to life, and an epic romance that made me swoon. For a savage warrior, Frey was surprisingly sweet. Every time he mentioned Finnie being his 'wildest dream', my heart seriously fluttered. I adored the romance, the slow development of feelings, and I loved that even though Finnie and Frey are so different, they are so right for each other. I loved them together!
Tillie Hooper, the narrator, made what was an incredible book even better. I was so impressed with the way she was able to change her voice to fit each character's dialogue, so no one person ever sounded the same. And props to her for being able to pronounce all the names in this book, because I know I wouldn't even have tried to. She's a brilliant narrator, and I know she narrates the second Fantasyland book as well, so I'm hoping the rest of the series will be narrated by her.
I will more than likely do another listen of Wildest Dreams, despite its long length, because it's THAT good. I was sucked into this magical world KA created and I fell head over heels for the romance. Add in a flawless narration, and this audiobook was pretty much perfect for me. I can't recommend this enough – if you have an extra credit, you NEED to use it on Wildest Dreams!
WILDEST DREAMS is now available on Audible: http://amzn.to/29TUBVM
---
Reading Order: Fantasyland series
#1 ~ Wildest Dreams: Ebook • Paperback • Audible • Goodreads
#2 ~ The Golden Dynasty: My Review • Ebook • Paperback • Audible • Goodreads
#3 ~ Fantastical: Ebook • Paperback • Audible • Goodreads
#4 ~ Broken Dove: Ebook • Paperback • Audible • Goodreads
#5 ~ Midnight Soul: Ebook • Paperback • Audible • Goodreads
Here's an audio excerpt from Wildest Dreams!
---
FOLLOW BOOKLOVERS FOR LIFE ON:
✦ FACEBOOK • TWITTER • INSTAGRAM • GOODREADS • PINTEREST • BLOGLOVIN' ✦