His Royal Secret by Lilah Pace
Series: His Royal Secret #1 (full reading order below)
Publication Date: July 19th 2016
Links: 
Ebook
•
Goodreads
Source: I received an ARC from the publisher in exchange for an honest review
The first in an enchanting new male/male romantic duology from Lilah Pace, author of Asking for More and Begging for It ….
James, the handsome, cosmopolitan Prince of Wales, is used to being in the public eye. But he's keeping a king-sized secret…James, next in line for the throne, is gay.
He's been able to hide his sexual orientation with the help of his best friend and beard, Lady Cassandra. Sometimes he feels like a coward for not coming out, but he daren't risk losing the crown. If he did, the succession would fall on his deeply troubled younger sister, Princess Amelia. To protect her, James is willing to live a lie.
While on holiday, he meets Benjamin Dahan—a rugged international reporter with a globe-trotting, unattached life—who catches far more than James's eye. And when Ben is transferred to London, it seems fate may finally be smiling on James.
But what began as a torrid fling grows into something far more intimate and powerful. Soon James will have to decide who he is, what he wants from life and love, and what he's willing to sacrifice for the truth…
Last year, I loved Lilah Pace's debut novel and fell in love with her writing, so when I heard she'd be writing a new series, and an M/M one at that, I couldn't wait to get my hands on it. Everything about His Royal Secret sounded amazing – a secretly gay Prince of Wales, a reporter he falls for, a clandestine relationship – so much goodness right there! I ended up not quite loving His Royal Secret, but enjoying it nonetheless. It's a good start to James and Ben's story, and I'm excited for their finale. If you're in the mood for a sexy M/M romance with a unique twist to it, I'd say you should definitely give this book a try. Just know, it's a duology, and the sequel releases in a month!
James is the heir to the British throne, but the thing is, he's also gay. As modern as the world is, the monarchy is still pretty conservative, and there are a ton of other legitimate reasons why James hasn't come out. He also keeps low in relationships, obviously, but one road trip to Africa changes things when he meets Benjamin Dahan, a reporter – with morals – James instantly forms an attraction to.
I'm taking this. One stolen hour in my entire bloody life–it's mine, he's mine, and no one else ever has to know.
Since neither of them believe they'll ever see each other again, they fall into temptation and a night of passion… but when Ben is reassigned to England, they reunite and begin a secret, sex-only affair. How long will they be able to keep up their relationship before they get caught? And can they keep their feelings out of the equation?
I really enjoyed James and Ben's characters. They're so sweet and adorable together, especially when they both try to believe that they're not falling for each other. Their romance moved a bit slow, despite the short length of the book, and I honestly would've rather read their full story in one longer book. I wasn't the biggest fan of the third person POV, so that spark in Lilah Pace's writing that I loved in her debut was missing for me. The main characters were mainly the highlight of this book for me, and I'm hoping we get to focus on their relationship much more in the next book.
"If the world finds out we're together, my life is ruined. But my life is ruined if I lose you. So I'm pretty well fucked either way."
I'm not dying to read the sequel, but I am looking forward to it and what will happen after the consequences of the ending in His Royal Secret. Ben and James are such great characters – they're interesting, unique, and they've got insane chemistry together. Hopefully, they'll be just as wonderful in His Royal Favorite!
Quotes are taken from the arc and are subject to change in the final version.
---
Reading Order: His Royal Secret series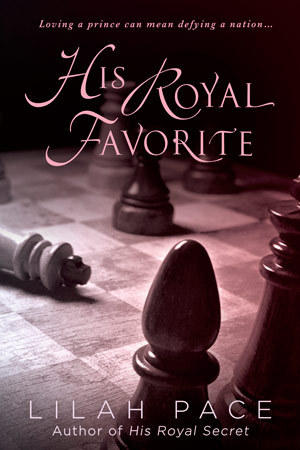 #1 ~ His Royal Secret: Ebook • Goodreads (July 19, 2016)
#2 ~ His Royal Favorite: Ebook • Goodreads (Aug. 16, 2016)
---
FOLLOW BOOKLOVERS FOR LIFE ON:
✦ FACEBOOK • TWITTER • INSTAGRAM • GOODREADS • PINTEREST • BLOGLOVIN' ✦