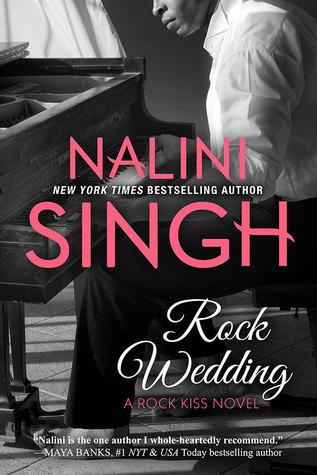 Rock Redemption by Nalini Singh
Series: Rock Kiss #4 (full reading order below)
Publication Date: July 19th 2016
Purchase: 
Ebook
 • 
Paperback
•
Goodreads
Source: I received an ARC from the publisher in exchange for an honest review
New York Times bestselling author Nalini Singh continues her Rock Kiss series with a hot, sweet, emotional contemporary romance about love and forgiveness…
After a lifetime of longing for a real family, Sarah Smith thought she'd finally found her home with rock star Abe Bellamy, even if she knew Abe didn't love her the way she loved him. But their brief relationship, filled with tragedy and heartache, nearly destroyed her. Alone, emotions in turmoil, and already shaky self-esteem shattered, Sarah struggles to pick up the pieces in the wake of their divorce.
Abe knows he's to blame for the end of his marriage. Caught in a web of painful memories, he pushed away the best thing in his life – the sexy, smart woman he adores – breaking them both in the process. Then fate throws him a second chance to get things right, to prove to Sarah that she means everything to him. Abe desperately wants that second chance at love…even if he knows he doesn't deserve it.
But can he convince Sarah – now strong and independent without him – to risk her wounded heart one more time?
This booook!!! I had crazy high expectations for Rock Wedding because first, it's Nalini Singh, and second, it's a second chance romance! And thank god NS didn't let me down – I absolutely LOVED. IT. Abe and Sarah's heart-wrenching story of love, forgiveness, and redemption swept me away and stole my heart. This is one of the best second chance romances I've ever read, and it's definitely my new favorite of the series. If you love the second chance romance trope, READ THIS BOOK. There's so much angsty goodness and amazing grovel from the hero. This can be read entirely as a standalone, too, so even if you haven't read the series, you need to get your hands on Rock Wedding!!!
As keyboardist for Schoolboy Choir, Abe Bellamy is one of the hottest rock stars in the world. He should be at the top of his game, but losing his wife and the love of his life because of his own stupidity will bring a guy down. He's got no one to blame but himself for hurting Sarah back when they were married and he was struggling with his addiction. But now, months sober, he's ready for the fight of his life to earn forgiveness and win back the only woman he has ever loved.
High, he'd brutally hurt her. Sober, he could destroy her.
Because love? The kind of love she'd had for Abe? It never really died.
Sarah Smith once gave everything she was to her husband, and he destroyed her for it. She's been able to move on, but not without scars and pain. This woman is one of the toughest heroines I've ever read – she's been through so much loss and hurt, I'm amazed she was able to pick herself up and move on, especially from Abe. And now that Abe wants back in her life, she wants nothing to do with him, and rightly so. I LOVED that she doesn't give in to him easily, love- and heart-wise. She's not a pushover, and Abe has so much to prove before he'll ever get to touch her heart again.
"I'm not letting you go." It was a whispered promise. "Not this time."
I have to say, Nalini Singh absolutely nailed the redemption and forgiveness aspect of this second chance romance. My heart honestly couldn't stop aching throughout the book, both for Abe and Sarah. They have so much hurt and pain to overcome, but never does Abe stop fighting for Sarah, and neither does Sarah stop loving Abe. There's hope for happiness again for the two of them and a very well-deserved HEA.
"But I was stone-cold sober the night I met you and I'm stone-cold sober now—and no woman, no woman, does to me what you do. I fucking love you. Always have, always will."
To say this book is an emotional roller coaster would be an understatement. Nalini Singh truly blew me away with Rock Wedding and the way she incorporated so much emotion and heart to the story. I couldn't stop reading this book – it's a second chance romance at its finest. If you're a fan of this series, you're in for a fantastic, emotional ride that is this final Rock Kiss book. I'm sad that this is the end of the series, though I'm thankful we're getting a spinoff with Gabriel's rugby-playing brothers. I can't wait to read more of NS's contemporary novels!
Quotes are taken from the arc and are subject to change in the final version.
---
Reading Order: Rock Kiss series
#1 ~ Rock Addiction: My Review • Ebook • Paperback • Audible • Goodreads
#1.5 ~ Rock Courtship: My Review • Ebook • Audible • Goodreads
#2 ~ Rock Hard: My Review • Ebook • Paperback • Audible • Goodreads
#3 ~ Rock Redemption: My Review • Ebook • Paperback • Audible • Goodreads
#4 ~ Rock Wedding: Ebook • Paperback • Goodreads (July 19, 2016)
---
FOLLOW BOOKLOVERS FOR LIFE ON:
✦ FACEBOOK • TWITTER • INSTAGRAM • GOODREADS • PINTEREST • BLOGLOVIN' ✦