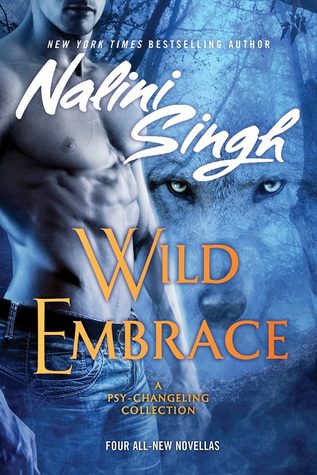 Wild Embrace by Nalini Singh
Series: Psy-Changeling #15.5 (full reading order below)
Publication Date: August 23rd 2016
Links: 
Ebook
•
Paperback
• 
Audible
 •
Goodreads
Source: I received an ARC from the publisher in exchange for an honest review
The "alpha author of paranormal romance" presents a stunningly sensual collection of four all-new Psy-Changeling novellas, in which taboos are broken, boundaries are crossed, and instincts prove irresistible…
Echo of Silence
In a deep-sea station, Tazia Nerif has found her life's work as an engineer, keeping things running smoothly. But she wants nothing more than to break down the barrier of silence between her and her telekinetic Psy station commander…
Dorian
A changeling who can never shift lives a life of quiet frustration—until he learns how to let his leopard come out and play…
Partners in Persuasion
Still raw from being burned by a dominant female, wolf changeling Felix will never again risk being a plaything. But for dominant leopard Dezi, he's the most fascinating man she's ever met. She just has to convince this gun-shy wolf that he can trust the dangerous cat who wants to take a slow, sexy bite out of him…
Flirtation of Fate
Seven years ago, Kenji broke Garnet's heart. Now the wolf packmates have to investigate the shocking murder of one of their own. And the more Kenji sees of the woman Garnet has become, the deeper he begins to fall once more. But even his primal instincts are no match for the dark secret he carries…
Nalini Singh is one of the few authors I've read who's capable of writing so much in so little. Despite the novella length of each of the stories in Wild Embrace, they are all packed with heart and emotion. I seriously loved reading Wild Embrace – it's only made me even more immersed and in love with the Psy-Changeling world. If you're a fan of the series, you don't want to miss out on these four stories!
Echo of Silence: If you've missed the old Psy-Changeling romance where the two characters are different species, like I'll admit I have, then you HAVE to read Echo of Silence. The heroine, Tazia, is human, an engineer who's captivated by her Psy station commander. As a Psy, Stefan is quiet and in control of all emotions. This novella is set before the Psy broke Silence, so it's forbidden for Stefan to fall for Tazia, but when they start to work together in close proximity, you can feel the developing emotions between them. This story warmed my heart and is definitely my favorite in Wild Embrace.
Dorian: This is the shortest of the novellas, and not a romance, but I loved it anyway. We're back with Dorian, getting snippets of his past and present, back from when he was struggling with his latent Changeling to now in his utter happiness and contentment with his mate and adopted children. We also see much of Dorian's friends, including all the sentinels and Lucas. It was great to dive back into DarkRiver, because I've definitely missed them.
Partners in Persuasion: I loved the idea of this novella, with a romance between a SnowDancer male submissive and a DarkRiver female dominant. And obviously, Nalini Singh doesn't disappoint – I was fascinated with this Changeling pairing role-reversal. Felix and Dezi's romance is seriously the sweetest! It grew at a slow, genuine pace and put a smile on my face.
Flirtation of Fate: Kenji and Garnet is the main reason why I was most excited to read Wild Embrace, because throughout the series we've seen the chemistry between these two as they go head-to-head and we don't know why they aren't already together. Well, now we finally find out the reason and I'll admit, Kenji's reason for pushing Garnet away was a little disappointing. I didn't feel like it warranted him breaking her heart and staying away for years. But other than that, it was wonderful to see these two, who have always been meant for each other, finally get together.
Is it too soon to already want more Psy-Changeling? I seriously can't get enough of this series, and Wild Embrace has only just barely whetted my appetite for more. While this book isn't necessary to keep up with the series, it's still an incredible, entertaining read that gives you an even more in-depth glance at the Psy-Changeling world. I wouldn't say you need to be all caught up to read this either – whether you've read all fifteen books out so far, or just one, Wild Embrace has all the PNR goodness that Nalini Singh is so good at delivering.
---
Reading Order: Psy-Changeling series
#1 ~ Slave to Sensation: Ebook • Paperback • Audible • Goodreads
#2 ~ Visions of Heat: Ebook • Paperback • Audible • Goodreads
#3 ~ Caressed by Ice: Ebook • Paperback • Audible • Goodreads
#4 ~ Mine to Possess: Ebook • Paperback • Audible • Goodreads
#5 ~ Hostage to Pleasure: Ebook • Paperback • Audible • Goodreads
#6 ~ Branded by Fire: Ebook • Paperback • Audible • Goodreads
#7 ~ Blaze of Memory: Ebook • Paperback • Audible • Goodreads
#8 ~ Bonds of Justice: Ebook • Paperback • Audible • Goodreads
#9 ~ Play of Passion: Ebook • Paperback • Audible • Goodreads
#10 ~ Kiss of Snow: Ebook • Paperback • Audible • Goodreads
Collection #1 ~ Wild Invitation: Ebook • Paperback • Audible • Goodreads
#11 ~ Tangle of Need: Ebook • Paperback • Audible • Goodreads
#12 ~ Heart of Obsidian: Ebook • Paperback • Audible • Goodreads
#13 ~ Shield of Winter: Ebook • Paperback • Audible • Goodreads
#14 ~ Shards of Hope: Ebook • Hardcover • Paperback • Audible • Goodreads
#15 ~ Allegiance of Honor: My Review • Ebook • Hardcover • Paperback • Audible • Goodreads
Collection #2 ~ Wild Embrace: Ebook • Paperback • Audible • Goodreads
---
FOLLOW BOOKLOVERS FOR LIFE ON:
✦ FACEBOOK • TWITTER • INSTAGRAM • GOODREADS • PINTEREST • BLOGLOVIN' ✦