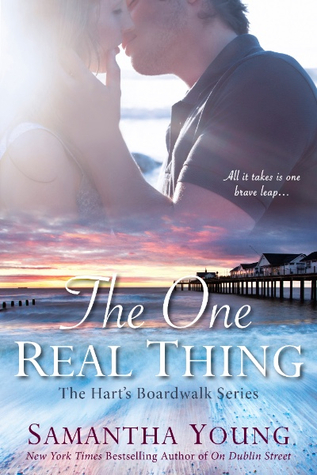 The One Real Thing by Samantha Young
Series: Hart's Boardwalk #1 (full reading order below)
Publication Date: September 6th 2016
Links: 
Ebook
 •
Paperback
 •
Audible
• 
Goodreads
Source: I received an ARC from the publisher in exchange for an honest review
The New York Times bestselling author of On Dublin Street is back with the first in a sexy new romance series set in a small town on the Delaware coastline.
Welcome to Hartwell, a quiet seaside escape where uncovering old secrets could lead one woman to discover the meaning of a love that lasts…
While Doctor Jessica Huntington engages with the inmates at the women's correctional facility where she works, she's always careful to avoid emotional attachments in her personal life. Loss and betrayal taught her that lesson long ago. But when she comes across a set of old love letters in the prison's library and visits the picturesque town of Hartwell to deliver them to their intended recipient, she finds herself unable to resist the town's charm—and her attraction to the sexy owner of a local bar proves equally hard to deny.
Since his divorce from his unfaithful ex-wife, Cooper Lawson has focused on what really matters: his family and the boardwalk pub they've owned for generations. But the first time Jessica steps into his bar, Cooper is beyond tempted to risk his heart on her.
Yet as their attraction grows hotter and Jessica remains stubbornly closed off, he begins to realize it will take more than just passion to convince her there's only one real thing in life worth fighting for….
First, I have to talk about the gorgeous cover of The One Real Thing!! The colors look so, so pretty together. Sunsets are always stunning, and I love that it's a theme with the covers of the series. As for the book itself, TORT is a good introduction to Hart's Boardwalk, but I can't say that I loved it or connected all that well with it. This book might not be for everyone, but I see the potential this series has, and I'm still very much looking forward to the upcoming books.
Small-town romances are usually a hit or miss for me, but TORT lies somewhere in the middle. While I adored the tight-knit community and all of the secondary characters, I just didn't connect with the main characters at all. Jessica and Cooper didn't feel unique, and though their romance was sweet, it was too slow and underwhelming. Nothing about them particularly sparked – that being said, it sounds like I hated them, but I truly didn't. They were just OKAY, but they did grow on me near the end of the novel.
I struggled with a big chunk of the middle of the book – I'd find myself skimming because things just weren't moving along fast enough for me. Of course, if you're a fan of the author (her On Dublin Street series is amazing) and you have a lot of patience, I'd definitely recommend giving this book a try.
TORT is a great introduction to the series and its characters. I'm excited to read more about the rest of Hart's Boardwalk's quirky inhabitants – shy Emery, volatile Vaughn and Bailey, and even Cooper's ex-best friend. I have high hopes that the series will continue to grow and get better. This is Samantha Young, after all!
---
Reading Order: Hart's Boardwalk series
#1 ~ The One Real Thing: Ebook • Paperback • Audible • Goodreads
#2 ~ Every Little Thing: My Review • Ebook • Paperback • Audible • Goodreads
---
FOLLOW BOOKLOVERS FOR LIFE ON:
✦ FACEBOOK • TWITTER • INSTAGRAM • GOODREADS • PINTEREST • BLOGLOVIN' ✦