Tonic by Staci Hart
Series: Standalone
Publication Date: October 13th 2016
Links: 
Ebook
 • 
Goodreads
Source: I received an ARC from the author in exchange for an honest review
Joel Anderson doesn't take anything seriously.
Not his relationships, which have been few and far between since his brutal divorce. Not the drama of working in a tattoo parlor, which seems to be around every corner. When things get him down, he smiles and cracks a joke. But he's not the kind of man you cross, or you'll find yourself at the wrong end of his fists.
Annika Belousov takes everything seriously.
Like her job as a reality television producer, given that she typically has something to prove. Or her love life, which is defined by a series of requirements — affluent, ambitious, accomplished, to name a few. Definitely her family, who worked their whole lives to afford her every opportunity, a sacrifice she doesn't take lightly. When she's tapped to produce a reality show at Joel's shop, she doesn't think twice, just goes in for the kill, as if there were any other way.
The second Annika walks into Joel's shop, he makes it his mission to crack her open, but she's not having it. He's all wrong — too crass, too hairy, too un-serious. But it doesn't take her long to find out there's more to him than smirks and tattoos. And what she finds could put her career and his heart on the line.
Not that Joel cares. Because for the first time in a long time, he's found his tonic.
I was excited for Tonic mainly because of Joel – he was so intriguing in Wasted Words, I couldn't wait to get my hands on his story. It wasn't quite what I expected though – I didn't love Tonic or hate it. It was very meh for me, to be honest, and I just wasn't feeling the romance or story at all. The romance was too superficial and not fleshed out enough for me, and the story dragged too much. That being said, it's not a bad book. I'd say if you've been a long-time fan of the author and her writing, then you'll probably enjoy Tonic.
Joel and his brother are tattoo shop c0-owners, and they've just signed on with a TV producer to film a reality show based off their tattoo shop, Tonic. Joel is reluctant to have anything to do with being part of a reality show, so he's not going to make it easy for the producers to film. But when he meets Annika Belousov, he might not like her job, but he's definitely intrigued by her as a woman. He can't stop thinking about her, taunting her… trying to get her into his bed.
Annika is the total opposite of Joel – while he's laid-back and relaxed, she's uptight and serious about everything she does. She has an incredible work ethic, though they don't call her an ice queen for nothing. But what happens when Joel starts to melt the walls around her heart? Can she choose between the man she's falling for or the career she's worked so hard to achieve?
While I enjoyed Tonic on a surface level, there were things that prevented me from connecting with the book on a deeper level. Some parts felt too forced and a little awkward – the author tried to fit in too many references to pop culture that it got old fast. I really only cared about Joel and Annika, but these two took too long to sort their problems out and used sex as an avoidance tactic too often. Joel annoyed me in the second half of the novel – he doesn't seem to know when to take responsibility and likes to blame other people for mistakes that he's a part of. His character also didn't feel like a 38-year-old man – he seemed a lot younger and immature, which was not a good thing.
Tonic wasn't a bad book, but's it's definitely one of my least favorites from Staci Hart. I'm hoping that I'll be able to connect with her future novels more – I still have hope that she'll write another book as good, or even better than, Chaser!
---
Tonic is a standalone spinoff of Wasted Words. Joel first appears here in this book!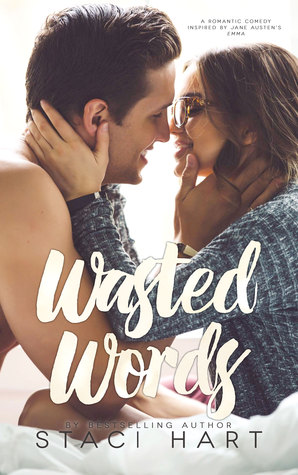 Wasted Words: My Review • Ebook • Paperback • Audible • Goodreads
Tonic and Wasted Words are a standalone spinoffs of the Bad Habits series, a series of standalones with characters featured in the spinoffs!
Reading Order: Bad Habits series
#1 ~ With a Twist: My Review • Ebook • Paperback • Audible • Goodreads
#2 ~ Chaser: My Review • Ebook • Paperback • Audible • Goodreads
#3 ~ Last Call: My Review • Ebook • Paperback • Audible • Goodreads
---
FOLLOW BOOKLOVERS FOR LIFE ON:
✦ FACEBOOK • TWITTER • INSTAGRAM • GOODREADS • PINTEREST • BLOGLOVIN' ✦