Welcome to today's stop on the blog tour for Deadmen Walking by Sherrilyn Kenyon!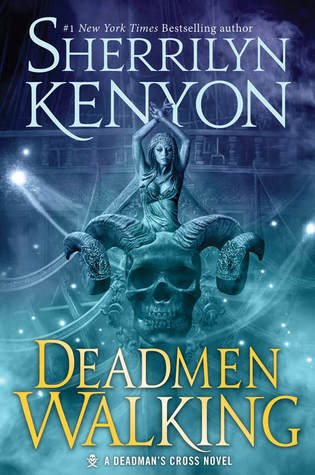 Deadmen Walking by Sherrilyn Kenyon
Series: Deadman's Cross Trilogy #1
Publication Date: May 9th 2017

#1 New York Times bestselling author Sherrilyn Kenyon debuts a sweeping new epic saga sure to appeal to her millions of fans!
Deadmen tell their tales . . .
To catch evil, it takes evil. Enter Devyl Bane―an ancient dark warlord returned to the human realm as one of the most notorious pirates in the New World. A man of many secrets, Bane makes a pact with Thorn―an immortal charged with securing the worst creations the ancient gods ever released into our world. Those powers have been imprisoned for eons behind enchanted gates . . . gates that are beginning to buckle. At Thorn's behest, Bane takes command of a crew of Deadmen and, together, they are humanity's last hope to restore the gates and return the damned to their hell realms.
But things are never so simple. And one of Bane's biggest problems is the ship they sail upon. For the Sea Witch isn't just a vessel, she's also a woman born of an ancient people he wronged and who in turn wronged him during a centuries long war between their two races―a woman who is also sister to their primary target. Now Marcelina, the Sea Witch, must choose. Either she remains loyal to her evil sister and almost extinct race against Bane and his cause, and watches humanity fall, or she puts faith in an enemy who has already betrayed her. Her people over the totality of humanity―let's hope Bane can sway her favor.
Buy Links:
Amazon • Barnes & Noble • The Book Depository
Praise for DEADMEN WALKING: A Deadman's Cross Novel
"Kenyon (Born of Legend) puts the lie to the old adage "Dead men tell no tales" in this jam-packed, appealing first book of her Deadman's Cross historical fantasy series…this piratical tale is filled with swashbuckling, death, glory." ―Publishers Weekly on Deamen Walking
"Kenyon's writing is brisk, ironic and relentless imaginative." ―Boston Globe
"Arguably the most in-demand and prolific authors in America these days." ―Publishers Weekly
"[An] engaging read." ―Entertainment Weekly
This is the first of Sherrilyn Kenyon's adult books that I've read. I've enjoyed her Chronicles of Nick series, but her Dark-Hunter series has been on my TBR forever. When I heard that she was coming out with a new series featuring pirates(!), I had to take a chance on it, mainly because I don't have enough pirate books in my life. Deadmen Walking was interesting, to say the least. It has a lot of potential, and I can see how the series has the chance to get even better. As it is the first book in the trilogy, there is a lot of info-dumping, but besides that, if you're in the mood for something epic and magical and action-packed, I'd definitely recommend this one!
Starting Deadmen Walking, I was honestly a little confused about who the main characters were. We're introduced to Cameron Jack, a woman disguised as a man who is trying to find her missing brother. Her only hope is in Devyl Bane, a powerful, notorious pirate. Little does she know, but Devyl is captain of a crew of cursed men – Deadmen. The Deadmen are creatures brought back from their deaths by Lucifer's son and given the chance to redeem their souls by being the gatekeepers that protect humanity from ancient monsters.
It turns out that our main couple is Devyl and Marcelina (Mara) the Sea Witch, who is Devyl's ex-wife's sister. The two of them have a twisted, dark, bloody past, but with the close proximity that comes with saving the world together, there is bound to be some chemistry between them. But the romance is just a small part to the overall action and adventure.
There is a lot going on in this first installment of the Deadman's Cross Trilogy. The author sets up much of the world-building to prepare for the rest of the series, so I have a feeling it can only get better from here. I also realized while reading this that it has plenty of connections to Sherrilyn Kenyon's other series – those connections went over my head, of course, but fans of the author will probably enjoy all the cameos that are in this book. If you love SK and are familiar with her work, then you should definitely check this new series out! And if you love fantasy, action, and a hint of romance, I'd say you should give this a try.
Reading Order: Deadman's Cross Trilogy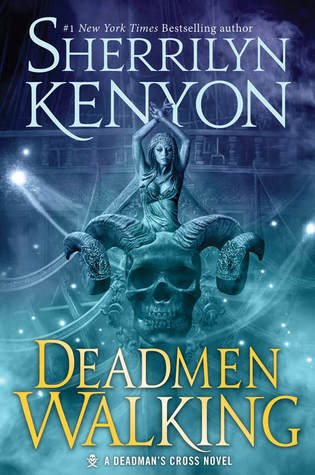 #1 ~ Deadmen Walking: Ebook • Hardcover • Audible • Goodreads
New York Times and International Bestselling author, Sherrilyn Kenyon, is a regular at the #1 spot. With legions of fans known as Menyons (thousands of whom proudly sport tattoos from her series and who travel from all over the world to attend her appearances), her books are always snatched up as soon as they appear on store shelves. Since 2003, she had placed more than 75 novels on the New York Times list in all formats including manga and graphic novels. Her current series are: Dark-Hunter, Chronicles of Nick, Lords of Avalon and The League, and her books are available in over 100 countries where eager fans impatiently wait for the next release. Her Chronicles of Nick and Dark-Hunter series are soon to be major motion pictures while Dark-Hunter, Lords of Avalon and The League are being developed for television. Join her and her Menyons online at her website and Facebook.
Website • Twitter • Goodreads • Facebook • Pinterest • Youtube
3 Copies of Deadmen Walking: A Deadman's Cross Novel and Poster by Sherrilyn Kenyon
Must be 13+ to Enter. International Giveaway
---
FOLLOW BOOKLOVERS FOR LIFE ON:
✦ FACEBOOK • TWITTER • INSTAGRAM • GOODREADS • PINTEREST • BLOGLOVIN' ✦