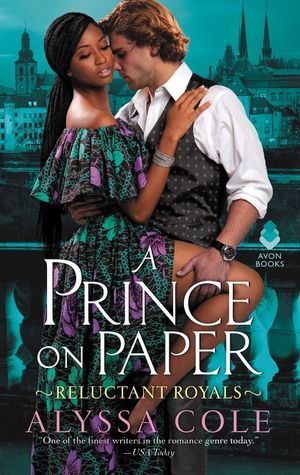 A Prince on Paper by Alyssa Cole
Series: Reluctant Royals #3 (full reading order below)
Publication Date: April 30th 2019
Links:
Ebook
 • 
Paperback
•
Audible
• 
Goodreads
Source: I received an ARC from the publisher in exchange for an honest review
The Reluctant Royals series returns with a good girl searching for the life that's not too big, and not too small, and the bad boy prince who might be just right for her…
Nya Jerami fled Thesolo for the glitz and glamour of NYC but discovered that her Prince Charming only exists in her virtual dating games. When Nya returns home for a royal wedding, she accidentally finds herself up close and personal—in bed—with the real-life celebrity prince who she loves to hate.
For Johan von Braustein, the red-headed step-prince of Liechtienbourg, acting as paparazzi bait is a ruse that protects his brother—the heir to the throne—and his own heart. When a royal referendum threatens his brother's future, a fake engagement is the perfect way to keep the cameras on him.
Nya and Johan both have good reasons to avoid love, but as desires are laid bare behind palace doors, they must decide if their fake romance will lead to a happily-ever-after.
Ever since reading and LOVING A Duke By Default, I couldn't wait to get my hands on another Alyssa Cole novel. I love her writing and storytelling, and I was so excited for Nya and Johan's story! Alyssa Cole did not disappoint with A Prince on Paper – it's sexy, endearing, with a splash of humor put in. If you loved the other books in the series, or any time or royal romance, you need to read this one!
I love Alyssa Cole's writing. Her stories come across almost like a fairy tale, and she makes you believe in true love. She heaps big doses of swoon and chemistry for Nya and Johan, who form a fake relationship. They go on a little adventure together, in bed and out of it, which only makes the tension between them heat up. And try as they might, they can't help but have their real feelings get involved.
This third novel was a bit different from book two. It was a lot more serious and deeply emotional at times. I felt for Nya and the hurt she has experienced. There are a lot of complicated relationships that are explored in this novel, not just Johan and Nya's. That being said, overall this is a FUN book that will light up your heart. It's sexy, sweet, and very emotional.
I will definitely need to go back and read A Princess in Theory. I love Alyssa Cole's words and highly encourage everyone to read them!
---
Reading Order: Reluctant Royals series
#1 ~ A Princess in Theory: Ebook • Paperback • Audible • Goodreads
#2 ~ A Duke by Default: Ebook • Paperback • Audible • Goodreads
#3 ~ A Prince on Paper: Ebook • Paperback • Audible • Goodreads
---
FOLLOW BOOKLOVERS FOR LIFE ON:
✦ FACEBOOK • TWITTER • INSTAGRAM • GOODREADS • PINTEREST • BLOGLOVIN' ✦