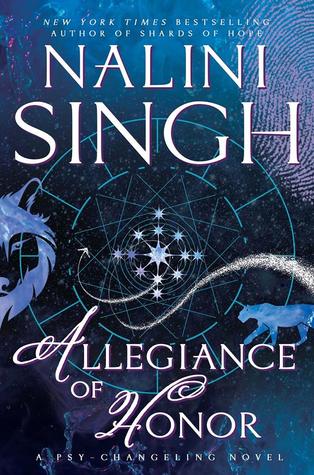 Allegiance of Honor by Nalini Singh
Series: Psy-Changeling #15 (full reading order below)
Publication Date: June 14th 2016
Links: 
Ebook
•
Hardcover
 •
Paperback
 • 
Audible
 •
Goodreads
Source: I received an ARC from the publisher in exchange for an honest review
The "unparalleled romantic adventure"* of Nalini Singh's New York Times bestselling series continues as a new dawn begins for the Psy-Changeling world…
A staggering transformation has put the Psy, humans, and changelings at a crossroads. The Trinity Accord promises a new era of cooperation between disparate races and groups. It is a beacon of hope held together by many hands: old enemies, new allies, wary loners.
But a century of distrust and suspicion can't be so easily forgotten, and it threatens to shatter Trinity from within at any moment. As rival members vie for dominance, chaos and evil gather in the shadows and a kidnapped woman's cry for help washes up in San Francisco, while the Consortium turns its murderous gaze toward a child who is the embodiment of change, of love, of piercing hope: a child who is both Psy…and changeling.
To find the lost and protect the vulnerable – and to save Trinity – no one can stand alone. This is a time of loyalty across divisions, of bonds woven into the heart and the soul, of heroes known and unknown standing back to back and holding the line. But is an allegiance of honor even possible with traitors lurking in their midst?
The Psy-Changeling series is one of my all-time favorite PNR series ever. I've loved the series from the very first book, but now at book fifteen, we've come a looong way. I was excited for Allegiance of Honor because, well, it's a Psy-Changeling book, and also because I was curious how Nalini Singh would pull off an ensemble book, with no main couple whose romance we'd focus on. While I can't say I loved this book, I did love seeing the different couples from past books and how they're living now in the new Psy-Changeling world. I do wish that we got a new main couple to read about, because I missed that romance aspect in this novel. Still, if you're a fan of the series, which I'm sure you are if you're still reading at book fifteen, then you don't want to miss AoH. Many, many things happen (including the pupcubs!) that lead to some changes in the Psy-Changeling world.
Heroes, I've learned, don't always wear white.
Sometimes they come from the darkness, shadows among shadows.
The Trinity Accord, lead by the most powerful and influential individuals – like Lucas, the DarkRiver alpha, and Aden, leader of the Arrows – strives for peace between the three races. Humans, Psy, and Changelings must all work together if they want to keep surviving. But with those who are against any intermixing of races, those who think a newborn who is half Psy and half Changeling is an abomination, this fragile peace is threatened. What is to come of the Psy-Changeling world?
"So many bonds," he murmured as the two of them stood under a night sky that reminded him of Kaleb's cardinal eyes. "So many connections. Our world is becoming the interlinked entity it was always meant to be."
There are so many plotlines going on in AoH, a little too many for me to fully enjoy each one. Yes, I adored seeing Lucas and Sascha (with Naya!), Kaleb and Sahara, Hawke and Sienna, and every one of the past couples, but there were so many changing POVs that it was hard for me to focus on anything. It took me a long, long time to finish this book because of how drawn out everything is. Every single character seems to play a major part in creating this new peaceful world, so each and every one needs screen time, which made for a slow-moving book.
That doesn't mean I didn't enjoy AoH, because I did. Just not as much as previous books that had a lot more romance. The small doses we do get from the different couples are sweet and heartwarming, but I really did wish we had a main couple to focus on. I did love that we finally(!) find out how many pupcubs Mercy and Riley are having, and what changelings they are!
Nalini Singh has created an incredible world that I get sucked into every time I pick up a Psy-Changeling book. Just because I didn't love AoH doesn't mean I didn't appreciate the wonderful writing and storytelling that the author is so talented at. It takes skill to continue building onto a world even fifteen books into a series. I can't wait to see what she has in store for us next – though I'm hoping we'll get back to having a main couple's romance to read!
Quotes are taken from the arc and are subject to change in the final version.
---
Reading Order: Psy-Changeling series
#1 ~ Slave to Sensation: Ebook • Paperback • Audible • Goodreads
#2 ~ Visions of Heat: Ebook • Paperback • Audible • Goodreads
#3 ~ Caressed by Ice: Ebook • Paperback • Audible • Goodreads
#4 ~ Mine to Possess: Ebook • Paperback • Audible • Goodreads
#5 ~ Hostage to Pleasure: Ebook • Paperback • Audible • Goodreads
#6 ~ Branded by Fire: Ebook • Paperback • Audible • Goodreads
#7 ~ Blaze of Memory: Ebook • Paperback • Audible • Goodreads
#8 ~ Bonds of Justice: Ebook • Paperback • Audible • Goodreads
#9 ~ Play of Passion: Ebook • Paperback • Audible • Goodreads
#10 ~ Kiss of Snow: Ebook • Paperback • Audible • Goodreads
Collection #1 ~ Wild Invitation: Ebook • Paperback • Audible • Goodreads
#11 ~ Tangle of Need: Ebook • Paperback • Audible • Goodreads
#12 ~ Heart of Obsidian: Ebook • Paperback • Audible • Goodreads
#13 ~ Shield of Winter: Ebook • Paperback • Audible • Goodreads
#14 ~ Shards of Hope: Ebook • Hardcover • Paperback • Audible • Goodreads
#15 ~ Allegiance of Honor: Ebook • Hardcover • Paperback • Audible • Goodreads
Collection #2 ~ Wild Embrace: My Review • Ebook • Paperback • Audible • Goodreads
---
FOLLOW BOOKLOVERS FOR LIFE ON:
✦ FACEBOOK • TWITTER • INSTAGRAM • GOODREADS • PINTEREST • BLOGLOVIN' ✦