I'm so excited to share with you all some excerpts from Tessa Bailey's fantastic Crossing the Line series! The 4th and final book, Raw Redemption, will be releasing soon so make sure to catch up on the series!
Risking It All by Tessa Bailey
Series: Crossing the Line #1 (full reading order below)
Release Date: January 27th 2015

She's gone rogue.
Seraphina Newsom isn't looking for vengeance…she wants justice. Three years ago, Sera's brother was ruthlessly gunned down by one of Brooklyn's most dangerous mob kingpins. The investigation has stalled out, deemed "too dangerous" by the police commissioner. So to track down the evidence she needs to take down her brother's killer, Sera turns in her hospital scrubs, joins the NYPD, and goes undercover. Unsanctioned. Alone.
He'll live to keep her safe.
With his father behind bars, Bowen Driscol has reluctantly taken over his family's sprawling South Brooklyn crime operation. New York's finest have other plans. By threatening the safety of his sister, they "convince" Bowen to extricate a rogue cop who's in over her head. But when he meets Sera and feels that deep, damning shiver of desire course through him, Bowen knows there's only one way to keep her safe without blowing either of their covers…by claiming her as his own.
Buy Links:
Amazon • Barnes & Noble • iTunes • Kobo
Now here's an excerpt from Risking It All! ❤
"Listen to me, if I wanted to fuck you, I'd end anyone or anything who got in my way. Nothing would stop me. Not a locked door. Not some lowlife. Nothing."
"If?" she repeated, embarrassment cooling her desire. "You don't want to?"
His laughter was harsh. "Want to? Want to?" One of his hands loosened its grip to drop down and grasp the bulge in his pants. "I didn't even know it was possible to ache this bad. It hurts to breathe, baby."
The heat came rushing back in full force. "Then I don't understand."
"I can't. We can't." He pressed his forehead to hers. "See, I'm wondering if keeping my hands off you will buy my way out of hell. God knows I'll have experienced the worst hell has to offer already. You think he'll make me go through it twice?"
The suffering in his voice lacerated her. There was so much more going on here than sexual frustration, although there was definitely a healthy dose of that. He seemed to think there would be consequences for getting physical with her. But that didn't make any sense. Since when does a man who rules streets with fear care about consequences for anything? This man took what he wanted and damn the outcome. Right?
Without thinking, she took the hand he'd dropped and brushed a stray piece of hair off his forehead. His body went liquid, melting against her for long moments while she held her breath. "Aren't there other ways to buy yourself out of hell?"
"Not for me."
Up in Smoke by Tessa Bailey
Series: Crossing the Line #2 (full reading order below)
Release Date: June 23rd 2015

Never start a fire you can't control…
Connor Bannon is supposed to be dead. Dishonorably discharged from the Navy SEALs, he's spent the last two years working as a street enforcer in Brooklyn for his cousin's crime ring. Through a twist of fate, he's now in Chicago, working undercover to bust criminals. But when a cute little arsonist joins the team-all combat boots, tiny jean shorts, and hot-pink hair-Connor's notorious iron control slips.
Erin "she's getting away" O'Dea knows two things. She hates authority. And… Nope, that's it. When she's forced to operate on the "right" side of the law, her fear of being confined and controlled blazes to the surface. The last thing she expects is a control freak like Connor to soothe her when she needs it most. Worse, something behind the sexy ex-soldier's eyes ignites a dangerous inferno of desire. One that invites Erin to play with fire. And one that could get them both killed…
Buy Links:
Amazon • Barnes & Noble • iTunes • Kobo
Now here's an excerpt from Up in Smoke! ❤
Connor broke away, allowing them both to suck in oxygen. "Stay. I'm sorry. Stay." He bent his knees to bring them eye to eye. His spoke of torture, but he was trying to hide it. "Look at me. I can handle this. I want you here. Don't leave."
"I don't know if I can handle it," she whispered.
His heavy breaths ceased. "What do you mean?"
She drew out a lighter from her back pocket and ignited the flame. It cleared her head a little, allowing her to search for the right words. Words that wouldn't sound crazy. "I like touching you. It makes me feel really…good. And there isn't a whole lot that makes me feel good, you know?" Her throat closed up. "I wish you could touch me, too. I don't think I can stay here knowing I'm hurting you by making myself feel good…and I don't think I can stop touching you. It feels like a must."
A flare of panic flashed across his face. "I shouldn't have said what I did earlier. You just caught me off guard." He massaged his forehead with four fingers. "Did I scare you? Is that why you're really leaving?"
"No." She shook her head. "No."
"Okay. Jesus. Okay." He was silent a moment, but gears were turning behind his eyes. "You need to touch me and I need you to stay. Let's give each other what we need. All right?"
Why was this so damn confusing? She'd only met this man yesterday and they were already tangled up in her web of fucked-up issues. He should want to be clear of her, shouldn't he? No one else had ever bothered with her this long before. "Why? Why do you need me to stay? I—"
"I won't rest," he growled. "I'll think about you somewhere, scared like you were last night, and I'll go fucking crazy."
Her heart lurched, dislodging her pride. "I've been taking care of myself for a long time. If the only reason you want me here is to play nursemaid to the crazy girl, that's not going to work for me."
"You know there's more to it. You know." He visibly centered himself with a deep breath, appearing to debate with himself. "I've got my own skeletons, Erin. They don't rattle so much when you're around. Your touching me…it makes me hot. But it soothes elsewhere."
She knew her expression was pathetically hopeful, but couldn't find a single shit to give. "Yeah?"
"Yeah," he repeated. "I'm not going to lie, Erin. Yes, I want to sleep with you like hell. But only if it's healthy. Would you trust me enough to go slow? A little at a time?"
Her pulse hammered out of control. "You touching me?"
Connor watched her closely. "When you're ready. Not before. Never before."
This is where she should climb down the fire escape and vamoose toward the street. A weight pressed down on her rib cage, making it difficult to draw a breath. It felt like the point of no return. But Connor's eyes grounded her.
Safe. He's safe.
"Okay, baby. Slow."
His body drained of tension. "Thank you." He leaned in and brushed their lips together, gently, reverently. "First, we talk."
Boiling Point by Tessa Bailey
Series: Crossing the Line #3 (full reading order below)
Release Date: January 25th 2016

Falling for a con man is the most dangerous game of all…
Con artist Austin Shaw's been in disguise so long he's not sure where his fake identities end and he begins. Now that he's been strong-armed into working for a specialized undercover unit working with the Chicago police—criminals with unique "skills"—the last thing he needs is to risk his iron control. Especially when it comes to a certain stunningly sexy hacker who tempts him with every look of disdain.
Polly Banks will never, ever trust a con man. On the trail of a ruthless crook who destroyed the only family she's ever known, Polly is unnerved by the shadow who follows her every move. The one who makes her pulse pound and breath short with lust. Austin. He's infuriating, enigmatic, and pure sex appeal, and she's determined to resist him.
But an untrustworthy man of disguise can become anyone he wants…including a man that Polly must trust if she's to escape their dangerous game alive.
Buy Links:
Amazon • Barnes & Noble • iTunes • Kobo
Now here's an excerpt from Boiling Point! ❤
"Drop the gun." He issued the order through clenched teeth. "I find the idea of hurting you distasteful."
She twisted her body, an attempt to regain control of the Beretta. "I can't believe you don't have the decency to put your dick away before charging at me."
Call him sick, call him whatever you liked, he liked Polly talking about his dick in any capacity. Look at it. Want it. "I'm the furthest thing from decent."
"No shit." They were breathing heavily, inches from each other's mouths. And hell if the swollen bastard between his thighs didn't react favorably to having her close, even though she might have come there to murder him in cold blood. Pity, his cock didn't deal in semantics.
"One last chance, Banks. Drop the gun or I'll take it away from you."
She pretended to think about it. "See, I'm not really in the mood to cry uncle."
"Are you in the mood to cry Austin? Now that could be interesting." She attempted to jerk the Beretta away again, giving him no choice but to dig his thumb into the pressure point on her wrist, releasing her grip automatically. "There now." Keeping his attention trained on Polly, he placed the gun out of her reach on an overhead shelf. "That wasn't so difficult, was—"
Her freed fist drilled him in the stomach. A grunt burst past his lips, but masculine pride kept him standing upright. Well, masculine pride and another fist flying in his direction, this time at his head. He shot a hand out to intercept the punch, using the grip to drag Polly off the sink and twist her arm behind her back.
"Aiming for this moneymaker face, sweet?" He clucked his tongue. "Now that's just cruel."
"Let me go," she demanded, her voice vibrating with anger. Although he detected more embarrassment than anything else. He'd never seen her anything but confident. Ready for a challenge. It didn't sit well that he'd scored her pride, so he let go of her arm. He had questions that needed answering, though, so as soon as he refastened his pants—not an easy feat when his cock still stood at attention—Austin pressed her body back against the sink, blocking both avenues of escape with his arms.
"How did you find my address? I've made it impossible."
Some of her confidence returned in the form of a chin lift. Jesus, he would've liked to see that chin pointed toward the ceiling as she wailed for more tongue. "You should know by now that nothing is impossible for me." Intelligence glimmered in her eyes. "I know you asked Derek to pay you by money order. I tracked the last several serial numbers to four different check-cashing places in the neighborhood." Her shrug appeared grudging. "That was smart, not using the same place consistently. But I was able to pinpoint your general location down to a three-block radius, nonetheless. This building is the only one not run by a professional management company, and the most likely to rent without a proper credit check and accept cash deposits."
It took an effort, but Austin managed to hide the chest-expanding awe she'd inspired. "And my apartment number? How did you manage to glean that information, my hot little sleuth?"
"I'm not your anything, Shaw." She narrowed her gaze. "And your buzzer has the name I.M. TheTits on it."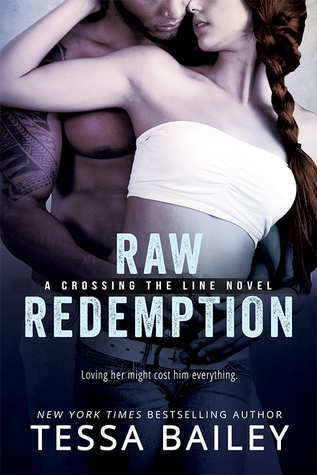 Raw Redemption by Tessa Bailey
Series: Crossing the Line #4 (full reading order below)
Release Date: June 13th 2016

Loving her might cost him everything…
Disgraced cop Henrik Vance is having a shit year. Banished to a derelict undercover squad, he's been tasked with hunting down the daughter of Chicago's most dangerous criminal. His obsession with saving the beautiful girl destroyed his career. And this time, it might cost his life.
Ailish O'Kelly doesn't need a hero. She'll save herself from her father's violent criminal dynasty, thank you very much. Unfortunately, the sexy as sin cop who crashes her hideout isn't hearing reason—especially not after the kiss that becomes much more.
His boss wants her as an informant. Ailish wants Henrik to keep whispering filthy things against her skin. But she knows too well the evil they're up against, and when it comes down to protecting the man who owns her body and soul, she only has one choice…
Buy Links:
Amazon • Barnes & Noble • iTunes • Kobo
Now here's an excerpt from Raw Redemption! ❤
Henrik's sigh blew her hair back like a stiff gust of wind. "While I'm with you, Ailish, I'm working. There are lines I can't cross."
Even knowing it was a little evil, nothing could suppress the pop of excitement in her belly. She was alone with a man—a gorgeous man—who wanted her. But had to keep his hands off. It was a tease's paradise, and they were both screwed. Or not screwed, depending on your point of view.  "We can't sleep together."
"No." He dropped his needful gaze to her breasts again. "We can't."
She executed her best nonchalant shoulder shrug. "Oh."
"You're smiling again."
Ailish couldn't stifle her chuckle. Man oh man, she really liked this big ol' man, and they'd only just met. He deserved a fair warning about what he was getting himself into. "Henrik, you should probably put as much distance between you and me as possible. I really like that you want me. And I probably won't be able to help trying to keep it that way." She drew a lazy circle on his abdomen with her index finger, watching in awe as the ridged muscle shuddered under her touch. "For instance, I'd love to tell you I'm wearing cheap white panties and you can see clear through them in the right light."
His body did this kind of heave, right at Ailish, flattening her backside against the sink. Their mouths were suddenly so close, she could feel his hot puffs of breath on her lips, feel his chest lifting and falling where it met her breasts. "I don't like hearing that you've talked to other men that way."
"I haven't," she whispered. "I don't. I usually just—"
"I do not want to know."
Henrik made a subtle move, just a downward roll of his hips that dragged his erection over the crotch of her leggings. But it wasn't really subtle at all because he stopped right over her clit and nudged forward. She nearly jumped out of her skin, it was so unexpected, her body's deluge of need so extreme. "H'oh boy."
His mouth sifted through the hair covering her ear. "Tease me as much as you want. Just don't try to send me packing again. Are we clear?"
"I told you I don't like being ordered around."
He rasped the stubble of his jaw against her neck. "You'd love the way I do it."
Reading Order: Crossing the Line series
#0.5 ~ Riskier Business: Ebook • Goodreads
#1 ~ Risking it All: Ebook • Paperback • Goodreads
#2 ~ Up in Smoke: My Review • Ebook • Paperback • Goodreads
#3 ~ Boiling Point: My Review • Ebook • Paperback • Goodreads
#4 ~ Raw Redemption: Ebook • Paperback • Goodreads (June 13, 2016)
Thank you for your interest in my books! I'm Tessa and I live in the crazy, loud, overcrowded borough of Brooklyn, New York. I love it here. This city is a constant source of inspiration, which is why I've decided to set my most recent books in the Line of Duty Series here.
I moved to New York when I was eighteen, the day after I graduated high school. Threw my suitcase in the back of a Chevrolet Cavalier and drove across the country to find my adventure. I'm still finding it, little by little. Thank you for being a part of it.
---
FOLLOW BOOKLOVERS FOR LIFE ON:
✦ FACEBOOK • TWITTER • INSTAGRAM • GOODREADS • PINTEREST • BLOGLOVIN' ✦