Click the banner to follow the tour.
Welcome to today's stop on the blog tour for Raw Redemption by Tessa Bailey!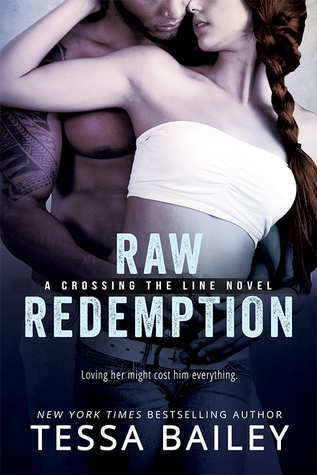 Raw Redemption by Tessa Bailey
Series: Crossing the Line #4 (full reading order below)
Release Date: June 13th 2016

Loving her might cost him everything…
Disgraced cop Henrik Vance is having a shit year. Banished to a derelict undercover squad, he's been tasked with hunting down the daughter of Chicago's most dangerous criminal. His obsession with saving the beautiful girl destroyed his career. And this time, it might cost his life.
Ailish O'Kelly doesn't need a hero. She'll save herself from her father's violent criminal dynasty, thank you very much. Unfortunately, the sexy as sin cop who crashes her hideout isn't hearing reason—especially not after the kiss that becomes much more.
His boss wants her as an informant. Ailish wants Henrik to keep whispering filthy things against her skin. But she knows too well the evil they're up against, and when it comes down to protecting the man who owns her body and soul, she only has one choice…
Buy Links:
Amazon • Amazon UK • B&N • Kobo • iBooks
Calling all Tessa Bailey fans!! Henrik Vance is going to be your new upcoming favorite dirty-talking alpha hero! Gah, I totally adored him. I don't know how the author does it, but with every book, she's able to write such a fabulous romance with the HOTTEST dirty talk and steamy scenes ever! I loved Raw Redemption, but I am sad that the Crossing the Line series is now over. I've loved this series since Bowen was first introduced in Risking It All, and I've fallen in love more and more with every misfit character introduced. Thankfully, Tessa Bailey ends the series with a bang – Raw Redemption is a romantic, suspenseful, enchanting read I couldn't put down. It's a fantastic romance between a fallen-from-grace cop and and a mafia boss's daughter – what could be better than that!?
We were first introduced to Henrik in Boiling Point, and I'd honestly never been so excited for a character to get his story! Love at first sight has nothing on Henrik Vance. If you're not a fan of instalove, this probably won't be for you, but if you have no problem with it, Henrik is your man. Here, we have a disgraced cop who ruined his career on purpose by getting rid of evidence that would put his woman in jail. Nothing and nobody touches Ailish O'Kelly… except for Henrik, of course. 😉 Now, an ex-cop, he's forced to join an undercover unit of criminals who use their skills for good. A new case pops up that involves Ailish – and now nothing's going to stop him from going after her, protecting her, and claiming her.
The landscape of his insides shifted, like two fault lines parting and relocating after an earthquake. This girl. She was either going to be his reason for living or the reason he died. It was all right there, shining in front of him like a spotlight.
Ailish may be the daughter of a criminal, but she wants nothing to do with the underworld of crime. Her father kept her in a metaphorical prison, never allowing her to do anything she wanted. She's now escaped from that life, and she'll do whatever it takes to survive even as her father is looking for her. What she doesn't expect is a gorgeous, alpha, protective man to show up at her doorstep, get under her skin, and into her heart.
"I passed need weeks ago. Need is just a word. I am my starvation for you, Ailish. It rules me."
Raw Redemption is instalove at its finest. I totally LOVE when alpha heroes go head-over-heels for their woman, and you don't get any better than Tessa Bailey's heroes. Henrik is absolutely heart-melting, and Ailish is perfect for him. I adored them together, and the chemistry between them? Over-the-roof hot. The suspense plot of the story wasn't quite as good as the romance or as memorable, but I really had no problem with that, because I loved Henrik and Ailish too much. Raw Redemption is an incredible conclusion to this unique, sexy series. I'm sad to see it end, but also glad I got to experience it. If you haven't read the Crossing the Line series, you are missing out! It's one of Tessa Bailey's best series, and if you love sexy, dirty reads with some suspense mixed it, you definitely need to start it!
Quotes are taken from the arc and are subject to change in the final version.
Reading Order: Crossing the Line series
#0.5 ~ Riskier Business: Ebook • Goodreads
#1 ~ Risking it All: Ebook • Paperback • Goodreads
#2 ~ Up in Smoke: My Review • Ebook • Paperback • Goodreads
#3 ~ Boiling Point: My Review • Ebook • Paperback • Goodreads
#4 ~ Raw Redemption: Ebook • Paperback • Goodreads
Tessa Bailey is originally from Carlsbad, California. The day after high school graduation, she packed her yearbook, ripped jeans and laptop, driving cross-country to New York City in under four days.
Her most valuable life experiences were learned thereafter while waitressing at K-Dees, a Manhattan pub owned by her uncle. Inside those four walls, she met her husband, best friend and discovered the magic of classic rock, managing to put herself through Kingsborough Community College and the English program at Pace University at the same time. Several stunted attempts to enter the work force as a journalist followed, but romance writing continued to demand her attention.
She now lives in Long Island, New York with her husband of eight years and four-year-old daughter. Although she is severely sleep-deprived, she is incredibly happy to be living her dream of writing about people falling in love.
Website • Facebook • Twitter • Goodreads • Newsletter
$20 Amazon Gift Card
---
FOLLOW BOOKLOVERS FOR LIFE ON:
✦ FACEBOOK • TWITTER • INSTAGRAM • GOODREADS • PINTEREST • BLOGLOVIN' ✦