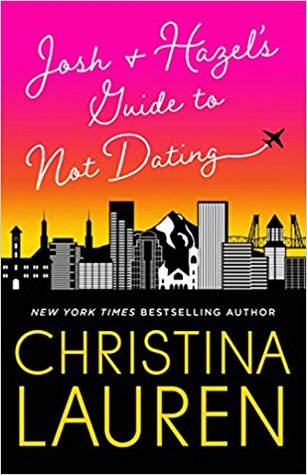 Josh and Hazel's Guide to Not Dating by Christina Lauren
Series: Standalone
Publication Date: September 4th 2018
Links: 
Ebook
• 
Paperback
 •
Audible
•
Goodreads
Source: I received a copy from the publisher in exchange for an honest review
Most men can't handle Hazel. With the energy of a toddler and the mouth of a sailor, they're often too timid to recognize her heart of gold. New York Times and #1 international bestselling author Christina Lauren (Roomies, Beautiful Bastard) tells the story of two people who are definitely not dating, no matter how often they end up in bed together.
Hazel Camille Bradford knows she's a lot to take—and frankly, most men aren't up to the challenge. If her army of pets and thrill for the absurd don't send them running, her lack of filter means she'll say exactly the wrong thing in a delicate moment. Their loss. She's a good soul in search of honest fun.
Josh Im has known Hazel since college, where her zany playfulness proved completely incompatible with his mellow restraint. From the first night they met—when she gracelessly threw up on his shoes—to when she sent him an unintelligible email while in a post-surgical haze, Josh has always thought of Hazel more as a spectacle than a peer. But now, ten years later, after a cheating girlfriend has turned his life upside down, going out with Hazel is a breath of fresh air.
Not that Josh and Hazel date. At least, not each other. Because setting each other up on progressively terrible double blind dates means there's nothing between them…right?
Christina Lauren is easily in my top 10 most beloved authors. This author duo knows how to write romance, and write it well. Each new release of theirs brings something unique and fresh to the genre, and Josh and Hazel's Guide to Not Dating is no different. Josh and Hazel stole my heart in their hilarious, adorable friends-to-lovers romance. If you love entertaining books with well-written characters that are utterly relatable, you definitely need this book in your life!
I love quirky heroines, and you don't get any more quirky than Hazel. She looks at the world a little differently than other people, and Josh understands her in a way few others do and adores her all the more for it. Josh is her perfect match, the steady stability to Hazel's wild ways. They've known each other for a decade since college, but after reuniting, their friendship grows even stronger. You can absolutely feel the strength in the foundation of their friendship, and I love how that friendship slowly grows into an epic love.
As much as I love alpha heroes, it's the quiet, dependable heroes that always get to me. Josh's support and adoration for Hazel is one of the best parts about this novel. In addition to that, Christina Lauren did a fantastic job at authentically writing about Josh's life as a Korean-American. As an Asian-American myself, I couldn't help but appreciate how seamlessly the authors wove Korean culture, from the language to the food, into the story.
If you're a fan of rom-coms and friends-to-lovers, I can't recommend this book enough. Josh and Hazel's story is fresh, genuine, and romantic. Christina Lauren left me with a smile on my face by the end of the book, but that's no surprise for me. They've been knocking their 2018 releases out of the park, and I already can't wait for more from them!
---
Also by Christina Lauren:
Standalones:
Dating You / Hating You: Ebook • Paperback • Audible • Goodreads
Autoboyography: Ebook • Hardcover • Audible • Goodreads
Roomies: My Review • Ebook • Paperback • Audible • Goodreads
Love and Other Words: My Review • Ebook • Hardcover • Paperback • Audible • Goodreads
Reading Order: Beautiful Bastard series
#1 ~ Beautiful Bastard: Ebook • Paperback • Audible • Goodreads
#1.5 ~ Beautiful Bitch: Ebook • Paperback • Audible • Goodreads
#2 ~ Beautiful Stranger: Ebook • Paperback • Audible • Goodreads
#2.5 ~ Beautiful Bombshell: Ebook • Paperback • Audible • Goodreads
#3 ~ Beautiful Player: My Review • Ebook • Paperback • Audible • Goodreads
#3.5 ~ Beautiful Beginning: Ebook • Paperback • Audible • Goodreads
#3.6 ~ Beautiful Beloved: My Review • Ebook • Audible • Goodreads
#4 ~ Beautiful Secret: My Review • Ebook • Paperback • Audible • Goodreads
#4.5 ~ Beautiful Boss: My Review • Ebook • Paperback • Audible • Goodreads
#5 ~ Beautiful: Ebook • Paperback • Audible • Goodreads
Reading Order: Wild Seasons series
#1 ~ Sweet Filthy Boy: My Review • Ebook • Paperback • Audible • Goodreads
#2 ~ Dirty Rowdy Thing: My Review • Ebook • Paperback • Audible • Goodreads
#3 ~ Dark Wild Night: My Review • Ebook • Paperback • Audible • Goodreads
#4 ~ Wicked Sexy Liar: My Review • Ebook • Paperback • Audible • Goodreads
---
FOLLOW BOOKLOVERS FOR LIFE ON:
✦ FACEBOOK • TWITTER • INSTAGRAM • GOODREADS • PINTEREST • BLOGLOVIN' ✦