Welcome to today's stop on the review tour for The Problem with Forever by Jennifer L. Armentrout!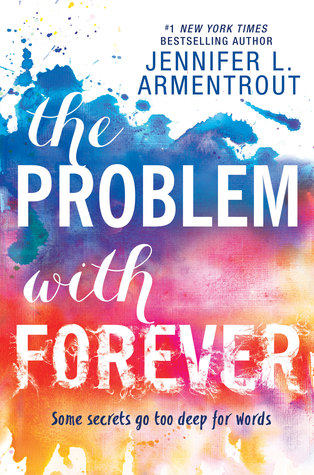 The Problem with Forever by Jennifer L. Armentrout
Series: Standalone
Publication Date: May 17th 2016

From #1 New York Times bestselling author Jennifer L. Armentrout comes a riveting new story about friendship, survival, and finding your voice.
For some people, silence is a weapon. For Mallory "Mouse" Dodge, it's a shield. Growing up, she learned that the best way to survive was to say nothing. And even though it's been four years since her nightmare ended, she's beginning to worry that the fear that holds her back will last a lifetime.
Now, after years of homeschooling with loving adoptive parents, Mallory must face a new milestone—spending her senior year at public high school. But of all the terrifying and exhilarating scenarios she's imagined, there's one she never dreamed of—that she'd run into Rider Stark, the friend and protector she hasn't seen since childhood, on her very first day.
It doesn't take long for Mallory to realize that the connection she shared with Rider never really faded. Yet the deeper their bond grows, the more it becomes apparent that she's not the only one grappling with lingering scars from the past. And as she watches Rider's life spiral out of control, Mallory must make a choice between staying silent and speaking out—for the people she loves, the life she wants, and the truths that need to be heard.
Buy Links:
Amazon Ebook • Amazon Hardcover • Audible • B&N • iTunes • Kobo • IndieBound
Register your preorder of THE PROBLEM WITH FOREVER by May 20th to receive a FREE fan pack! Includes inspirational wall art, a colorful poster, and flag-as-you-read stickers. You will also get immediate access to an extended excerpt from the book.
FILL OUT THE FORM HERE: http://bit.ly/24awVFw
JLA is just one of those authors whose books you can't help but enjoy. The Problem with Forever is the first of her contemporary YAs that I've read (I usually read her NA or fantasy books), but it was just as fantastic as I expected, if a little different from what I usually read from her. Besides the gorgeous cover, what really attracted me to this was the intriguing blurb – the fact that the main characters are long-lost friends who bonded over tragic circumstances. Mallory and Rider's story turned out to be gripping and intense – from the very first page, I couldn't put it down!
As a foster child, Mallory Dodge grew up in an abusive home, but the one person who was always there for her, who promised to protect her forever, was Rider Stark, a foster kid who grew up alongside her. While Mallory was able to get out and get adopted by good people, she never knew what happen to her dear friend – until now. The last person she expects to run into during her first day of her senior year of high school is her long-lost friend, who she's never been able to forget. And it seems like he's never been able to forget her either.
Mallory suffers from some pretty intense anxiety, including public speaking, due to PTSD from her childhood. As a defense mechanism, she's quiet, awkward, and struggles to speak out. I could feel how much she hated this aspect of herself, but felt so helpless to change anything about it. Her growth and development is slow and gradual, though not without struggles, but it really felt so honest and real. JLA did a wonderful job with Mallory's character, with making her relatable and genuine. She's the kind of heroine I easily found myself cheering for.
Life was like doing this speech. It wasn't necessarily about the end result, but more about trying.
I could… I could get behind that.
Rider is your typical cocky, bad boy senior… except he's not. He's actually so much more than that. He's loyal, headstrong, and incredibly protective of Mallory – he always was since they were younger. He's also so supportive of her, helping her try to overcome her public speaking issues. He once again becomes Mallory's savior… but that doesn't mean he doesn't need saving himself. Much as Rider would like to think their traumatic past only affected Mallory, he's so messed up inside from it that he doesn't even realize it. My heart broke even more so for Rider than Mallory, because as Mallory grows and heals, Rider only comes to believe that he has no self worth.
Forever was something we all took for granted, but the problem with forever was that it really didn't exist.
This book… it's painful and heartbreaking to read, but the changes Mallory and Rider make are nothing short of awe-inspiring. The inner strength within these two is a powerful thing to witness, made all the more sweeter after the tragedy and struggles they've overcome. I also loved all the secondary characters and how important and influential they are in Mallory and Rider's lives, from Mallory's adoptive parents to her best friend, from their speech teacher to Rider's adoptive brothers. They all have an impact on the story and the main characters, which made this book feel all the more real to me.
The Problem with Forever is a raw and powerful read, and it's one everyone should give a try. If you love JLA, get ready for an intense, highly emotional read – it's a fantastic YA contemp you won't regret reading!
Quotes are taken from the arc and are subject to change in the final version.
#1 New York Times and #1 International Bestselling author Jennifer lives in Martinsburg, West Virginia. All the rumors you've heard about her state aren't true. When she's not hard at work writing, she spends her time reading, watching really bad zombie movies, pretending to write, and hanging out with her husband and her Jack Russell Loki.
Her dreams of becoming an author started in algebra class, where she spent most of her time writing short stories….which explains her dismal grades in math. Jennifer writes young adult paranormal, science fiction, fantasy, and contemporary romance. She is published with Spencer Hill Press, Entangled Teen and Brazen, Disney/Hyperion and Harlequin Teen. Her book Obsidian has been optioned for a major motion picture and her Covenant Series has been optioned for TV. Her young adult romantic suspense novel DON'T LOOK BACK was a 2014 nominated Best in Young Adult Fiction by YALSA.
She also writes Adult and New Adult contemporary and paranormal romance under the name J. Lynn. She is published by Entangled Brazen and HarperCollins.
A Messenger Bag filled with a Kindle Fire, Signed THE PROBLEM WITH FOREVER, Signed Copies from Jennifer L. Armentrout and Katie McGarry, and Book Goodies and Swag for 1 Winner
Review Tour Schedule
May 9
Mundie Moms
Mary Had a Little Book Blog
K-Books
Reads and Thoughts
Booklovers For Life (us!)
May 10
Milky Way of Books
Deity Island
Less Reality More Books
Lovin' Los Libros
Once Upon a Twilight
The Book Bratz
May 11
Stuck in YA Books
The Book Swarm
The Book Hookup
Take Me Away To A Great Read
Love Between The Sheets
May 12
City of Books
Krista's Dust Jacket
PBC
The Reading Geek
Readers Live A Thousand Lives
May 13
kimberlyfaye reads
True Story Book Blog
StuckInBooks
Bows & Bullets Reviews
MEReadALOT
A Bookish Escape
May 14
My YA NA Book Obsession
DanaSquare
The Cover Contessa
My Random Book Thoughts
May 15
Owl Always Be Reading
No BS Book Reviews
Nose Stuck in a Book
MrsLeifs Two Fangs About It Book Reviews
Jenuine Cupcakes
May 16
A Glass Of Wine
Star-Crossed Book Blog
Hypable.com
---
FOLLOW BOOKLOVERS FOR LIFE ON:
✦ FACEBOOK • TWITTER • INSTAGRAM • GOODREADS • PINTEREST • BLOGLOVIN' ✦