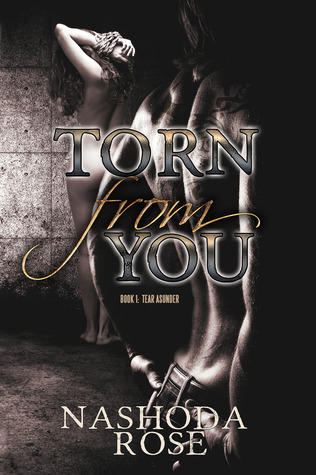 Torn from You by Nashoda Rose
Series: Tear Asunder #1 (full reading order below)
Publication Date: December 20th 2013
Links: 
Ebook
 • 
Paperback
 •
Audible
•
Goodreads
Source: I received an ARC from the author in exchange for an honest review
Love is like an avalanche. It hits hard, fast and without mercy.
At least it did for me when Sculpt, the lead singer of the rock band Tear Asunder knocked me off my feet. Literally, because he's also a fighter, illegally of course, and he taught me how to fight. He also taught me how to love and I fell hard for him. I mean the guy could do sweet, when he wasn't doing bossy, and I like sweet.
Then it all shattered.
Kidnapped.
Starved.
Beaten.
I was alone and fighting to survive.
When I heard Sculpt's voice, I thought he was there to save me.
I was wrong.
Torn from You begins immediately after the cliffhanger at the end of With You. I highly, highly recommend reading With You before starting Torn from You, because in the prequel, we get a much stronger sense of the love between Emily and Sculpt. It's not absolutely necessary, but the relationship between the main characters makes a lot more sense. Plus, we get to fall in love with Sculpt along with Emily! He's a totally hot, domineering alpha-male. 😉
Emily has been brutally kidnapped, and is held captive in a dark place. She doesn't know where she is, she doesn't know who's taken her, and all she wants is Sculpt, or as she calls him by his real name, Logan, the love of her life. She wishes that he'd find her and save her from wherever she is, because she's absolutely terrified.
I don't normally read dark romances, but there's a certain allure and fascination that comes with reading something, well, bad. I have read books that involve slavery, and in Torn from You, there is sex trafficking. Emily has been thrust into this dark, horrifying, and truly evil world. It turns out she's been taken to Mexico, and… by none other than Logan, the man she thought who loved her. Like, holy shit, right? I mean, from the blurb, you can kind of tell that Logan did take Emily, but it's still so unbelievable. Logan was so loving and sweet to Emily in With You, and everything is torn apart once Emily knows Logan was the reason why she was kidnapped. She's betrayed, her heart is beyond shattered, but ultimately, this girl is angry.
In this world of sex slaves, and evil, disgusting men, Emily has to learn to survive. She's can't risk the ire of Raul, the man in charge, or else she'll be taken away from Logan and sold to someone else. Because right now, Logan owns her, and he's the only thing preventing her from being sold to some unknown man. And yet even as Emily is hating Logan, she can't help her reactions to him. She loved him, is attracted to him, and she hates that she feels this way every time he's in the room with her. There's a very thin line between what's right and wrong, even though it should clearly be black and white. I suppose it's the allure of this kind of story, but whatever it is, it hooked me in. I couldn't stop reading, even though the book went to dark, unimaginable places. Logan is cold and ruthless, and it's as if the man Emily loved never exists, but then, there are moments where the Logan she knew pops up. So who is the real Logan? He protects her from the truly horrific things, but he's the one who brought her there in the first place.
"I will always do everything I can to protect you from others hurting you. I don't want you to be scared of me. I would do anything for you. You know that, right?"
Thank god the book isn't entirely in Mexico, because I don't think I'd be able to handle too much of the dark side of the story. It's fascinating, yes, but it can get a little hard to stomach. In the first part, maybe the first third, of the book, Emily is in the hands of Raul, and the rest of the story deals with the aftermath. It's been 2 years since Emily escaped from Mexico. She hasn't seen Logan since, and she's been healing, but it's a very slow process, and she's still a little broken. Her love for horses has been her coping mechanism, but then everything changes the second Logan walks back into her life.
"Sculpt, you have to let me go."
"Never ask me to do that."
My heart was torn up! Do you see these quotes? They're all from Logan, and he wants Emily back. He has never stopped loving Emily, and here their love story begins all over again. She can't forget the past, but he's willing to do whatever it takes to make her love him again. And oh my god, everything is crazy and intense. Everything changes when Logan comes back. The truth comes out, and Logan… oh gosh, this man is truly the best. I don't want to give anything away, but it was because of the majority of Torn from You where Emily is free that made me love the book!
"We were torn apart, because Eme–I'd never have stayed away from you any other way."
Eeep! The entire time Emily tries to push Logan away, he never gives up. He's incredibly sweet and loving, and yet he's still an undeniably sexy, dominant man. Nashoda Rose messes with your head so much in Torn from You. Is Logan truly good or bad? Can Emily ever forgive him, and maybe even love him again? Oh my gosh, I had the best time reading this! Highly, highly recommend this book for those who want to venture into this genre. It's not too intense in the dark parts, but it's still enough to make your heart race. And the romance–sooo good!
"You, Emily. You're worth fighting for. I fought all my life, but never for anything worthwhile. Now… Now I'm fighting for my heart. Bullshit ends here and now."
Quotes are taken from the arc and are subject to change in the final version.
---
Reading Order: Tear Asunder series
#0.5 ~ With You: My Review • Ebook • Paperback • Audible • Goodreads
#1 ~ Torn from You: Ebook • Paperback • Audible • Goodreads
#2 ~ Overwhelmed by You: My Review • Ebook • Paperback • Audible • Goodreads
#3 ~ Shattered by You: My Review • Ebook • Paperback • Audible • Goodreads
#4 ~ Kept from You: Goodreads (Dec. 5, 2016)
---
FOLLOW BOOKLOVERS FOR LIFE ON:
✦ FACEBOOK • TWITTER • INSTAGRAM • GOODREADS • PINTEREST • BLOGLOVIN' ✦