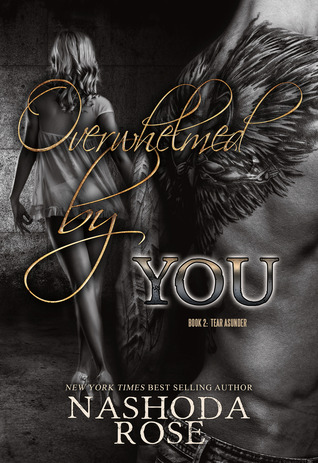 Book Title: Overwhelmed by You
Author: Nashoda Rose
Series: Tear Asunder #2 (full reading order below)
Genre: Contemporary Romance
Release Date: May 25, 2014
Hosted by: Book Enthusiast Promotions

Love is ugly and secrets will destroy you.
KAT
I don't beg.
I don't cry.
And I don't give second chances.
Ream, the lead guitarist of the rock band Tear Asunder, deserves a gold medal for best dick move ever when he ran the moment he discovered my secret after two days of hot sex. Then he brings some chick to my coming home party from the hospital—after being shot.
I hate him.
Until …
Ream's six foot two frame unfolds out of the car after being gone on tour for eight months. I stared. And in my defense, any girl would stare. It would almost be rude not to because Ream was the type of guy who stood out. Not because he was loud and obnoxious. No, it was because he was the complete opposite. Subtle and dangerously quiet. If he spoke, you'd better hope he liked you because otherwise you'd be falling at his feet begging for mercy. Except me … I don't beg—ever.
But when our eyes locked, it was Ream's steady confidence that had my nerves shooting off like jet sprinklers.
Then…
Ream told me he didn't need a second chance because he was still working on his first.
REAM
Sex is ugly. It's using someone for your own narcissistic pleasure. I did it and I hated it—until her. She was unfuckinexpected. Then I had to wreck our beginning with my screwed up past.
I don't deserve her, but I'm selfish and I'm taking her anyway. This is who I am and it's too late to change me.
*Warning contains violence, sexual content, and coarse language. Mature audiences 18+*
A contemporary romance with lots of angst and a taste of dark.
Purchase:
Amazon US • Amazon UK • iTunes
Oh myyy!!! Overwhelmed by You is one hell of an intense book! Although I already expected that after reading the previous books in the Tear Asunder series, and I wasn't disappointed! This next book of the series is packed with passion, angst, and action. There was never a dull moment for me while reading it, and I thoroughly enjoyed it all!
Kat and Ream were friends once, until they hooked up one time and it all fell apart. Kat was already wary of starting something more than friendship with Ream, and after the fallout, she never wanted to trust Ream again. Two years later, Ream is back in her life, and this time, he wants her back. Woot! I just love second chance romances, and especially heroes who go after what they want–and in this case, it's the girl. There's a fierce intensity to Ream, and he focuses it ALL on Kat and getting her back–her heart, her trust, her body, everything.
"I'm not letting you go. I can't do it anymore."
This time I used my palms against his abdomen and pushed. He loosened his hold, but just enough so I could meet his eyes. "Ream, it won't work. It's too late."
His eyes flashed with something that I didn't recognize. "This wasn't a discussion."
Can you say alpha male??? Ream is seriously one of the top alpha males I've ever read–when he wants something, there's literally nothing that can stand in his way from getting it. He's protective, possessive, sensual, raw, and sexy, but he's also hiding something painful from his past from Kat. He may be reassured, dominating, and collected on the outside, but within there are some serious demons that need exorcising.
Kat is able to go head to head with Ream (although sometimes it's Ream's way or the highway, which frustrated Kat–and me–a bit, but ehh, he's an alpha male, so what can you do?) and she fights her attraction with him. Ream broke her trust, and she's not about to go handing it back to him so easily. I really liked Kat's character. She's funny, stubborn, and all-around a tough girl with a vulnerable side that made connect with her. She was a bit too stubborn at times–most of the book is her fighting against her being with Ream, and all I wanted to do was shake her and say "You two are meant for each other! Stop fighting it!" But Ream, being the determined and unrelenting man that he is, is not deterred from his goal.
I spent eight months wishing I wasn't on tour so I could be with you. Now, I'm back and the only way I'm running again is toward you." He lowered his voice, and the gravelly, deep tone drummed into my chest. "Fight me all you want, Kat. I'm going to keep coming."
Ream had the determined alpha male thing down to perfection.
But there's so much more than just winning Kat's heart back for Ream to do. His past is coming back to haunt him, and he needs to find a way to deal with it so it doesn't drive him and Kat apart. Add some suspense and action into this book, and you have the perfect blend of romance and thrills! I'd definitely recommend this for fans of the series–you won't be disappointed with Kat and Ream's story!
Reading Order: Tear Asunder series
#0.5 ~ With You: My Review • Ebook • Paperback • Audible • Goodreads
#1 ~ Torn from You: My Review • Ebook • Paperback • Audible • Goodreads
#2 ~ Overwhelmed by You: Ebook • Paperback • Audible • Goodreads
#3 ~ Shattered by You: My Review • Ebook • Paperback • Audible • Goodreads
#4 ~ Kept from You: Goodreads (Dec. 5, 2016)
Nashoda Rose lives in Toronto with her assortment of pets. She writes contemporary romance with a splash of darkness, or maybe it's a tidal wave. Her novella "With You" is the first in the Tear Asunder series, followed by the novel "Torn from You" and "Overwhelmed by You".
When she isn't writing, she can be found sitting in a field reading with her dog at her side while her horses graze nearby. She loves interacting with her readers on Facebook and chatting about her addiction—books.
2 signed of Overwhelmed by You paperbacks (open internationally)