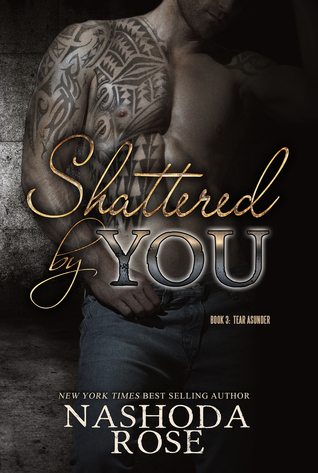 Shattered by You by Nashoda Rose
Series: Tear Asunder #3 (full reading order below)
Audiobook Publication Date: June 21st 2016
Length: 9 hours and 54 minutes
Narrated by:
Stella Bloom
& 
Kas Vadim
Links: 
Audible
 • 
Ebook
• 
Paperback
 •
Goodreads
Source: I received an audiobook in exchange for an honest review
From New York Times and USA Today best-selling author Nashoda Rose comes a full-length friends-to-lovers romance.
What started out as a deal quickly became a friendship that conquered monsters.
I killed, but I escaped hell. Emotionless. Disconnected. Cold. A mannequin. It's what I'd become in order to survive the years held in captivity. I was able to endure the abuse and devastating loss as long as I remained detached.
But he wouldn't let me. Crisis, the bass guitarist in my brother's rock band, Tear Asunder. He's cocky, rude, a total man-whore. But the rock star has far more beneath the surface of his inked skin, and he's determined to make me laugh again. He made me a "deal", but really it was blackmail.
His terms were simple. Until his playful honesty became the building blocks to something unexpected. Something strong enough to pull me from the eye of the storm. Because even though I escaped years of abuse, it didn't mean I was free.
For mature audiences only – 18+. Listener discretion is advised. Dark elements.
I'm a big fan of the first few Tear Asunder books, so I was excited when I had the chance to listen to the Shattered by You audiobook. It's also a friends-to-lovers romance, one of my favorite tropes, so this audiobook should've been perfect for me. Unfortunately, I didn't connect with the story or characters like I wish I could've, and the narrators were pretty average to me. I've listened to Stella Bloom before and loved her narration in Sebring (my review here), but for some reason, her voice just didn't mesh as Haven. I didn't love listening to Shattered by You, but I did enjoy some aspects of the story. If you're a fan of friends-to-lovers and dark, intense reads, you still might enjoy this book!
After being freed from mental and physical hell, Haven might not be a captive anymore, but nowhere near is she free of her demons. She's back in her twin brother's life, who thought she was dead, but she's not the girl she once was. Forced drugs and sexual abuse have turned her into a shell of a woman, and it doesn't seem possible to become whole again… that is, until she meets Crisis.
Part of Tear Asunder and Haven's twin's bandmate, Crisis is the most light-hearted of the guys. He comes off as a jokester and a player, but once he sees Haven, there's nothing and no one else for him. He's the only one who doesn't see her as the broken girl she is, and he stands by her side everyday, not pushing her to heal, but just being there to support her. I loved this part of the story, the build up of Haven and Crisis's friendship. They grow to mean so much to each other, but while Crisis wants more, he knows Haven isn't ready yet, but he'll wait forever if he has to for her.
It took me a long while to finish listening to Shattered by You because I just wasn't fully invested in the story or characters. I adored the friendship and romance, but it does take a while for anything to happen between the main characters. Stella Bloom and Kas Vadim were good narrators, though not the best. I definitely feel like you should read/listen to the other books in the series before starting this one. If you're a fan of the series and you're all caught up, hopefully you'll enjoy this book more than I did!
SHATTERED BY YOU is now available on Audible: http://amzn.to/29M1Ylg
---
Reading Order: Tear Asunder series
#0.5 ~ With You: My Review • Ebook • Paperback • Audible • Goodreads
#1 ~ Torn from You: My Review • Ebook • Paperback • Audible • Goodreads
#2 ~ Overwhelmed by You: My Review • Ebook • Paperback • Audible • Goodreads
#3 ~ Shattered by You: Ebook • Paperback • Audible • Goodreads
#4 ~ Kept from You: Goodreads (Dec. 5, 2016)
Here's an audio excerpt from Shattered by You!
---
FOLLOW BOOKLOVERS FOR LIFE ON:
✦ FACEBOOK • TWITTER • INSTAGRAM • GOODREADS • PINTEREST • BLOGLOVIN' ✦